Explore the Future of Education and #thankmyteacher With Us in Austin
Published February 1, 2017
---
Our plans for SXSWedu 2017 include four panels, a celebration of great teachers, and the return of our ever-popular lounge!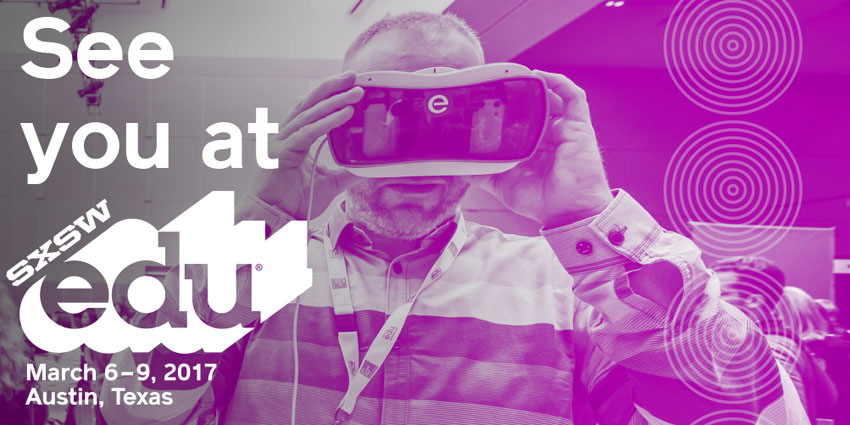 March 6-9 we'll join thousands of educators, students, and innovators flocking to Austin, Texas for SXSWedu – one of the most exciting education-focused events of the year. For us it's an incredible opportunity to connect with the educational community, share some of our insights in learning science, and enjoy the tremendous food and culture of Austin.
This year we're running a #thankmyteacher campaign to recognize the great teachers who have had a positive impact on our lives. Stop by our lounge and write a short message of appreciation on the #thankmyteacher wall or tweet one using hashtag #thankmyteacher and you could win $100 to help fund a classroom project idea through DonorsChoose.org. Full rules and conditions.
Here's how to make the most of your SXSWedu 2017 experience:
Download the SXSWedu mobile app to plan your schedule, access helpful tools and maps of the festival, and connect with other attendees.
Attend these engaging sessions & panels featuring our leadership team:
---
Why Have We Failed on Remediation?
Monday, March 6 | 12:30p.m. – 1:30 p.m.
Austin Convention Center - Room 16AB

Learn about the challenges facing college remediation and two new models that are getting results. This session will be moderated by our CEO David Levin and includes Anne Praderas Vance of Austin Community College and Chad Taylor of William Rainey Harper College.
---
Why is K-12 Education So Slow to Change?
Monday, March 6 | 12:30p.m. - 1:30 p.m.
Hilton Austin Downtown – Salon G

The use of technology continues to lag in many K-12 schools. Learn how today's teachers and educational leaders can collaborate to accelerate student success. This panel includes education technology industry expert Peter Cohen, 2016 McGraw Prize winner Alberto Carvalho, Superintendent of Miami-Dade County Public Schools, Keith Krueger of the Consortium of School Networking (CoSN) and educational author and consultant Catlin Tucker.
---
Teaching: Art, Science or Both?
Thursday, March 9 | 11:00a.m. - 12:00p.m.
Hilton Austin Downtown - Salon G

Is great teaching driven more by research & data or organically from the passion & creativity of teachers? The lineup for this panel includes Heath Morrison our Senior Vice President of Government Affairs, Karolyn Belcher of TNTP, 2012 National Teacher of the Year Rebecca Mieliwocki, and James E. Ford of the Public School Forum.
---
A Debate on "Open" Educational Resources
Thursday, March 9 | 9:30a.m. – 10:30 a.m.
Hilton Austin – Salon J (Green Room: 416AB)

Hosted by the Chronicle of Higher Education, this session including our Executive Vice President Peter Cohen and leaders of the open-resources community will feature a lively discussion of the pros and cons of the OER movement and its future in education.
---
Ed-Tech Research: Who Pays Attention?
Monday, March 6 | 12:00p.m. - 12:30p.m.
JW Marriott - Griffin Hall

The ed-tech market has eclipsed $8 billion, and many companies generate their own research. This panel looks at the current state of ed-tech research and how it can impact district decision-making. Featuring Dwight Jones our VP of Urban Markets, Todd Bloom of the Jefferson Education Accelerator, and Kettle Moraine School District Superintendent Pat Deklotz.
---
Start your evening March 6 and 7 with free drinks and appetizers in our Lounge from 4-6PM! As in previous years, you'll find us in room #406 of the Hilton Austin.
Take a break and stop by our lounge anytime during festival hours to recharge and grab a snack or beverage, chat with our education aficionados, or learn about our market-leading learning technologies including ALEKS, Connect, Engrade, LearnSmart and more. And don't forget to sign the #thankmyteacher wall; we want to hear from you!
We'll see you in Austin!