Live Chat 6/21 | The Summer Talk: How to Network Between Vacations
Published June 19, 2017
---
Join this month's #MHECareers chat for useful tips on professional networking during downtime.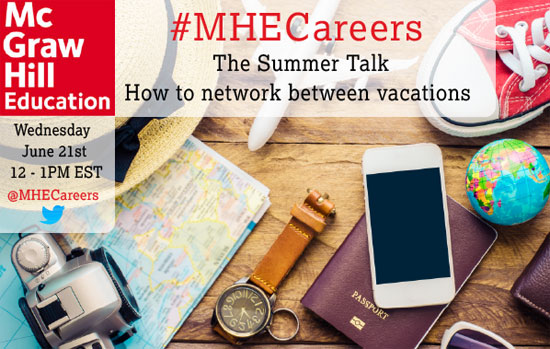 McGraw-Hill Careers team hosts monthly #MHECareers Twitter chats to create dialogue between job seekers, hiring managers and industry experts. Each month is focused on a different topic, providing insights and advice to anyone interested in the conversation.
On June 21st from 12-1pm EST, this month's topic "The Summer Talk: How to network between vacations" will demonstrate the importance of networking throughout the year for job seekers and employers. Summer can feel like a time to relax and enjoy the weather, but networking is still just as important to further career opportunities. Join @MHECareers on June 21st for a conversation on the importance of networking during the summer months.
We've invited a panel of experts to lead the conversation on summer networking: Emilie Aries (@emiliearies), founder of BossedUp.com and Forbes contributor, Jeff Barrett (@BarrettAll), publicist and PR consultant, and Julie Kantor (@JulieKantorSTEM), CEO of @TwoMentor.
This month's chat Q&A will ask the following questions:
Why is networking all year round so important?

Who should job seekers be networking with?

What are tips or ice breakers for having successful networking experiences?

How can job seekers get involved in networking events during the summer?

What are some good questions to ask at a networking event?

What kind of attire should be worn at a networking event?

Does networking have to take place in-person to be effective?

What are good ways to stay in touch with new contacts after a networking event?
Visit us on Storify for recaps of past #MHEcareers chats, or check out our career opportunities to learn more about becoming part of our learning science team.