Opening Our Doors to Help Women Excel in Ed-Tech Careers
Published June 1, 2016
---
We're Hosting a Meetup with Girls In Tech of Orange County in Irvine on June 9
At McGraw-Hill we believe that a diverse and talented workforce is key to the success of modern organizations. A recent report from the National Girls Collaborative Project shows that only 25 percent of professional computing jobs in the U.S. are held by women even though they makeup 47 percent of the total workforce.
We want to do our part to help create more gender balance in the tech industry.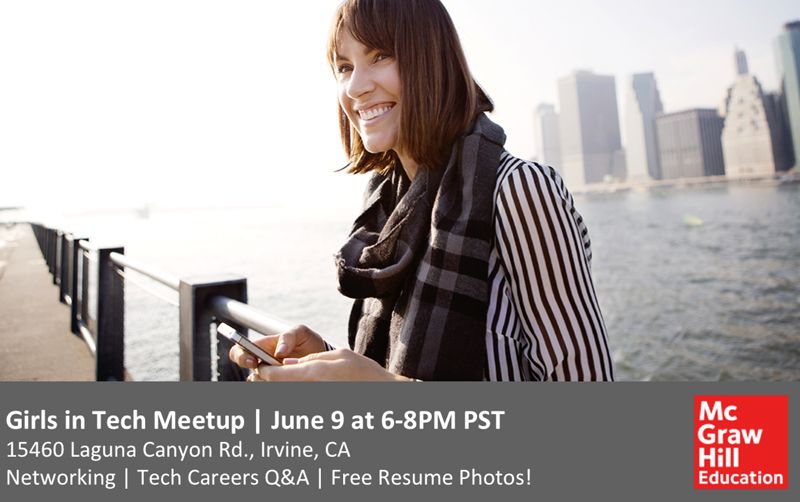 On June 9th from 6-8PM PST our ALEKS headquarters at Discovery Business Center in Irvine, CA will host a live meetup in partnership with Girls in Tech of Orange County. The event invites all Irvine-area women pursuing careers in technology to attend for refreshments and networking, free professional headshot photos, and a live panel Q&A on hiring and interviewing tips for the IT industry.
Girls in Tech is a global non-profit focused on furthering the knowledge and careers of women who are passionate about science, technology, engineering, and mathematics (STEM) fields.
"Having an opportunity to host an event at ALEKS and McGraw-Hill Education is a real opportunity to collaborate with hiring managers and engineers that can relay their experience in why women do not get hired," said Mercedes Bankston, Managing Director of Girls in Tech Orange County.
"Our upcoming event with Girls in Tech is truly a win-win for all involved. As a learning science company, we are deeply committed to STEM education, especially for young women who are considering technology as a career. Our team in Irvine working on ALEKS is leading the way in the continued digital transformation of our business." Maryellen Valaitis, Senior Vice President of Human Resources for McGraw-Hill added.
Women make up more than half of our worldwide workforce, and we're proud to be a part of helping more women kickoff and advance their careers in educational technology.
We hope to see you in Irvine! Get directions below or visit careers.mheducation.com to learn more about our career opportunities in learning science.