Live Chat November 21 | Getting Employees Involved During the Giving Season
Published November 15, 2017
---
Join the @MHECareers team for a live Twitter chat for ideas on getting involved in the giving season.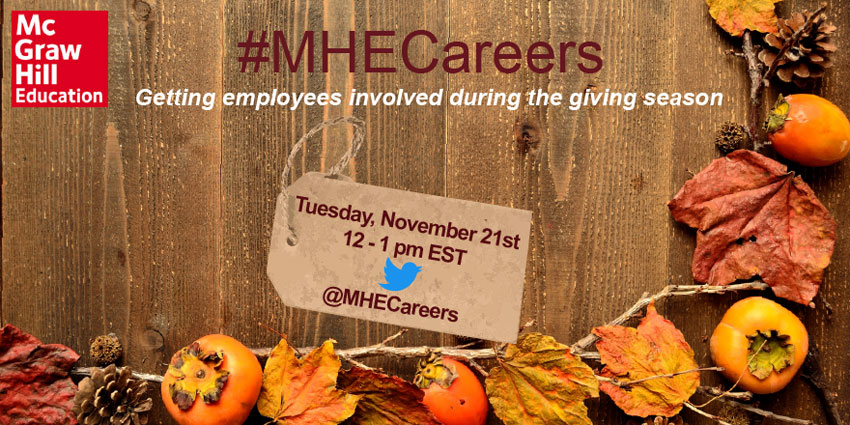 Each month the McGraw-Hill Culture and Talent team hosts #MHECareers chats on Twitter to explore different topics relevant to jobseekers, workforce professionals and employers. We invite authors, entrepreneurs, and job recruiter specialists to lead a Q&A style chat, providing insight and advice to anyone who partakes in the conversation.
Our culture at McGraw-Hill emphasizes giving throughout our company. We have seen the positive impacts of providing for others in education, which drives us to find more ways to improve our surrounding communities. As the giving season approaches this month, it is especially important to remind people that giving is not only something to do on a personal level, it is also important for organizations to show their support across their community.
On November 21 from 12-1pm EST, the #MHECareers chat will offer ideas on getting employees involved in giving in their community. This month's panelists include @AngelaMaiers, founder of Choose2Matter, @CyndyTrivella, Marketing & Employer Branding Manager at WorkTrends, and @HRbartender, Human Resources Professional.
The discussion will be guided by these questions:
How are you or your company currently engaged in charitable giving or volunteerism?
Why is supporting charitable and volunteer organizations something every business should consider doing?
What are some unique ways you can #payitforward without pulling out your check book?
How can managers engage their teams in giving back?
How can employees and managers show gratitude to co-workers?
How can companies help drive awareness of their giving & charity programs?
What are some creative ways companies can help employees learn about giving opportunities?
What advice would you give to colleagues about choosing charities to support during the giving season?
It is important to remind individuals the importance of giving back to their community. Providing resources within your organization is a great way to get your co-workers involved in giving and volunteering in their community. Join the conversation with @MHECareers to get ideas to inspire the people in your community to give.
If you're interested in starting your career as a member of our learning science team, take a look at our current career opportunities.