Live Chat 12/20 | Reset for the New Year: Self-Evaluation and Setting Career Goals for the New Year
Published December 14, 2017
---
Join our live Q&A on evaluating your accomplishments from the year and setting new goals for 2018.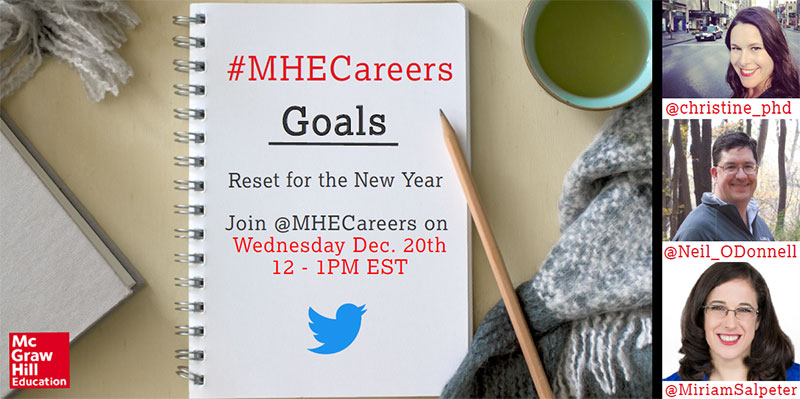 Each month the McGraw-Hill Culture and Talent team hosts #MHECareers chats on Twitter to explore different topics relevant to jobseekers, workforce professionals and employers. We invite panelists to answer questions and create dialogue with anyone who joins the conversation.
On December 20th from 12–1pm EST, our next #MHECareers chat will discuss helpful tools in the workforce to set you up for career success in the new year. Panelists for this month's chat include career and business coach @MiriamSalpeter, career counselor @Neil_ODonnell, and founder of Bench2Business @christine_phd. We're thrilled to have this talented group of panelists join the conversation to offer their insights on goal setting and career development!
The discussion will be guided by these questions:
What are some strategies on setting goals at the beginning of the year and sticking to them?
What are some questions to ask yourself when evaluating your goals?
How can you set yourself up for a successful performance review with your manager?
What are some ways to "reset" before you start a new year?
What are some ways you can position yourself for better career opportunities?
Why do so many fail at achieving their new year's resolutions?
What are some techniques for measuring goal progress?
Why are annual performance reviews important?
Follow or join the conversation on Twitter using hashtag #mhecareers. If you're interested in joining our mission to help improve education outcomes for all learners, check out our latest career opportunities today!
You can find highlights and top moments from all of this year's #MHECareers chats on Storify.