Making the Most Out of Your Internship
Published February 5, 2018
---
Join the @MHECareers team for a live Twitter chat giving advice on finding the right internship for you and using it to help land a fulltime job.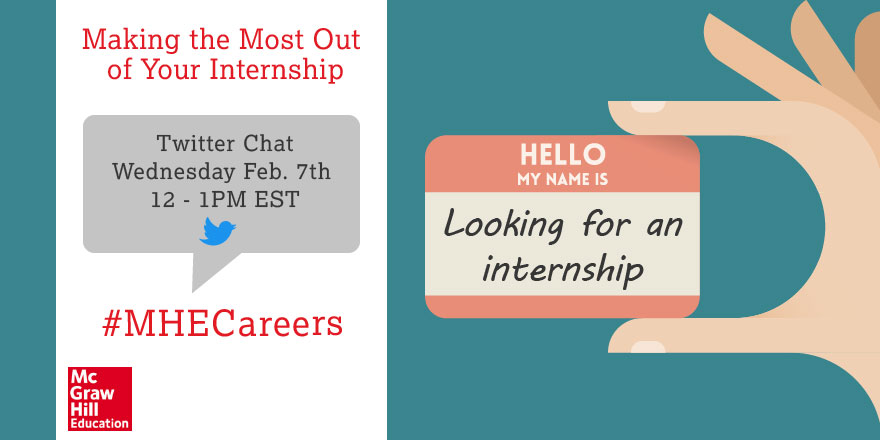 McGraw-Hill Careers team regularly hosts #MHECareers Twitter chats to explore topics relevant to jobseekers, workforce professionals and employers. These Q&A style chats feature panels of career experts, human resource professionals, and professional networking experts to answer questions and provide invaluable information.
On February 7th from 12-1pm EST, the #MHECareers chat will offer advice on preparing for internships, excelling in the experience, and next steps after your internship. This month's group of panelists includes @InternQueen, a career expert, @kristinharpster, Sales Specialist at McGraw-Hill, @jensbodal, @sophia_m_allen and @abrol_neha, Software Engineers at McGraw-Hill.
The discussion will be guided by these questions:
Why is internship experience crucial to career development?
How can you prepare for your first internship?
Should you take an un-paid internship?
What are the warning signs of an ineffective intern experience?
How important is your social media presence while internship hunting?
How can an intern make an impression on the job?
What resources are available to help professionals find internships in their field?
How can you stay in-touch with colleagues after internship is complete?
How can you turn your internship into a fulltime position?
If you're interested in unlocking the full potential of your career as part of our mission to help all learners succeed, take a look at our career opportunities today!
Here are some past Twitter chat highlights with tips for internships:
A1: Make your resume tell a story https://t.co/SQPUg6HS9q via @internqueen #MHEcareers

— McGraw-Hill Careers (@MHECareers) April 26, 2017
A3. Internships are the best way to gain valuable experience in a field without much commitment. https://t.co/b7H9OmDf8t #MHECareers

— Maren Hogan (@marenhogan) April 26, 2017
Tips for spotting a good boss in an interview https://t.co/yJuH2GIOsN @dailymuse #MHECareers

— McGraw-Hill Careers (@MHECareers) April 26, 2017
A3 @LinkedIn is an effective way to create an online resume that's intentional, purposeful and insightful #MHECareers https://t.co/WNQzbX2EEL

— Alex Serna (@alsernabjj) March 22, 2017