Live Chat July 26 | How to Find the Perfect Job for You
Published July 19, 2017
---
Join the @MHECareers team for a live Twitter chat about finding your perfect job.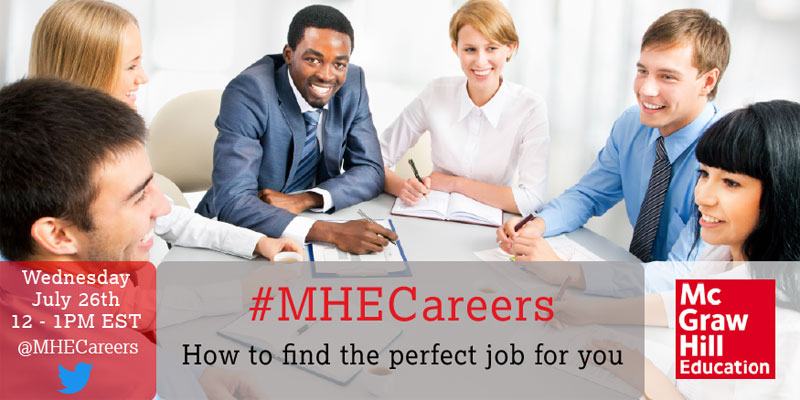 Each month, the McGraw-Hill Culture and Talent team hosts #MHECareers chats on Twitter to explore different topics relevant to jobseekers, workforce professionals and employers. Panelists such as career experts and authors are invited to the chats to answer questions and provide advice to anyone who partakes in the conversation.
On July 26 from 12-1pm EST, the #MHECareers chat will offer advice on finding the perfect job for you. Finding the perfect job can be challenging when first stepping into the workforce. Join the conversation with @MHECareers to get tips and advice from professionals on how to find the right role in the right organization for you.
The discussion will follow these questions:
Is there such a thing as a "perfect job"?
How do you choose the right type of role to apply for?
How can you tell that you've found the right company to apply for?
What interview questions can you ask to make sure the job is a good fit?
What should you do if you realize a job you're interviewing for isn't right for you?
What are some of the important qualities to look for in a potential manager?
How can you get a feel for a company's culture during the interview process?
What are some of the signs that you've found the right new role & company?
This month's featured panelists include @QLCareers, Quicken Loans' career center, @SpeakerShinjini, author of The Go Getter Girl!, and @JoelRRenner, Manager of Digital Strategy and Career Systems at George Washington University.
If you're interested in starting your career as a member of our learning science team, take a look at our current career opportunities. You can also check out highlights from our past #mhecareers chats by visiting us on Storify.