Live Chat on 2/22 | How to Create and Support a Diverse & Inclusive Workplace
Published February 14, 2017
---
Join the next #mhecareers chat for advice on cultivating a diverse working environment to attract and retain top talent.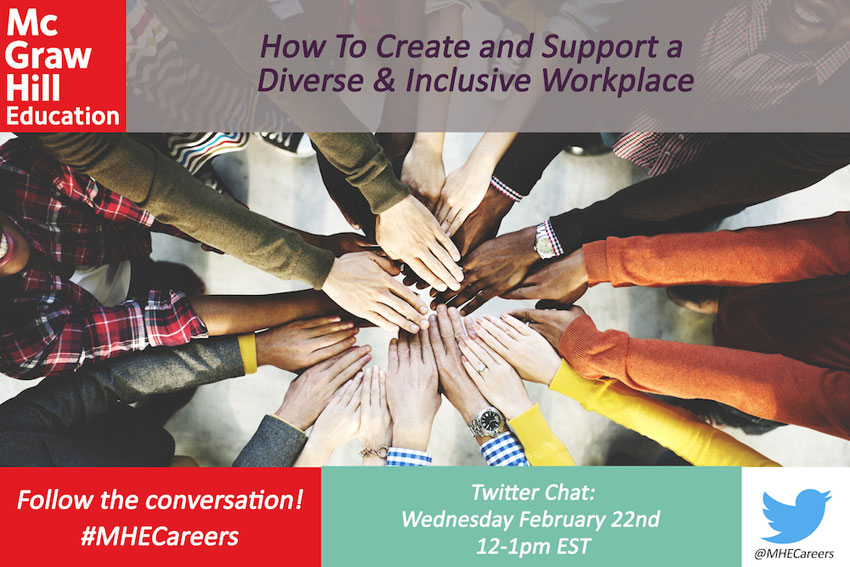 Our Careers team hosts monthly Twitter chats to facilitate communication between employers, industry experts, job seekers and workforce veterans. Each #MHECareers chat is designed to provide insights and advice around a given topic, and anyone who's interested is invited to get involved in the conversation.
Brian Honigman–Content Marketing & Social Media Consultant, CEO of Honigman Media and contributor to Forbes–has even recognized our chats in a recent LinkedIn learning course for their relevant themes, pertinent focus and high value to participants.
On February 22nd 12-1pm EST, join @mhecareers and our awesome panelists for this month's chat that will take a look at diversity in the workplace and the value of hiring diverse talent. A purposeful and effective diversity policy and an inclusive environment are important for the success of any company. Use #MHECareers to share your thoughts and ideas on how employers and job seekers can foster positive communication around diversity.
Our Careers team and participants will be responding to the following questions:
What are the characteristics of a truly diverse workplace?

What can companies do to respect & support employees' diverse beliefs & values?

How can companies create a positive dialogue with employees about diversity-related issues and events?

How can companies use social media to rethink their diversity policies and attract diverse talent?

How important is it for employees to evaluate their company's diversity policy?

When interviewing, are there appropriate questions about diversity for job seekers to ask?

What are ways companies can collaborate with employees to help make their environment more inclusive?

What are some ways companies can hold authentic internal events & opportunities to celebrate diversity?
Learn more about our commitment to diversity and inclusion, or check out our career opportunities to become a member of our growing learning science team.