#edtechtips Chat Invites Teachers to Share Best Practices for Technology in the Classroom
Published February 15, 2017
---
Join K-12 digital teaching experts for a live Twitter chat in celebration of Digital Learning Day (February 23) at 8p.m. EST.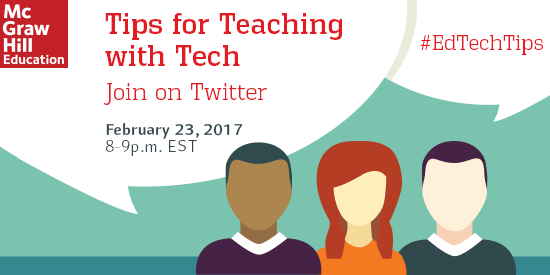 Some of the most powerful learning opportunities for teachers are created when they gather as a community to share experiences, compare best practices, and celebrate their successes. Each year Digital Learning Day, hosted by Future Ready Schools, helps connect thousands of U.S. teachers and classrooms to showcase digital learning and promote the use of technology to create a better education experience for students in K-12 public schools.
One of many things we're doing to celebrate Digital Learning Day 2017 will be hosting #edtechtips, a live Twitter chat full of practical advice for teachers using technology in the classroom. The chat will be held from 8-9p.m. EST/5-6p.m. PST on February 23, 2017. To watch the conversation or join just follow the #edtechtips hashtag on Twitter.
Joining the #edtechtips conversation will be #EdChat co-founder, blogger, and learning evangelist Steven Anderson (@web20classroom), Grain Valley Schools instructional tech coach and EdTech Team speaker Kyle Pace (@kylepace), and John Hummel (@jhummel_tech), Director of Technology for Center Cass School District 66. Christine Willig, President of our School Group, will 'takeover' @McGrawHillK12 to offer insights from her decades of experience working with educators and technology advocates.
We hope the #edtechtips chat creates an impactful digital learning opportunity for teachers all over the U.S., so please join us to watch and learn or share insights from your own experiences!
Here are the questions for #edtechtips Twitter chat from 8-9p.m. on on February 23, 2017:
What is your biggest challenge or pain point in technology implementation?

How can teachers stay on the same page with leaders in tracking progress toward digital goals?

What can teachers do to help celebrate student success?

What is your favorite class icebreaker using tech or social media?

What sort of digital activities or projects do you assign to continue learning outside the classroom?

What can teachers do to continuously evolve their use of & comfort with technology?

How should tech be shared in classrooms with limited devices/resources?

What is a new app, program, or tech tool you're excited about using in your classroom?

If you could add one new digital device to help engage students in the classroom, what would it be?
To learn how you can take part in the action on Digital Learning Day 2017 visit digitallearningday.org, follow the #DLDay hashtag on Twitter, or check out our Inspired Ideas blog on Medium.
Live tweets from #edtechtips chat!
#edtechtips Tweets