Live Chat on 10/11 | Celebrating Women in Tech: How to Empower & Support Women in Technology Careers
Published October 3, 2017
---
Join our live Q&A on elevating the role and importance of women in computing jobs.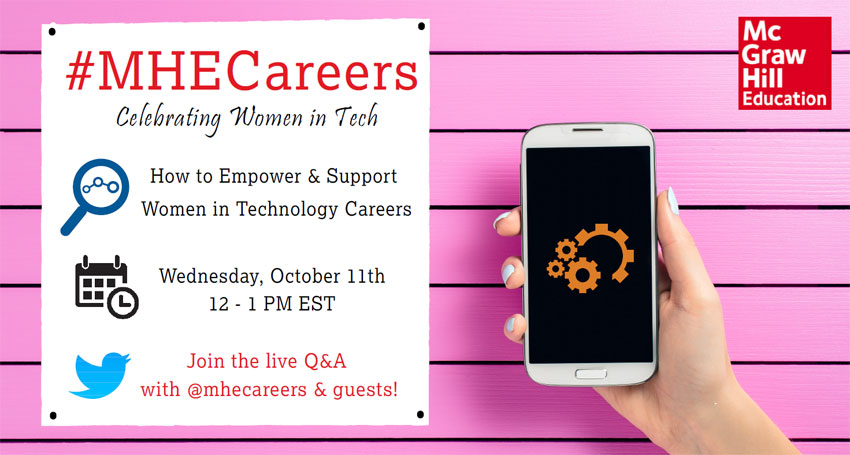 Each month our @MHECareers team hosts a #MHECareers Twitter chat to explore different topics relevant to jobseekers, workforce professionals and employers. We invite panelists to answer questions and create dialogue with anyone who wants to join the conversation.
McGraw-Hill is dedicated to increasing diversity and women in the workplace. In effort to support women in technology, earlier this month we sponsored the Grace Hopper Celebration of Women in Computing, the world's largest gathering of women technologists. We believe that we can achieve our vision to unlock the full potential of each learner personally and professionally through supporting women in computing and technology careers.
On October 11th from 12-1pm EST, the #MHECareers chat will focus on empowering and supporting women in technology careers. Panelists for this month's chat include our two Grace Hopper Celebration attendees, @Ani_Aghababyan and @LalithaAgni who will share their insights on women in technology from the celebration.
Our extremely talented group of tech-savvy women guest panelists for this month's chat are:
Questions during the Q&A chat will include:
What first peaked your interest in STEM?
Aside from the @GHC, which events & organizations are helping empower girls of all ages in tech careers?
How can we beat the "unconscious bias" toward women in the tech industry?
What advice would you give to young women starting their career our in tech?
How can women in tech handle or avoid challenges in a male-dominated workplace culture?
What is the best career advice you've received as a woman in tech?
How can companies connect women in tech and build a more inclusive culture?
Which women in tech have inspired you the most?
If you're interested in joining our learning science team, check out our career opportunities.
Catch up on our latest #MHECareers chats on Storify.