Live Chat 8/17 | Expanding Knowledge in Your Field
Published August 15, 2016
---
Join the McGraw-Hill Careers team for a Twitter chat about continued learning in the workforce!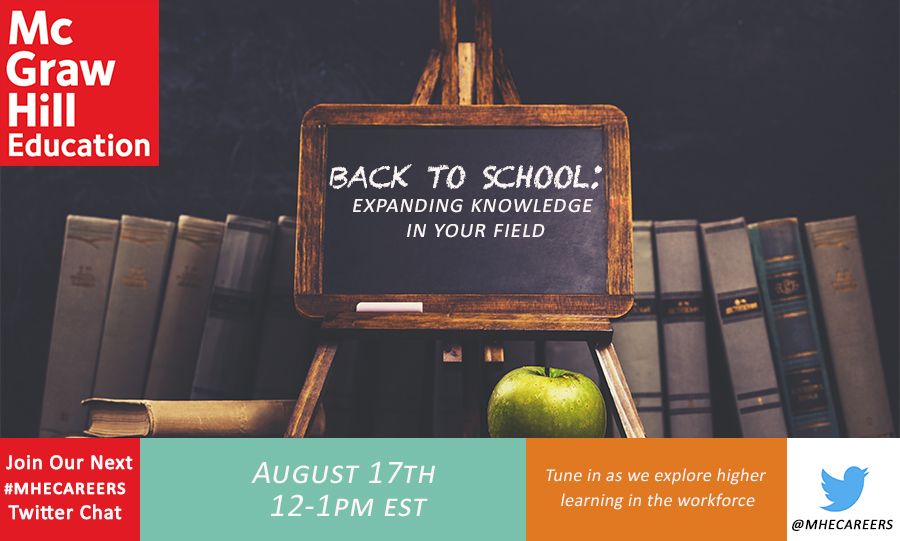 Our Careers team hosts regular Twitter chats to encourage communication among soon-to-be graduates, people still exploring with their careers and veterans of the workforce. The #MHECareers chats feature industry experts and authors who provide advice for anyone who wants to join the conversation, covering a broad range of topics.
On August 17th 12-1pm EST, our next #MHECareers live chat will cover the importance of furthering your education in your field. Learning doesn't stop just because school does, and our world of rapid technological advancement requires that we never stop our search for knowledge. Join @mhecareers on 8/17 to learn how you can continue to build upon your skills even beyond your college years.
Our Careers team and panelists will be answering the following questions:
Why is it important for people to continue learning in today's society?

In what ways can employers support their staff to seek higher education/continuing education?

What industries currently demand people to seek higher learning programs

Are people more likely to get promoted after obtaining a certificate or online degree?

If finance is an issue, what other ways can one seek knowledge in their field?

In what ways do you foresee people enrolling in educational programs for longer than the expected time?
Our panelists will include:
@GeorgetownCEW
@HarvardContEd
@TRUOpenLearning
@writing_guru
If you'd like to further your knowledge as a member of our growing learning science team, check out our available career opportunities.