Live Chat 4/26 | Job Hunting Tips for New Graduates
Published April 19, 2017
---
Join the @MHECareers team for a live Twitter chat about finding and landing the right first job after college.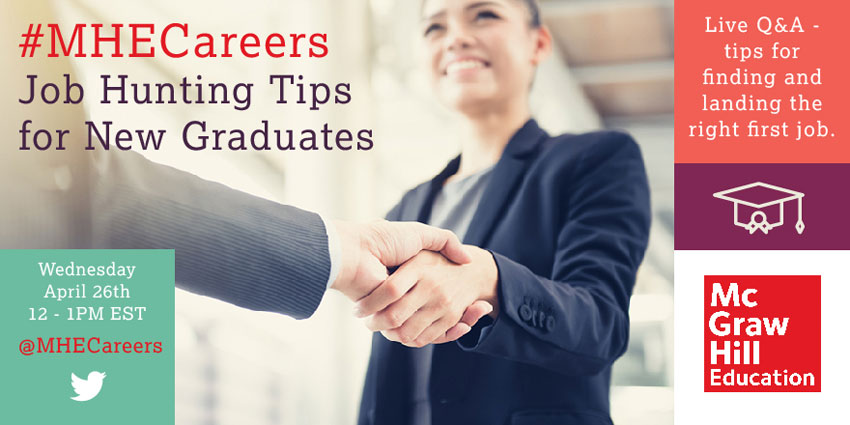 Each month, the McGraw-Hill Careers teams hosts #MHECareers chats on Twitter to explore important topics relevant to jobseekers, workforce professionals and employers. Panelists including career experts and authors are invited to the chats to share quick tips and advice with anyone interested in joining the conversation.
On April 26th 12-1pm EDT, this month's #MHECareers chat will offer tips to help new graduates begin their careers on the right foot. Finding the right first job can be a challenge, but there are many ways young jobseekers can market their skills and build networks to find a position that fits. Join @MHECareers on 4/26 to discuss how recent graduates can become the best possible candidate for their dream job.
The discussion will be driven with the following questions:
When relevant work experience is limited, what should an upcoming graduate put on their resume?

What tips do you have for upcoming graduates to develop their LinkedIn profile?

How can students or recent grads broaden their marketable skills in a field they're interested in?

What should a candidate look for in their first manager during the interview process?

What are the most critical things a candidate should consider before accepting the job?

What advice do you have for a candidate if their job search stalls?

How can upcoming or recent graduates build their networks while fresh out of school?

What are the best references for someone who has little work experience?
This month's featured panelists include @Fishdogs, Marketing Leader for Allegis Global, @MarenHogen, Chief Marketing Brain of Red Branch Media, and @WilliamTincup, President of Recruiting Daily.
If you're interested in beginning your career as a member of our learning science team, check out our available career opportunities.