How to Drive a Successful Digital Transformation in Urban Districts
Published June 26, 2017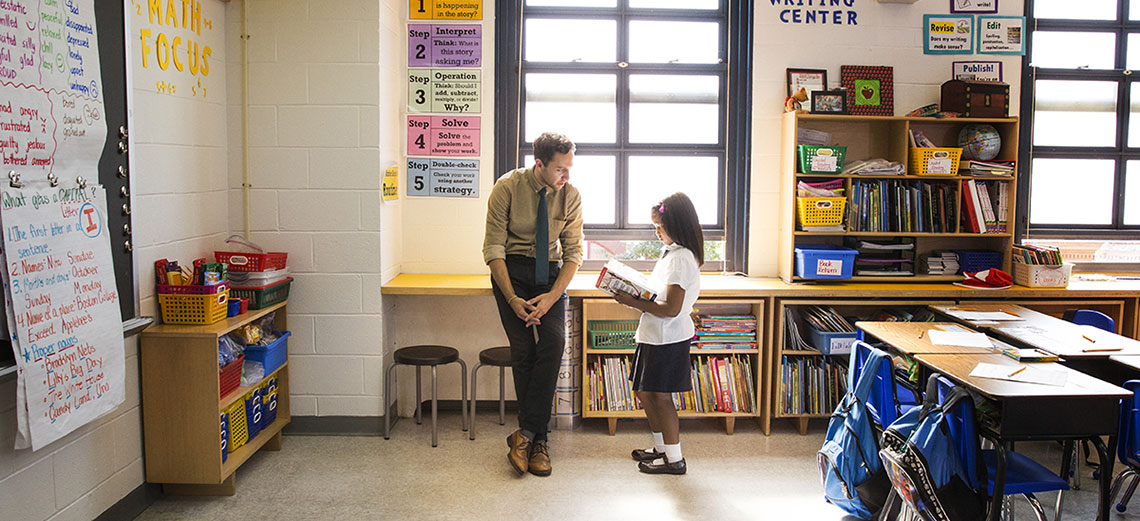 Educational leaders need to be connected with their teachers, students, parents and community leaders for digital success.
It's generally understood that integrating edtech into schools can be complex, but what's less often discussed is that it represents one of the most universal pain points for administrators and educators today. And when you look at larger, more densely populated school districts–in urban markets like Los Angeles, Philadelphia, or Chicago–district leaders often face added pressures and challenges to do digital right, and often with little support.
Yet, those urban districts seem to have some of the greatest appetites for edtech. According to the National Education Association, educators in urban schools are more likely to strongly agree about the value of technology, both for themselves and for their students.
But in spite of that enthusiasm, the particular challenges that urban districts face often means they are, in fact, among the last to successfully implement technology in their schools.
What are the challenges?
There are a few notable challenges that most urban districts have to manage when considering a digital transformation:
When I was superintendent of Clark County School District in Nevada, we had approximately 18,000 teachers across 367 schools. Automatically, scale–especially in the context of edtech–becomes a substantial issue when you are managing larger numbers of teachers, students and large class sizes.

According to Future Ready Schools, there are 21 million students in the US who still lack the broadband capabilities necessary for digital learning. This lack of connectivity often comes from dealing with older facilities, which we see in many urban districts, and the ability to integrate hardware in these schools can be a huge obstacle.

Students in lower-income urban districts often have less access to technology outside of school. To ensure equity for all students, when administrators and teachers are planning to implement blended and online learning models in the classroom, they also have to consider if their students will be able to continue using technology to study at home.
How can we overcome these challenges?
To drive a successful digital transformation, effective leadership is absolutely key. When introducing digital learning programs, it's easy and understandable for school leaders to become immersed in the tactical process of setting up the infrastructure and hardware.
It's important to remember, however, that for a truly effective and impactful digital transformation to take place, district leaders should also focus equal attention on three core groups–who they will need to guide and support but who they can also turn to as resources and partners during the process:
Think of your educators. Professional development PD has to be in place, not only for your teachers, but for your principals as well. Most importantly, PD can't be a one-size-fits-all approach. Every district has some teachers who are digital natives, others who may not be as receptive to new edtech, and many in between. District leaders should think about all camps and create a PD model that is flexible and allows for open best practice sharing, as well as leadership and training opportunities for teachers at all levels.

And think of your students. We can't ignore the fact that students are often more digitally savvy than their teachers today. By making classrooms an open, collaborative space for students and teachers to learn from each other about new technologies, we can create more effective learning environments where both students and teachers benefit from new digital tools and programs.

Community engagement, which includes engagement at home. In homes where there is limited or no access to technology, parents of these students may be wary of their children using edtech in schools, due to a lack of understanding and security concerns. It is important to help foster the understanding that technology gives students the chance to learn 21st century skills, such as communication, critical thinking and creativity. In addition, strong community outreach efforts can result in more ways to provide access to technology outside the classroom, such as in neighborhood youth centers or local libraries and businesses.
Going Digital will Benefit our Classrooms in Ways that will Move the Needle.
No matter how you look at it, going digital offers immense promise for the future of education. There's a clear link between technology, motivation and achievement: our students are more in touch with technology than past generations, and if we can provide richer digital learning environments, then we're likely to see greater engagement and better outcomes.
At the same time, technology enables teachers to more effectively individualize learning and to positively affect every child and personalize their learning environment.
In my experience, district leaders who have the most success with digital transformations are those who ensure their principals and teachers are supported from the implementation phase and on an ongoing basis, and are very aware and in touch with the needs of their local communities.
In short, educational leaders need to be connected with their teachers, students, parents and community leaders.
A successful digital transformation is no small task, and it won't happen overnight, but by working together, it is wholly achievable–and we can make an immense impact.
This article originally appeared on eSchool News and can be found here.