Are Today's College Students Ready for the Next Step?
Published September 5, 2018
---
EduTalk Radio interviews Susan Gouijnstook about preparing college students for success in today's workforce.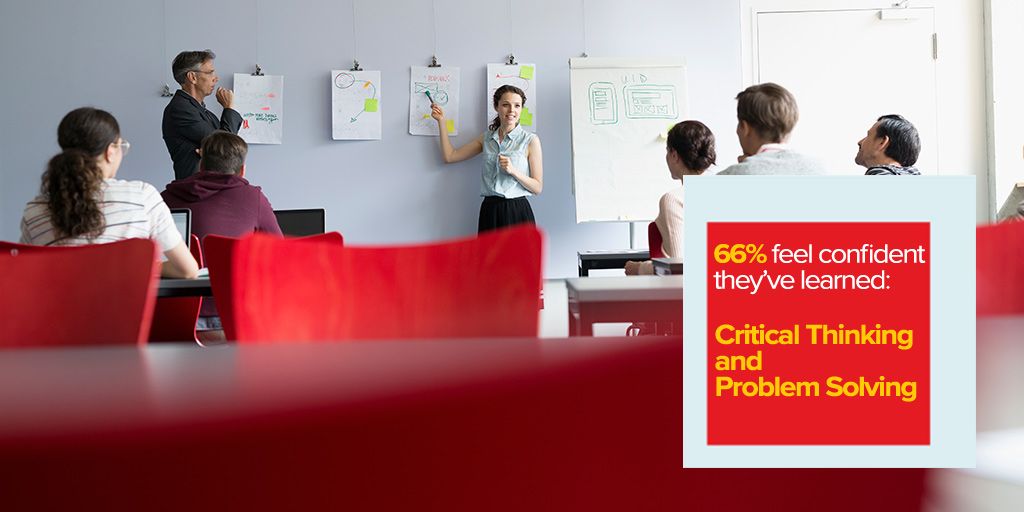 If the goal of higher education is to prepare students for success in the workforce, then what can educators, institutions, and content providers do to help make it possible? Our VP of Learning Solutions Strategy, Susan Gouijnstook, recently spoke with Larry Jacobs of Education Talk Radio about the key findings of our 2018 Future Workforce Survey of 1,000+ college students. Here are the highlights and podcast recording of their conversation.
Larry Jacobs (LJ): Schools of education need to become schools of learning science… education is a learning science just like biology is a biological science.
Susan Gouijnstook (SG): When we think about ourselves as a learning science company, that really allows us to focus on the kinds of tools and applications and content that we can create based on our understanding of how humans learn – and to really optimize student learning.
LJ: What were the big takeaways, and who did you survey?
SG: We surveyed over 1,000 students in the higher ed area. They represented a wide variety of student types at various institutions.
Only 41% of college students felt that they were very or extremely prepared to enter the workforce… significantly lower than where we really should be.
Responses varied by gender and by traditional vs. non-traditional student types.
The gap that we continued to see between what students consider themselves to be in terms of prepared for the workforce and where employers are finding their recently hired college grads to be in terms of preparedness. Students are self-assessing themselves as much more prepared than employers are rating them.
LJ: I was talking to a guy who places students in high school, and he said this survey has shown him that while most people are hired for their hard skills, they're invariably fired for their lack of soft skills.
SG: As a learning science company, we're able to provide the content that students need to enhance and develop their hard skills and technical skills for whatever career they're entering. But when we look at soft skills… these are areas where students continue to struggle.
LJ: As you create new product in the various areas that you're in, do you look at incorporating – really seriously – the soft skills into that?
SG: We consider our job is really helping instructors meet the needs that employers are seeking to fill. When we think about critical skills, one effective way in which technology can help us improve those skills is through what we call simulations… When we think about how we can improve writing skills, an area that we're working on is using AI to help automate the feedback and provide students – based on short samples of writing – with good instruction on writing models... The key to all of this is making it easy for the instructor.
LJ: We always say "college and career ready." I have often said we need to eliminate the word "college" out of that. College's job is to make you career ready or to find another route.
LJ: What else surprised you about this survey?
SG: It was interesting to note that in this year's survey, 10% fewer students felt prepared with time management skills… One of the interesting results has been around how men consistently feel that they are more prepared than women. 50% of men reported feeling extremely or well prepared for their careers while only 36% of women said the same.
LJ: How did you do the survey?
SG: Our methodology is to work with MMR research associates and send an online survey out to students…. We're really looking for that first-person response from students who are actually in the trenches of academia.
The full findings of our 2018 Future Workforce Survey are available at www.mheducation.com/future-workforce/.