McGraw Prize Winners Are Helping Improve Education Around the World
Published April 7, 2017
---
A look at the latest achievements and accolades of recipients of this prestigious education award.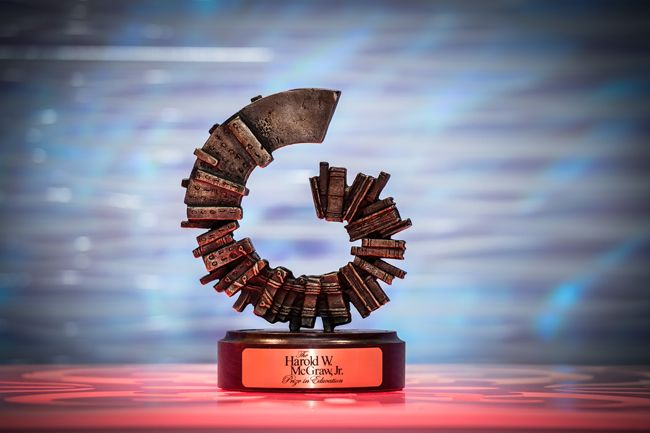 The McGraw Prize in Education is awarded annually to three exceptional individuals who exhibit innovative thinking, extraordinary leadership, and true dedication at improving the lives of learners and educators around the world. Since the Prize was founded in 1988, the achievements of its dozens of honorees have made a significant impact on the worldwide educational community.
This week, the three winners of the 2017 McGraw Prize were announced: Chris Anderson of TED (Global Education), Dr. Christine Cunningham of the Museum of Science, Boston (U.S. K-12), and Dr. Sandy Shugart of Valencia College (U.S. Higher Education).
As we look forward to honoring these three outstanding educators during the McGraw Prize Award Ceremony at the 2017 ASU+GSV Conference, here's a look at the recent accolades and accomplishments of previous Prize winners:
Anant Agarwal (2016 winner) will soon be one of only three Indian Americans to receive the Padma Shri award, India's fourth-highest civilian honor, conferred in a special ceremony by President of India.
Geoffrey Canada (2004) has transformed his non-profit initiative, Harlem Children's Zone, into a model for other projects that involve education and social services in order to break the cycle of poverty.
Freeman Hrabowski (2001) was recognized for his commitment and service to the African-American community in Baltimore County as a recipient of the 2017 Louis S. Diggs Award.
Wendy Kopp (2006) spoke at Duke's Innovation and Entrepreneurship program to share what inspired the creation of Teach for America and to motivate students to identify and solve social problems.
Larry Rosenstock (2010) was appointed Senior Education Advisor of Planet3, an exploration-based learning company that wants to enhance science education by engaging students with hands-on learning.
Alberto Carvalho (2016) visited the White House to represent the Miami-Dade school district in a meeting with members of the U.S. Department of Education and the White House Domestic Policy Council.
Deborah Bial (2013) has agreed to be the commencement speaker at Vassar College, where her first cohort of Posse Scholars via the Posse Foundation will graduate with the Class of 2017.
Robert Moses (2004) received an honorary doctorate from The Ohio State University at Mansfield in recognition of his work to improve public education for children nationwide.
Learn more about why this year's inspiring McGraw Prize recipients were selected in this video from McGraw-Hill CEO David Levin.