Careers at McGraw Hill: How Two Women in STEM Found Their Passion
Published October 12, 2021
---
At McGraw Hill, our team of engineers, UX Researchers and UX Designers use their skills to enhance the learning experience for millions across the globe.
We talked to two of those team members about their STEM journey, being a woman in tech, and more.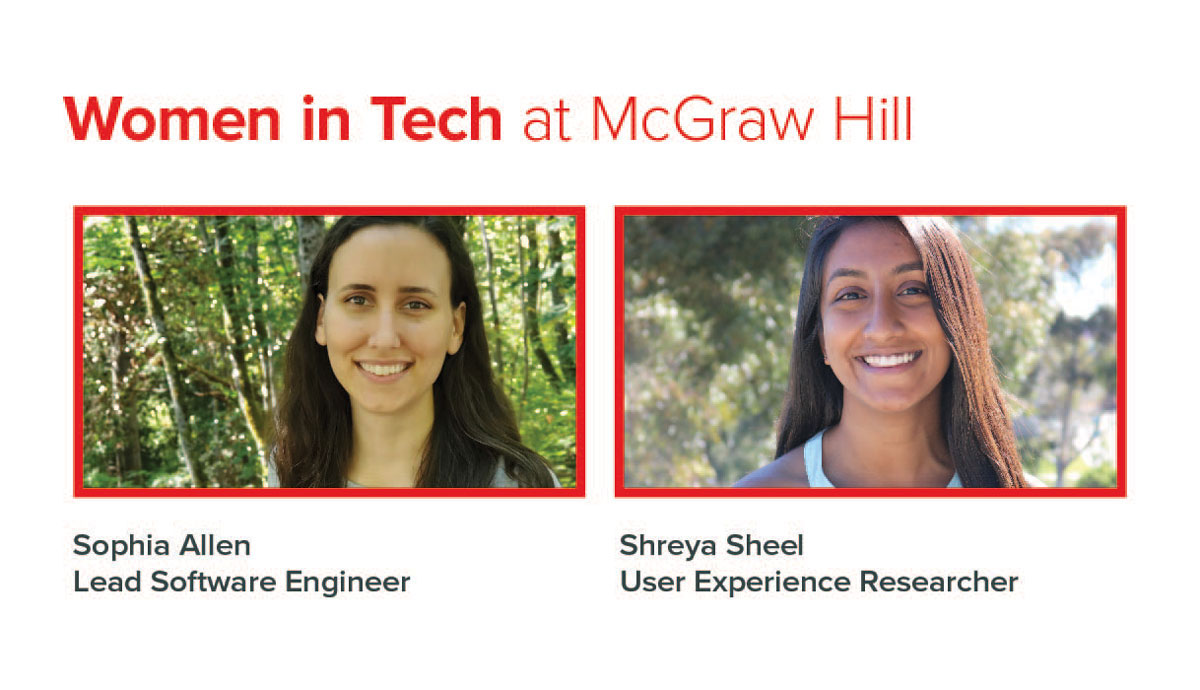 What does the path to a STEM career look like?
Just like in any line of work, career paths look different for everyone. Some may know from a young age what they want to do, while others change interests over time.
Sophia Allen is a Lead Software Engineer in our Digital Platform Group (DPG). Sophia had always been interested in working in education, which led her to teaching Language Arts and Social Studies at a high school. After a few years, however, Sophia realized teaching just wasn't right for her.
"Around that time, I happened upon a local news article about career-changing women learning how to code," Sophia said. "Their stories inspired me to give programming a shot, so over summer break I tried out a few online Computer Science courses and discovered that I both enjoyed it and was pretty good at it, too! I took the leap, resigned from teaching, and joined a Computer Science program at the local community college."
From there, Sophia got a Software Engineer internship at McGraw Hill. From there, she was offered a full-time position and over the next few years built enough expertise to become a Senior Software Engineer, and then a Lead Software Engineer.
What training is needed to be successful in a STEM career?
Shreya Sheel is a UX Researcher who grew up in the heart of Silicon Valley, a booming area with some of the biggest technology companies. Shreya was constantly surrounded by people who enjoyed problem-solving and innovating new ideas, so it didn't take long for her to develop similar interests.
"Seeing ideas take fruition into real tangible products that have wide scale impact always amazed me and continues to draw me into the technology space," Shreya said.
While getting her Cognitive Science degree, Shreya took an Interaction Design course that was invaluable in informing how to cross-functionally collaborate with stakeholders when designing user research studies.
Like Sophia, Shreya's early career included time in the classroom.
"My passion for the education space stemmed after working directly in classrooms as a teaching fellow for middle school students where I created and executed my own lesson plans, trying to find engaging yet effective ways to present challenging material," Shreya said. "After gaining firsthand classroom experience, I was motivated to explore other aspects of the education space and specifically understand how we could create innovative learner experience with various technologies and design-based methodologies."
As a User Experience Researcher at McGraw Hill, Shreya blends her interests in technology, design, and education by conducting user research that explores behaviors and motivations of students, teachers, and administrators to ultimately inform the designs of our digital education products.
Do women still face challenges in the STEM field?
For both Sophia and Shreya, having supportive colleagues, friends and family has helped them navigate their career.
"I've always struggled with confidence and felt like I constantly had to prove myself," Shreya said. "I still actively work on being comfortable speaking up even when I have half-baked ideas or thoughts. However, having a supportive network of friends and family has tremendously helped me. I realized that more people had imposter syndrome than I realized. I'm able to talk openly with those around me to reassure myself in not standing in my own way."
"I am fortunate not to have encountered the harassment and sexism that many other women and nonbinary people in the tech industry have experienced," Sophia said. "The culture at McGraw Hill has been very supportive - people have gone out of their way to make sure I'm included, given opportunities to grow, and treated with respect. Our teams are also diverse enough that it's rare for me to be the only woman in the room (or Zoom call)."
But that doesn't mean that no inequities exist across STEM, and other fields too.
"The challenge that I think about the most (and this isn't specific to tech) is ensuring that work gets distributed fairly across genders. Studies showC a tendency for women to volunteer for non-promotable tasks more often than men. There's a great articleC about this effect by Tanya Reilly that I recommend to people getting into the tech industry."
As a Lead Software Engineer, Sophia pays attention to how work is distributed on her team to ensure everyone has equal opportunities to engineer exciting new features, while also having equal responsibility to do simpler tasks, like writing documentation and running team meetings.
Curious about joining the team and working on meaningful projects alongside Shreya and Sophia?