Behind the Cube: Erik Hein, Sales Representative
Published September 15, 2020
---
At McGraw Hill, helping students learn, grow, and unlock their full potential is a team effort. Whether we work in product development, marketing, sales, engineering or elsewhere in the company, each of us makes an impact.
In our "Behind the Cube" series, we introduce employees who embody our mission, passion and values. For this month's Behind the Cube, meet Erik Hein, a Sales Representative on our PreK-12 team.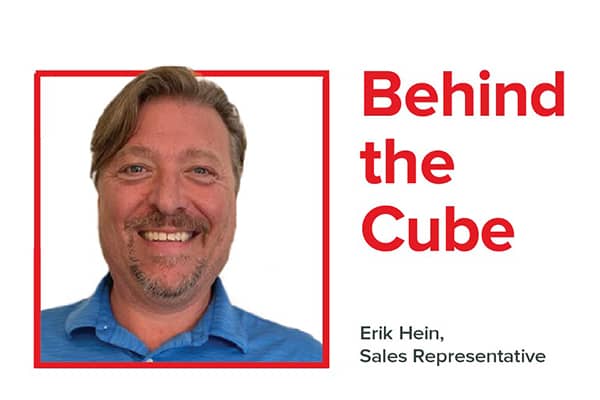 Time working at McGraw Hill: 14 years
Division/Department: School (PreK-12) Group
Based in/Location: Remote, New Jersey
Questions and Answers:
What does a typical workday look like for you, and how has your work changed due to COVID-19?

Wow, have things changed. I used to spend the majority of my time on the road, and working in parking lots, but now I am confined to my house with my wife/cubemate. I try to leave her alone and find another place in the house to work. My days are filled with so many different things like creating quotes, tracking orders for customers, hunting down ISBNs and logging calls in Salesforce. You never have the same day twice, so it is always changing.

One of the things I miss most is seeing my customers face-to-face. It is my favorite part of the job, and I have made some great friendships over the years with my customers. This job revolves around relationships, and so does life. Once you build trust with them, it goes a long way!

COVID-19 has changed the face of education, too. The market was not ready for it, and I have spent a lot of time teaching customers how to best use our online platforms. I remember back in 2012 sitting at a National Sales Meeting talking about how everything was going to be digital by 2020, and we wouldn't even be publishing books. Well, here we are, but I didn't expect it to happen this way.

While many of us are new to working from home, you've been working remotely for 14 years! What's your favorite way of staying connected to your team while working from home?

We talk to each other constantly whether it be a text message, email, or quick call. We have a tight team in New Jersey, and try to meet in person quarterly to discuss our territories, events, and customer relationships. It also gives us a chance to catch up on what our kids are up to and what's happening in our personal lives. It's great to know that I can call them at any time to ask a question if I need help.

What are some of your favorite hobbies or activities?

I play guitar and sing in a grunge band called Flannel Jam. It's a great way to relax and find balance in my life, which really is essential to staying happy. I also am a huge foodie and love to cook. I received a pizza stone for my birthday last year, so I have been experimenting with different kinds of pizza. What would a great meal be without wine? I have been making wine for over 20 years now. I have made wine with grapes from California, Argentina, and Italy. My colleagues know I can geek out on wine for hours, but I try not to bore them too much.

Erik loves to cook and make wine in his spare time!

What are you most excited about for the future of your role or our company?

After 14 years, I have seen so many changes in McGraw Hill, and we have come such a long way. I am excited that our new programs are really starting to include ways for educators to be aware of equity and access, and social emotional learning. As a recovering English teacher of 10 years, I now realize what this job is all about. It is the relationship you provide to the customer, and how that translates to students.

Over the past year, I have found myself talking about ways to create opportunities for teachers and students to interact. Productive struggle is healthy, and teachers can use that to bond with students. They trade in emotional currency, and we need to build their confidence. It may be the only time in the day that students can feel successful. If we can give that to them, that's a bonus.

I love the new opportunities we have to grow as employees and really think about our mindsets, including monthly speakers who engage us and encourage us to think about what we can do differently in the workplace or with customers.

We're hiring for Sales Reps right now! What would you tell a potential candidate about McGraw Hill to convince them to apply?

I would say McGraw Hill is a great place to work. There is a team mentality, and we are not about teaching how to win, but be winners, and embrace that attitude. Culture is one of the biggest determining factors of whether a company succeeds or fails. We provide that culture through diversity and inclusion, as well as comradery and managers who can coach, and help us be successful. There are so many people willing to help out. It truly takes a village to keep us moving forward, and we rely on the expertise of so many different people with talents I don't have. Our response to COVID-19 has been outstanding, and the resources and support we have for our customers is second to none. I am going on 15 years Red Cube Proud, and looking forward to 15 more!
Are you curious about career opportunities at McGraw Hill?
Related Links: