Behind the Cube: Dominique Pickens, Senior Academic Designer
Published October 20, 2020
---
At McGraw Hill, helping students learn, grow, and unlock their full potential is a team effort. Whether we work in product development, marketing, sales, engineering or elsewhere in the company, each of us makes an impact.
In our "Behind the Cube" series, we introduce employees who embody our mission, passion and values. For this month's Behind the Cube, meet Dominique Pickens, Senior Academic Designer.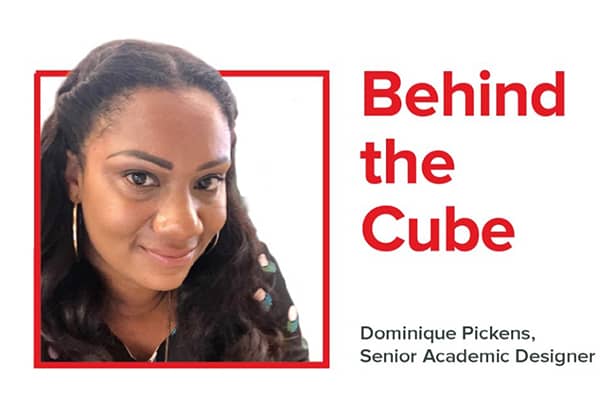 Time working at McGraw Hill: 10 years
Division/Department: School (PreK-12) Group
Based in/Location: New York
Questions and Answers:
What does a typical workday look like for you, and how has your work changed due to COVID-19?

I usually start my day going through emails that may have come in from our overseas vendors and prioritizing tasks for the day. I have meetings throughout the day with both vendors and internal stakeholders to discuss the development of our digital assets for the Wonders reading program.

Working remotely full-time has been an adjustment. McGraw Hill has been helpful in supplying equipment to continue working comfortably and effectively. While I miss interacting with coworkers and stopping by their desks to get answers to quick questions, Teams and Zoom have been very helpful in keeping the lines of communication between us as fluid as possible.

There's certainly been much more focus on our online materials and learning platform with more students learning remotely. As a digital editor, my workload has increased slightly to ensure teachers and students are still getting access to the materials they need to keep the learning process going, while also providing materials to teachers, students, and parents who may not have been as familiar, or reliant, on our digital program.

What was your best day on the job?

One of my best times on the job was attending an ISTE conference. It was one of my first work trips and I was a little apprehensive being the only representative from my department, but it was thrilling to interact with so many like-minded people focused on technology in education. I enjoyed the time I spent at our exhibition booth speaking with both McGraw Hill employees from other locations, and our customers.

What are some of your favorite hobbies or activities?

I really enjoy traveling. Growing up, I was fortunate enough to see many different countries and cultures around the world, an experience I truly value. I'm also a bit of a beach bum, so I try to make sure all my trips include both quality beach and book time, as well as new cultural experiences. As a Libra, I'm fairly competitive by nature and enjoy playing cards and board games with my friends and family. Being a professional editor has definitely made me a formidable Scrabble player!

What are you most excited about for the future of your role or our company?

As a digital editor, I'm always excited about the ways we can deliver quality, fun, and engaging materials to students. I'm looking forward to transitioning from our current CMS to a new one for our next reading program — one with more authoring capabilities to create new, captivating assets. As technology continues to develop, it seems like the potential to create more modern ways of learning grow exponentially.

Your 10-year work anniversary with McGraw Hill is coming up soon! Why have you stayed at McGraw Hill, and what would you tell a potential candidate about working at McGraw Hill?

McGraw Hill is a very comfortable place to work. While there have been changes at the company during my 10 years, the core vision and mission have always been the same. The people are extremely warm and friendly, and everyone really believes in the work they do. It is our privilege to unlock the full potential of each learner, the best ways we can.
Are you curious about career opportunities at McGraw Hill?
Related Links: