Behind the Cube: Rich Johnson, Senior Director Manufacturing
Published November 11, 2020
---
At McGraw Hill, helping students learn, grow, and unlock their full potential is a team effort. Whether we work in product development, marketing, sales, engineering or elsewhere in the company, each of us makes an impact.
In our "Behind the Cube" series, we introduce employees who embody our mission, passion and values. For this special Veterans Day edition, meet Rich Johnson, Sr Director of Manufacturing.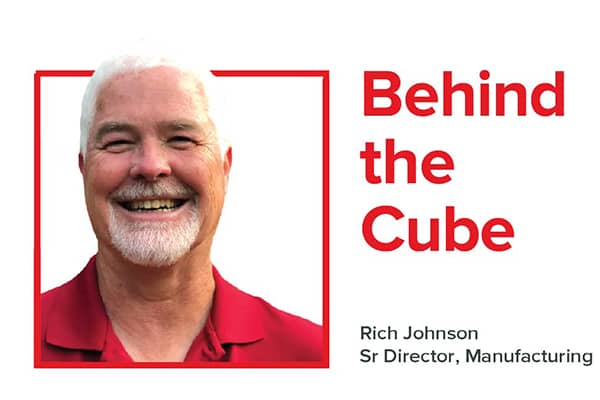 Time working at McGraw Hill: Nearly 12 years total
Division/Department: Global Supply Chain Management
Based in/Location: Santa Cruz, CA
Questions and Answers:
Tell us a bit about you and your role at McGraw Hill.

I grew up in the military – my dad was in the Air Force – and then I served in the Marine Corps for 26 years, active duty and reserve. I was fortunate to live in a lot of places and see a lot of the world. As a reservist, I was assigned to a variety of logistics roles which blended well with my civilian job. My family and I settled in the Monterey Bay area in 2000 before I was called back to active duty for two tours in Iraq. I retired from the Marines in 2008.

At McGraw Hill, I manage manufacturing for our K-12 products. That includes the obvious like printing textbooks, but it also includes science kits, math manipulatives, and display boxes for our products. My team works closely with the inventory management planners and our distribution centers to make sure we have the right product in the right quantities at the right time to meet our customers' needs.

What does a typical workday look like for you, and how has your work changed due to COVID-19?

Every day is different. There are a few standing meetings with various operations teams to make sure we're all synced up on our priorities and to share information, but the rest of the day usually has a mix of supplier meetings, planning, data analysis, continuous improvement projects, and problem solving. One of the best parts of my job is the variety in my workload; it keeps things fresh.

The biggest change to my work due to COVID-19 is that I'm not traveling anymore. I live in California, but I used to spend about half my time in our Columbus and New York offices. I haven't been on a trip since mid-March—the longest time I've been home in about 15 years. My team transitioned quickly to working from home. Zoom and Teams have become integral to our workflow.

What are some of your favorite hobbies or activities outside of work?

I'm fortunate to live in a beautiful part of the planet on the California coast. I love to get outside. I enjoy backpacking, river rafting, days at the beach in the summer, and snowboarding in the Sierra Nevada mountains during the winter. Travel has been a challenge this year, but I'm looking forward to exploring more of the world soon.

What skills did you learn during your time in the service that have helped you in your role at McGraw Hill?

The military gives you a great opportunity to serve in different roles. From those experiences, I saw first-hand the power of people working together to figure out solutions. For me, the best way to lead is to give people a goal and then collaborate to figure out the best way to reach the objective.

What would you tell a potential candidate about working at McGraw Hill to encourage them to apply?

This is a company that genuinely cares about helping students and teachers and it feels good to be part of an organization that wants to build something better. There are plenty of challenges, so it's mentally engaging work. The people are dedicated and great to work with, so it's an enjoyable experience figuring out how to approach an issue to find the best outcomes.
Are you curious about career opportunities at McGraw Hill?
Related Links: