Live Chat 1/25 | Protecting Your Career In The New Year
Published January 24, 2017
---
Join the McGraw-Hill Careers team for a Twitter chat about continuous education, confidence and being present.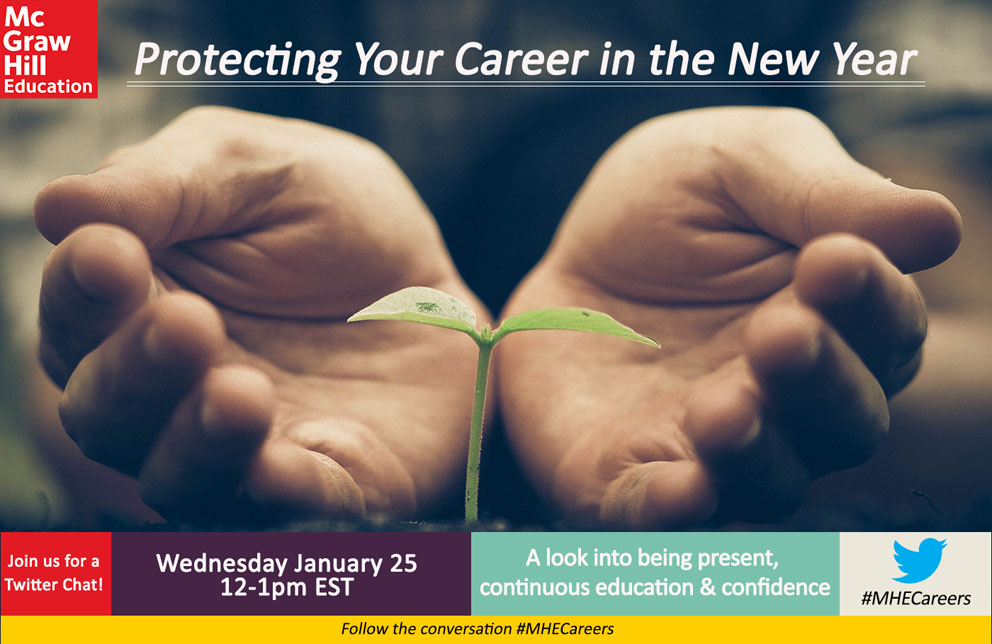 Each month, our Careers team hosts a Twitter chat exploring workforce and career development and providing advice for people at all different levels in their career paths. Authors and industry experts are invited to the #MHECareers chats to share tips and tricks with anyone interested in joining the conversation.
On January 25th 12-1pm EST, our first #MHECareers live chat of the New Year will cover how to be secure at your career. In a world of constant and rapid advancement, the employees who remain static in their work will be left behind. Join @MHECareers on 1/25 to discuss how furthering your education, exhibiting confidence and being present can make you an invaluable member of your company's team.
The discussion will be driven with the following questions:
As we kick off the New Year, how can people intentionally be more present at work?

With many changes in our workforce and society, how can employees ensure security within their careers?

If an employee is not secure, what steps should he or she take for the future?

In what ways can employees advance themselves in their careers?

How can companies help employees feel confident in their careers?

How can teams collaborate to build a secure environment in order to obtain success?

As the first month of 2017 comes to an end, what's your career advice on how to make the most of the year?
Our featured panelists this month are @ProProgressions, a certified professional resume writer, and @MeghanGodorov, a career coach.
If you'd like to advance your career this year by joining our learning science team, check out our available career opportunities. For more #MHECareers tips and advice, view our chat archive.