Live Chat on 7/13 | How Do You Prepare for a Digital Career?
Published June 23, 2016
---
Join the McGraw-Hill Education Careers team for a Twitter chat about the benefits of digital skills!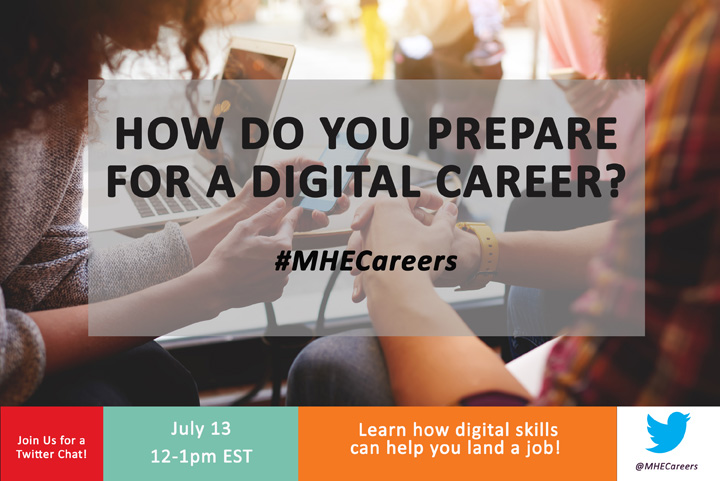 To help stay closely connected to today's rapidly evolving workforce, our Careers team hosts regular Twitter chats with some of today's leading career advice experts and authors. #MHECareers chats are open to everyone, and they cover topics ranging from personal branding and networking to crafting the perfect resume.
#MHECareers Chat Archive
On July 13th 12-1pm EST, our next #MHECareers chat will explore the benefits and challenges of digital skills for the new generation of workers. The modern workplace is rapidly changing with the growth of technology, and digital skills are more important to today's job seekers than ever. While more than half of current college students feel that using technology in classes or to study will help them land a job after graduation, few of them actually feel very prepared to enter the workforce.
With the upcoming Twitter chat, our Careers team and panelists will help bridge this gap and answer the following questions:
What can colleges better prepare students for the workforce in the new digital age?

How can employers help expand the skills of their employees through digital education?

What is the biggest digital challenge of transitioning from classroom to the workforce today?

How can you continue to develop digital skills when starting a new career?

What are top digital skills that today's employers are looking for in new job candidates?

What digital skills are candidates lacking today?

How can digital skills prepare you for the workforce?
Our panelists will include:
@monster
@HerAgenda
@dailymuse
If you'd like to be a part of our mission to accelerate learning through intuitive, engaging, efficient and effective experiences, check out our career opportunities in learning science.