McGraw-Hill Education December 2016 News Update
Published December 12, 2016
---
News, announcements, and activities from the worldwide leader in learning science.
2016 is fast coming to an end, and at McGraw-Hill Education we're wrapping up a year of great progress toward our vision to unlock the full potential of each learner.
Over the last several months we've expanded our adaptive learning portfolio, increased our capacity to conduct and apply learning science research, and strengthened our collaboration with the educational and technology communities. We've also played a leading role in advocating for open ed-tech standards and initiatives to make a high-quality learning experience more accessible and effective for students and teachers around the world.
Here's a look at some of our top stories and announcements from an exciting fourth quarter.
Leadership insights from our CEO David Levin
Podcast Interview
CEO David Levin with Denver Frederick on The Business of Giving radio show about our company's evolution, influence, and plans for the future. Full transcript & audio.
Featured Article
David Levin examines five reasons why technology can and should be central in higher education. Read it on Ideas in Education.
Top Higher Education News
November 1 | Our SmartBook technology will power an innovative new MOOC-based undergraduate course for computer science students at Georgia Tech and beyond. View the press release..
October 26 | We worked with the Cleveland Clinic to develop a new Internal Medicine course for advanced practice nurse practitioners (APRNs) and physician assistants (PAs) using our adaptive learning software. View the press release..
School Guest Blog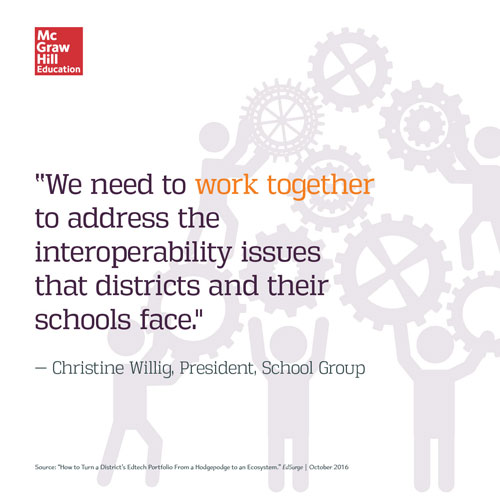 Our School Group president Christine Willig explains how embracing interoperability standards can help schools evolve thriving ed-tech ecosystems. Read it on the EdSurge blog.
Adaptive Learning Insights
Discover our unique approach to the design and development of adaptive learning technology in this six-part video series with Michael Feldstein of e-Literate and our CDO Stephen Laster and ed-tech R&D leads Al Essa and Matt Haldeman.
Interactive Education Quizzes
Test your knowledge and learn revealing statistics about education in the United States with our latest interactive quizzes.
Visit our news archive or follow us on LinkedIn for more announcements, insights, and information about our company, products, and executive leadership team. Please subscribe below to receive our next newsletter by email.