Classroom-in-a-Box Pilot Offer Extended Through the End of 2015
Published November 6, 2015
---
Our technology collaboration with Samsung helps K-12 schools jump-start digital learning programs
Earlier this year we announced an innovative new collaboration with Samsung to give schools a convenient option to acquire classroom-friendly devices bundled with our industry-leading adaptive and 1:1 learning software. Our 'Classroom-in-a-Box' pilot provides the complete curriculum, devices, and professional development needed to launch and sustain effective digital learning programs for grades 3-8. We've now extended the option for schools to sign-up period for Classroom-in-a-Box through the end of 2015!
Schools participating in Classroom-in-a-Box can save up to 30% on combined costs of the devices and software, which includes Samsung Galaxy Tab 4s or Chromebooks equipped with our ALEKS adaptive learning system and Thrive, a 1:1 digital teaching and learning platform with core math and English language arts programs. To help school districts make a seamless transition to 1:1 environments and successfully implement digital transformations, McGraw-Hill Education will also offer curriculum-based professional development courses for teachers and districts. Each Classroom-in-a-Box implementation also include an on-site support visit from a Samsung technology expert.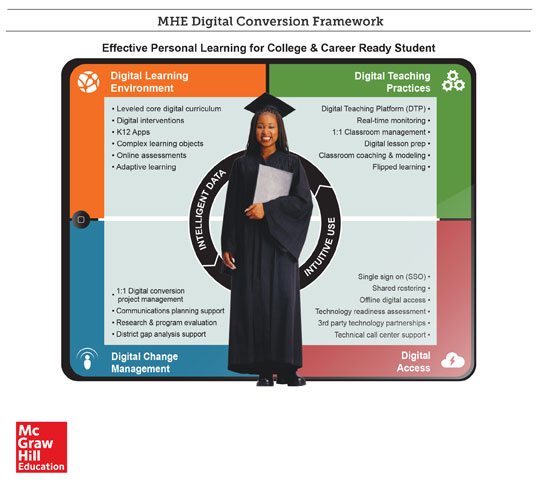 Launching a successful K-12 digital learning program requires careful planning, staff buy-in, and strong leadership. To help school leaders meet this need we recently released a whitepaper full of planning information, implementation advice, and strategic insights on District Digital Conversion (DDC).
This free resource offers a wealth of useful information (such as the Digital Conversion Framework graphic below) for school and IT administrators already undergoing digital conversion as well as those who are still in the planning phase.
By combining our industry-leading adaptive learning software with classroom-ready technology devices from Samsung, Classroom-in-a-Box provides a comprehensive and easy-to-implement digital teaching and learning solution for English language arts, mathematics, and more.