Looking for a career in ed tech? MHE is the place.
Published April 16, 2014
---
With graduation season only a few weeks away, Brian Kibby, president of MHE's higher ed division, wrote a blog post encouraging students graduating this college in technology fields—and tech talent everywhere—to look at MHE as a possible career destination.
He writes:
"McGraw-Hill Education is a $2+ billion startup that is transforming the face of educational technology in a deeper, broader and more meaningful way than newer startups can, and we are building one of the strongest digital workforces anywhere. Why? Because we value talent above all else—and we understand just how crucial it is to achieving our mission of delivering results for students, instructors, and colleges and universities the world over."
Apparently, the message is being well received.
According to a Universum survey of more than 45,000 undergraduates, humanities students rank McGraw-Hill Education #11 from a list of 230 companies as their ideal place to work.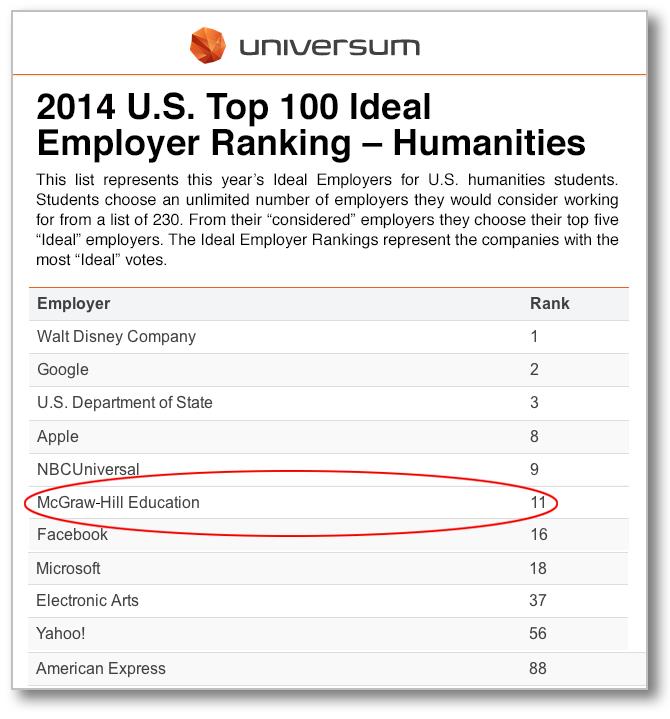 While it's always nice to be wanted, we're not yet satisfied. As Stephen Laster, our chief digital officer, put it:
To college students who participated in the survey and everywhere: THANK YOU! We hope to see you in the hallways at MHE sometime soon.
If you're considering a career at MHE, check out our "Careers" page and follow us at @MHEducation.