9 Ed-tech Panel Ideas to Explore Learning Science at SXSWedu 2016
Published August 12, 2015
---
McGraw-Hill Education teams-up with education and technology collaborators to inspire next year's SXSWedu conversation.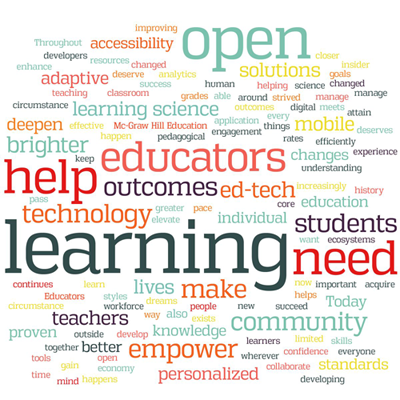 SxSWedu has quickly become one of the world's most popular and inspiring educational technology conferences. This week SXSWedu opened
Panel Picker
public voting for the 2016 conference. The Panel Picker is a crowd-sourced platform that allows SXSWedu's growing community of attendees and fans to have a voice in determining the topic ideas and presenters for each year's conference. With more than 1,200 proposals to choose from in the Panel Picker, the depth and variety of potential ed-tech sessions for SXSWedu 2016 is incredible.
This year McGraw-Hill Education has joined forces with our collaborators in education and technology to submit several session ideas that highlight the importance of learning science and educational technology in improving outcomes for the world's learners.
We hope you'll take a moment to register for the SxSWedu Panel Picker, review our session proposals and more, and vote for your favorites. McGraw-Hill Education was proud to be a
key contributor
to this year's conference in March, and we're looking forward to an inspiring and informative ed-tech conversation at SXSWedu 2016!
Microcredentials: Bridge from Education to Career | David Levin, President and CEO of McGraw-Hill Education, joins SVP of Global Talent Organization at LinkedIn Pat Wadors and Anya Kamenetz explore the benefits and potential risks of new education models that utilize microcredentials instead of traditional credits.
Community Colleges: Learning Through Innovation | Our SVP of Products and Markets Kurt Strand and Anne Praderas Vance of Austin Community College take an in-depth look at the Highland ACCelerator -- an innovative new learning model and the world's largest 'math emporium'
How I Implemented Digital Learning at Scale | SVP of Digital Partnerships Scott Drossos, J.D. Solomon of District Administration, and Baltimore County Public Schools Superintendent Dallas Dance discuss the challenges and opportunities of creating scalable digital learning environments in K-12 schools.
Educator's Dilemma: Defining Open in Education | Our Chief Digital Officer Stephen Laster and Anthony Salcito of Microsoft Education define 'open learning' and explain its crucial role in improving outcomes in today's dynamic digital education ecosystem.
Is Education Policy Stifling Innovation? | McGraw-Hill Education's SVP of Global Affairs and Education Policy Heath Morrison joins Dallas Dance of Baltimore County Public Schools and West Virginia Governor Bob Wise of the Alliance for Excellent Education for a panel discussion on funding, student data privacy, and the effect of education policies in the U.S. and around the world.
Is Access to Performance Data Good for Students? | Vice President of Analytics and Research & Development Al Essa, Jan Plass, Ph.D. of NYU, Ryan Baker, Ph.D. of Columbia University, and Lorena Barba, Ph.D. of Boston University probe the pros and cons of providing students with in-depth data about their own learning performance in this panel moderated by Paul Fain of Inside Higher Ed.
The Myth of the Learning Style Holds Students Back | Ulrik Christensen, Sr. Fellow of Digital Learning and James Stigler of UCLA probe common myths about learning styles and explain how today's educators can accommodate countless different learning needs and preferences without alienating groups of students.
Practical Student Privacy | Andy Bloom, Chief Privacy Officer for McGraw-Hill Education, joins Bret Cohen of Hogan Lovells and Casey Wardynski of Huntsville City Schools, to discuss policies around student privacy and practical ways of protecting student data.
Creating and Delivering What Students Really Want | Shanika Hope, McGraw-Hill Education's Vice President of National Urban Markets, joins Luyen Chou of Pearson and Wilhelm of Knovation, for a panel discussion around how to create effective digital learning tools that solve real world problems.