Celebrating Excellent Educators: The 2016 Winners of The Harold W. McGraw, Jr. Prize in Education
Published March 7, 2016
---
Since 1988, The Harold W. McGraw, Jr. Prize in Education has honored some of the greatest minds that our profession has to offer. Over the years, we've had the privilege of working not only with leaders in our field, but with true visionaries.
This year is no different. Today, we couldn't be more excited to announce the winners of the 2016 McGraw Prize in Education, and to award $50,000 and a bronze sculpture to each. And what an amazing group it is!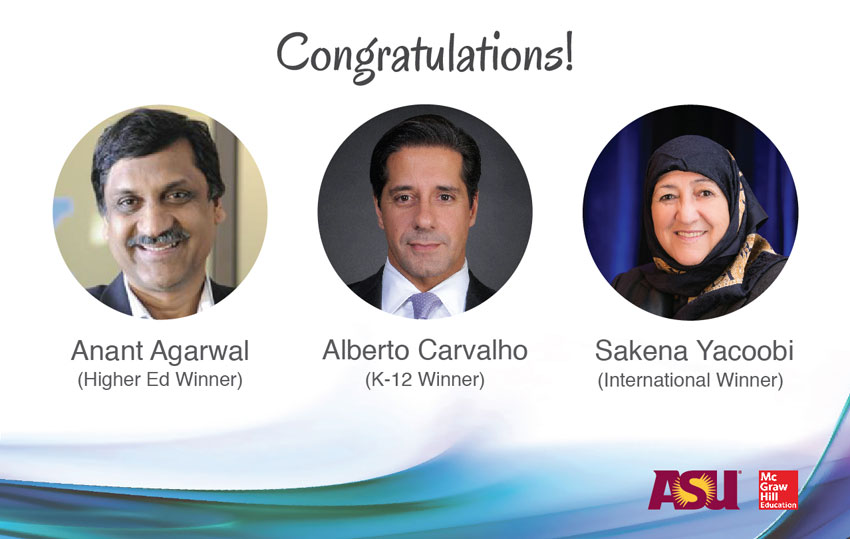 Anant Agarwal, CEO of edX and MIT professor, will receive the U.S. Higher Education Prize as an outstanding leader in the development of the Massive Open Online Course movement, which has helped make possible the education of millions of students around the world. You can see Anant's TED talk here.

Alberto M. Carvalho, superintendent of the Miami-Dade school district, will receive the U.S. K-12 prize for his exemplary leadership in raising standards and improving graduation rates in a complex urban district, which is an outstanding model for others. You can see Alberto's speech at the White House here.

Sakena Yacoobi, CEO of the Afghan Institute of Learning, will receive the International Education prize for the transformational effect her work has had on communities in Afghanistan, particularly in education for girls and women, and how she has inspired others to follow suit. You can see Sakena's TED talk here.
The winners were chosen from the more than 200 public nominations that were submitted, and considered alongside those outstanding individuals identified by the Prize's dedicated research group. Harold (Terry) McGraw III, former Chairman and CEO of The McGraw-Hill Companies, worked with McGraw-Hill and Arizona State University to select the winners from a list of three finalists in each category, chosen by a group of notable jurors including former Prize winners. While the Prize has been awarded since 1988, this is the first year that McGraw-Hill and Arizona State University have partnered to administer the Prize.
The winners will be celebrated at a dinner and ceremony at the ASU GSV Education Innovation Summit in San Diego on April 19. In the meantime, you can learn more about their inspiring work and that of past Prize winners here.
Collectively, these three winners have changed the lives of millions of students. Their backgrounds are diverse, but ultimately they share a single vision: to unlock the full potential of each learner. Their accomplishments should be lauded, and their innovations should be shared with other educators who are working to make a difference around the world.
Please join us in congratulating each of this year's winners, and in sharing their accomplishments with educators everywhere.