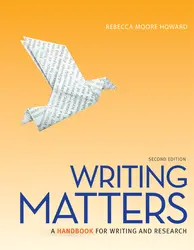 Writing Matters, Tabbed (Spiral Bound Edition)
2nd Edition
Product Details

+
Writing Matters emphasizes the responsibility writers share, whether collaborating online in peer review or conducting research with digital and print sources; to write clearly and to provide readers with the information and interpretation they need to make sense of a topic; to explore a topic thoroughly and creatively; and to approach writing tasks as an opportunity to learn about a topic and to expand their scope as writers.
Program Details
Howard, Writing Matters, Second Edition
TABLE OF CONTENTS (Tabbed Edition)
TAB 1 - Writing Responsibly Tools for the Information Age
1 Writing Today
a. The Expanding Definition of Literacy
b. Multiliteracies and Print Literacy
2 The Writer's Responsibilities
a. Understanding Your Responsibilities to Your Audience
b. Understanding Your Responsibilities to Your Topic
c. Understanding Your Responsibilities to Other Writers
Writing Responsibly: Your College's Plagiarism Policy
d. Understanding Your Responsibilities to Yourself
Writing Responsibly: Taking Yourself Seriously as a Writer
TAB 2 - Writing Matters Planning, Writing, Editing
3 Reading Critically
a. Comprehending the Text
b. Reflecting on the Text
Writing Responsibly: Engaging with What You Read
c. Preparing to Write about the Text
Writing Responsibly: Drawing Conclusions
Writing Responsibly: Understanding Criticism
Student Model Critique of an Advertisement
d. Writing Responsibly: Understanding and Representing the Entire Source
4 Planning and Drafting Your Project
a. Analyzing Your Writing Situation
Writing Responsibly: Seeing and Showing the Whole Picture
Writing Responsibly Choosing an Engaging Topic
b. Analyzing the Assignment and Setting a Schedule
Writing Responsibly: Plagiarism and Time Management
c. Generating Topics and Ideas
d. Narrowing Your Topic and Drafting an Effective Thesis
e. Organizing Your Ideas
f. Drafting Your Writing Project
Student Model First Draft
5 Crafting and Connecting Paragraphs
a. Writing Relevant Paragraphs
b. Writing Unified Paragraphs
c. Writing Coherent Paragraphs
Writing Responsibly: Guiding the Reader
d. Developing Paragraphs Using Patterns of Organization
e. Writing Introductory Paragraphs
f. Writing Concluding Paragraphs
g. Connecting Paragraphs
6 Revising, Editing, and Proofreading
a. Revising Globally by Analyzing Your Own Work
Writing Responsibly: The Big Picture
b. Reconsidering Your Title
c. Gaining Insight from Peers
d. Revising Locally: Editing Your Words and Sentences
e. Proofreading Your Project Carefully
Writing Responsibly: Beware the Spelling Checker!
Student Model Final Draft
f. Writing Responsibly: Explaining Your Choice of Sources
TAB 3 - Design Matters
Designing in Multiple Media
7 Designing Printed and Electronic Documents
a. Planning Your Design Project
b. Laying Out and Formatting Your Document
Writing Responsibly: Selecting Fonts with Readers in Mind
Writing Responsibly: Establishing a Consistent Font
c. Adding Visuals
8 Designing in Context: Academic and Business Documents
a. Formatting (and Writing) Academic Texts
b. Formatting (and Writing) Business Texts
Writing Responsibly: Maintaining Confidentiality in Email
c. Creating Websites and Web Pages
Writing Responsibly: Flaming
d. Writing Responsibly in Interactive Media
9 Designing a Multimedia Presentation
a. Identifying Your Writing Situation
b. Devising a Topic and Thesis
c. Organizing the Presentation
d. Rehearsing the Presentation
Writing Responsibly The Speaker's Responsibilities
e. Connecting with the Audience
TAB 4 - Genre Matters
Writing in College
10 Writing in College: Comparing the Disciplines
a. Adopting an Academic Approach
Writing Responsibly: Writing Responsibly across the Disciplines
b. Using the Sources of the Discipline
c. Using the Language of the Discipline
d. Citing and Documenting Information Borrowed from Sources
e. Using Visuals in the Disciplines
f. Preparing for and Taking Examinations
Student Model Effective Answer on an Essay Exam
11 Analyzing and Crafting Arguments
a. Persuading and Exploring
b. Making Claims
Writing Responsibly: The Well-Tempered Tone
c. Choosing Evidence Rhetorically
Writing Responsibly: Preparing Oral Arguments
Writing Responsibly: Establishing Yourself as a Responsible Writer
d. Considering Alternative Viewpoints
e. Discovering Assumptions and Common Ground
f. Organizing Arguments: Classical, Rogerian, and Toulmin Models
g. Avoiding Logical Fallacies
Writing Responsibly: Visual Claims and Visual Fallacies
Student Project Argument Essay
12 Writing about Literature
a. Reading and Analyzing Works of Literature (Novels, Poetry, Plays)
Writing Responsibly: Reading with Study Guides
b. Devising a Literary Thesis
c. Supporting Your Claims with Reasons and Evidence from the Text
d. Using the Tense (Past, Present), the Point of View, and the Voice Appropriate for Literary Studies
e. Citing and Documenting Sources in MLA Style
Student Project Explication
TAB 5 - Research Matters
Finding, Evaluating, Citing Sources
13 Planning a Research Project
a. Analyzing the Research Assignment and Setting a Schedule
Writing Responsibly Using Printed Sources
b. Choosing and Narrowing a Research Topic
c. Drafting the Thesis with Research Questions
d. Choosing Research Sources
d. Building and Annotating a Working Bibliography
Writing Responsibly Avoiding Accidental Plagiarism
14 Finding Information
a. Finding Reference Works
Writing Responsibly Using Wikipedia Responsibly
Writing Responsibly Going Beyond Reference Sources
b. Finding Information on the Web
c. Finding Reliable Interactive Media
d. Finding Articles in Journals and Other Periodicals
Using Databases and Indexes
Writing Responsibly Really Reading Real Sources
e. Finding Books for In-Depth Information Using Your Library's Catalog
f. Finding Government Information
g. Finding Multimedia Sources
h. Conducting and Reporting Field Research
Writing Responsibly Reporting Results Fairly
15 Evaluating Information
a. Evaluating the Relevance of Potential Sources
b. Evaluating the Reliability of Potential Sources
Writing Responsibly Keeping an Open Mind
c. Evaluating Online Texts: Websites, Blogs, Wikis, and Discussion Forums
Writing Responsibly Online Plagiarism
Writing Responsibly Choosing and Unpacking Complex Sources
16 Using Information Responsibly: Taking Notes and Avoiding Plagiarism
a. Learning What You Do and Do Not Have to Acknowledge
b. Making Notes that Help You Avoid Plagiarizing
Writing Responsibly Using Illustrations and Avoiding Plagiarism
Writing Responsibly Highlighting versus Making Notes
c. Summarizing and Paraphrase Sources without Patchwriting
d. Capturing Quotations in Your Notes
e. Including Analysis, Interpretation, Synthesis, and Critique in Your Notes
17 Writing the Research Project a. Drafting a Thesis Statement Based on Your Research Question Writing Responsibly Acknowledging Counterevidence b. Organizing Your Notes, and Outlining Your Project c. Supporting Your Claims with Analysis, Interpretation, Synthesis, and Critique of Sources d. Supporting Your Claims with Summaries, Paraphrases, and a Few Apt Quotations from Sources e. Revising, Editing, Proofreading, and Formatting Your Project Writing Responsibly Owning the Proofreading Process 18 Citing Expertly a. Integrating Source Material Responsibly b. Showing Source Boundaries c. Emphasizing Your Voice d. Providing Context e. Integrating Altered Quotations TAB 6 - Documentation Matters MLA Style Foldout: Documentation Matters: MLA Style 19 Creating MLA-Style In-Text Citations Writing Responsibly Citing and Documenting Sources a. Using a Signal Phrase and Page Reference or a Parenthetical Citation to Alert Readers to Borrowed Material in Your Research Project b. Including Enough Information to Lead Readers to the Source in Your List of Works Cited c. Placing In-Text Citations to Avoid Distracting Readers and to Show Them Where Borrowed Material Starts and Stops Writing Responsibly Using Signal Phrases to Demonstrate Your Relationship with Sources d. Adjusting In-Text Citations to Match Your Source 20 Preparing an MLA-Style List of Works Cited Books—Printed and Electronic Periodicals—Printed and Electronic Other Electronic Sources Audio and Visual Sources Miscellaneous Sources—Printed and Electronic 21 Using MLA Style for Informational Notes 22 Formatting a Paper in MLA Style a. Margins and Spacing b. Typeface c. Header d. Identifying Information e. Title f. Long Quotations g. Tables and Figures h. Printing and Binding Writing Responsibly Of Deadlines and Paperclips i. Portfolios Student Model Research Project: MLA Style TAB 7 - Documentation Matters APA Style Foldout: Documentation Matters: APA Style 23 Creating APA-Style In-Text Citations Writing Responsibly Citing and Documenting Sources a. Placing In-Text Citations So That Readers Know Where Borrowed Material Starts and Stops b. Adjusting In-Text Citations to Match Your Source 24 Preparing an APA-Style Reference List Books—Printed and Electronic Periodicals—Printed and Electronic Other Electronic Sources Audio and Visual Sources Miscellaneous Sources—Printed and Electronic 25 Using APA Style for Informational Notes 26 Formatting a Paper in APA Style a. Margins and Spacing b. Typeface, Header, and Page Number c. Title Page d. Abstract e. Tables and Figures f. Reference List Writing Responsibly Of Deadlines and Paperclips g. Printing, Paper, and Binding Student Model Research Project: APA Style TAB 8 - Documentation Matters Chicago Style and CSE Style 27 Documenting Sources: Chicago Style a. Creating Chicago-Style Notes and Bibliography Entries Writing Responsibly Citing and Documenting Sources Books—Printed and Electronic Periodicals—Printed and Electronic Other Electronic Sources Audio and Visual Sources Miscellaneous Sources—Printed and Electronic b. Using Chicago Style for Tables and Figures c. Formatting a Chicago-Style Research Project Writing Responsibly Of Deadlines and Paper Clips Student Model Research Project: Chicago Style 28 Documenting Sources: CSE Style a. Creating CSE-Style In-Text Citations Writing Responsibly Citing and Documenting Sources b. Preparing a CSE-Style Reference List Books—Printed and Electronic Periodicals—Printed and Electronic Miscellaneous Sources—Printed and Electronic c. Formatting a CSE-Style Research Project Writing Responsibly Of Deadlines and Paper Clips Student Model CSE-Style Reference List TAB 9 - Style Matters 29 Writing Concisely a. Eliminate wordy expressions Writing Responsibly Conciseness versus the Too-short Paper b. Eliminate ineffective repetition c. Avoid wordy sentence patterns d. Consolidate phrases, clauses, and sentences 30 Using Parallelism a. Express paired items and items in a series in parallel form b. Maintain parallelism in comparisons c. Include all words needed to maintain parallelism Writing Responsibly Using Parallelism to Clarify Relationships among Ideas d. Use parallelism for emphasis 31 Engaging Readers with Variety and Emphasis a. Vary sentence length and structure b. Use coordination to link or contrast equally important ideas c. Distinguish main ideas from supporting ideas with subordination d. Vary sentence openings e. Put important information where readers are most likely to notice it f. Use strategic repetition g. Create emphasis with emphatic verbs h. Distinguish the active from the passive voice Writing Responsibly Voice and Responsibility Writing Responsibly Blending Voices in Your Text 32 Choosing Appropriate Language a. Match your language to the context Writing Responsibly Online Shortcuts b. Avoid biased or hurtful language Writing Responsibly Euphemisms and Doublespeak 33 Choosing Effective Words a. Denotation and connotation: Find the right word Writing Responsibly Word Choice and Credibility b. Choose compelling words and figures c. Master idioms d. Avoid clichés 34 Using the Dictionary and Thesaurus a. Choose a general-purpose or a specialized dictionary Writing Responsibly Choosing Accurate Synonyms b. Consult a thesaurus c. Learn to read a dictionary entry 35 Glossary of Usage TAB 10 - Sentence Matters Foldout: Sentence Matters: Common Sentence Problems 36 Understanding Grammar Writing Responsibly Why Grammar Matters PARTS OF SPEECH a. Nouns b. Pronouns c. Verbs d. Adjectives e. Adverbs f. Prepositions g. Conjunctions h. Interjections SENTENCE STRUCTURE i. Subjects j. Predicates k. Verb Types and Sentence Patterns l. Phrases m. Clauses n. Sentence Types 37 Avoiding Sentence Fragments a. Recognize fragments b. Edit fragments Writing Responsibly Sentence Fragments and Context c. Think carefully before using an intentional fragment 38 Avoiding Comma Splices and Fused Sentences a. Join independent clauses correctly b. Comma splices and fused sentences are improperly joined independent clauses Writing Responsibly Clarifying Boundaries c. Recognize when comma splices and fused sentences tend to occur d. Edit comma splices and fused sentences Writing Responsibly Is a Comma Splice Ever Acceptable? 39 Maintaining Agreement SUBJECT-VERB AGREEMENT a. Understand how subjects and verbs agree b. Ignore words that intervene between the subject and the verb Writing Responsibly Dialect Variation in Subject-Verb Agreement c. Distinguish plural from singular compound subjects d. Distinguish singular and plural indefinite pronouns e. Find agreement with collective-noun and number subjects f. Recognize nouns like measles and economics that are singular even though they end in -s g. Treat titles, words as words, and gerund phrases as singular h. Match a relative pronoun (who, which, or that) to its antecedent when the pronoun is the subject of a subordinate clause i. Find agreement when the subject follows the verb j. Match a linking verb with its subject, not its subject complement PRONOUN-ANTECEDENT AGREEMENT k. Match pronouns appropriately with indefinite pronoun and generic noun antecedents Writing Responsibly Using a Plural Pronoun with a Singular Antecedent l. Match pronouns with collective noun antecedents m. Match pronouns with compound antecedents 40 Using Verbs VERB FORMS a. Understand the basic forms of verbs b. Use regular and irregular verb forms correctly c. Combine main verbs with helping verbs to form complete verbs d. Include -s or -es, -d or -ed endings when required e. Distinguish rise from raise, sit from set, lie from lay TENSE f. Use appropriate verb tenses g. Follow conventions for the use of the present tense h. Use tense sequence to clarify time relationships MOOD i. Understanding verb mood j. Use the subjunctive mood correctly Writing Responsibly Using the Subjunctive in Formal Writing 41 Understanding Pronoun Case and Reference PRONOUN CASE a. Use the subjective case for subject complements b. She and I or her and me? Keep track of case in compounds c. Keep track of case in appositives d. Decide between we and us before nouns e. Use the objective case both before and after an infinitive f. Decide on case with -ing words g. Clarify case in comparisons with than or as h. Distinguish who, whom, whoever, and whomever Writing Responsibly Case and Tone CLEAR PRONOUN REFERENCE i. Revise for clear reference j. Revise for specific reference with it, this, that, and which k. Avoid implied reference l. Avoid the indefinite use of they, it, and you 42 Using Adjectives and Adverbs a. Learn the difference between adjectives and adverbs b. Use adjectives, not adverbs, as subject complements after linking verbs c. Is it bad or badly, good or well? d. Use negatives correctly e. Use comparative and superlative adjectives and adverbs correctly 43 Avoiding Misplaced and Dangling Modifiers a. Place modifiers close to the words they modify b. Avoid squinting modifiers and ambiguously placed limiting modifiers c. Avoid disruptively placed modifiers Writing Responsibly Misplaced Modifiers in the Real World d. Avoid awkwardly split infinitives e. Identify and correct dangling modifiers 44 Avoiding Confusing Shifts a. Avoid awkward shifts in tense b. Avoid awkward shifts in mood and voice c. Avoid shifts in person and number d. Avoid shifts from direct to indirect quotations and questions 45 Avoiding Mixed and Incomplete Constructions a. Recognize and correct mixed constructions b. Recognize and correct mismatched subjects and predicates c. Add essential words to compound and other constructions d. Avoid incomplete or ambiguous comparisons TAB 11 - Language Matters Issues for Multilingual Writers 46 Understanding English Word Order and Sentence Structure a. Observe normal word order b. Include a stated subject c. Manage there and it sentences d. Eliminate redundant subject and object pronouns e. Observe standard word order with direct objects, indirect objects, and object complements f. Observe word-order patterns in questions g. Observe inverted word order when certain conjunctions or adverbs begin a clause 47 Using Noun and Noun Determiners a. Identify different types of nouns b. Use nouns with articles (a, an, the) and other determiners Writing Responsibly Less versus Fewer, or "Do as I say, not as I do" 48 Managing English Verbs a. Understand phrasal verbs b. Learn when to use gerunds and infinitives after verbs and prepositions c. Understand the use of participles as adjectives d. Use helping verbs for verb formation 49 Managing Adjectives and Adverbs a. Place adjectives in the proper order b. Choose the correct prepositions with adjectives Writing Responsibly Too Many Adjectives before a Noun c. Place adverbs correctly d. Distinguish between confusing adverbs 50 Using Prepositions a. Recognize prepositions b. Learn the functions of prepositions c. Use prepositions correctly d. Learn when prepositions are needed TAB 12 - Detail Matters Punctuation and Mechanics 51 Using Commas a. Use commas with and, but, or, nor, for, so, or yet in compound sentences Writing Responsibly Commas and Clarity b. Use a comma after introductory elements c. Use commas to set off conjunctive adverbs and other transitional phrases d. Insert commas to set off interjections, contrasting information, expressions of direct address, parenthetical and conversational expressions, and tag questions e. Use commas to separate items in a series f. Use commas to separate coordinate, not cumulative, adjectives g. Use commas to set off nonessential appositives, phrases, and clauses h. Use commas with quotations i. Use commas with numbers, names and titles, place names and addresses, and dates j. Use commas to avoid ambiguity k. Avoid commas between subjects and verbs, verbs and objects 52 Using Semicolons a. Use a semicolon to link closely related independent clauses b. Use a semicolon with a conjunctive adverb or a transitional phrase to link two independent clauses Writing Responsibly Sending a Signal with Semicolons c. Use a semicolon to separate items in a series when the items have internal punctuation d. Use a semicolon to repair a comma splice or a fused sentence e. Avoid misusing semicolons 53 Using Apostrophes a. Use an apostrophe to indicate possession Writing Responsibly Contractions in Formal Writing b. Use apostrophes in contractions and abbreviated years c. In general, do not use apostrophes to form plurals of abbreviations, dates, numbers, and words or letters used as words 54 Using Quotation Marks a. Set off direct quotations with quotation marks Writing Responsibly Using Quotations Fairly b. Indicate the titles of short works with quotation marks c. Use quotation marks to indicate words used in a special sense d. Do not misuse quotation marks e. Position quotation marks correctly with punctuation f. Introduce and identify quotations Writing Responsibly Acknowledging Indirect Sources 55 Using End Punctuation: Periods, Question Marks, and Exclamation Points a. Use periods to end statements and mild commands b. Use question marks to end direct (not indirect) questions c. Use exclamation points with strong commands or to express excitement or surprise 56 Using Other Punctuation: Dashes, Parentheses, Brackets, Colons, Ellipses, and Slashes a. Use dashes to set off and emphasize information b. Enclose supplementary information in parentheses c. Use brackets in quotations and within parentheses Writing Responsibly Using [Sic] d. Use colons to introduce elaborating material and quotations e. Use ellipses to indicate deletions in quotations and dramatic pauses in dialogue f. Use slashes in verse, fractions, and URLs 57 Capitalizing a. Capitalize the first word of a sentence b. Capitalize proper nouns and proper adjectives c. Capitalize titles and subtitles Writing Responsibly Capitalizing in Email and IM d. Capitalize the first-person pronoun I e. Capitalize abbreviations and acronyms 58 Italics and Underlining a. Italicize titles of long works b. Italicize for emphasis sparingly Writing Responsibly Using Italics for Emphasis d. Italicize words, letters, or numbers used as words e. Italicize unfamiliar non-English words and Latin genus and species names f. Underline hyperlinks 59 Using Abbreviations a. Abbreviate titles before and after names Writing Responsibly Using Online Abbreviations Appropriately b. Use acronyms and initialisms appropriately c. Use abbreviations with specific years (BC, BCE, AD, CE), hours (a.m., p.m.), numbers (no.), and dollars ($) d. In prose, avoid abbreviating names, words, courses, parts of books, states and countries, days and months, holidays, and units of measurement e. Replace Latin abbreviations with English equivalents in formal prose 60 Using Numbers a. Spell out numbers when they can be expressed in one or two words Writing Responsibly Ethos and Convention b. Follow conventions for dates, times, addresses, specific amounts of money and other quantitative information, and divisions of literary works 61 Mastering Spelling and the Hyphen a. Distinguish homonyms and other problem words b. Remember spelling rules Writing Responsibly Spelling Errors c. Form plurals correctly d. Use hyphens to form compounds e. Use hyphens to break words at the ends of lines Glossary of Key Terms Credits Index ESL Index Editing and Proofreading Symbols and Abbreviations Contents (Detailed) Quick Reference: A Menu of Resources [inside flap]