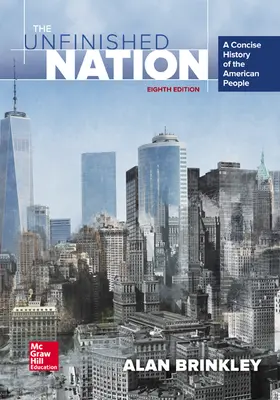 The Unfinished Nation: A Concise History of the American People
8th Edition
By Alan Brinkley and Andrew Huebner and John Giggie
ISBN10: 0073513334
ISBN13: 9780073513331
Copyright:
2016
Product Details

+
Known for its balanced voice and approachable scholarship, Alan Brinkley's best-selling The Unfinished Nation offers a concise, yet thorough survey of American History appropriate for students at all levels. This edition features new scholarship and updated discussions, most significantly on the topics of War, American Imperialism, and Globalization.
Brinkley's accessible narrative is available as a digital SmartBook™, a personalized eBook that enhances understanding by asking students to demonstrate comprehension as they read. It is also supported by engaging digital tools, such as interactive maps, that encourage critical thinking and retention of key course concepts. SmartBook is sold separately and does not come automatically with the purchase of the textbook.
---
Instructors: choose ebook for fast access or receive a print copy.
---
Program Details
Chapter 1: The Collision of Cultures
America Before Columbus
Europe Looks Westward
The Arrival of the English
Debating the Past: The American Population Before Columbus
America in the World: The Atlantic Context of Early American History
America in the World: Mercantilism and Colonial Commerce
Consider the Source: Bartolome de las Casas, "Of the Island of Hispaniola" Chapter 2: Transplantations and BorderlandsThe Early ChesapeakeThe Growth of New EnglandThe Restoration ColoniesBorderlands and Middle GroundsThe Development of EmpireDebating the Past: Native Americans and "The Middle Ground"Consider the Source: Cotton Mather on the Recent History of New England Chapter 3: Society and Culture in Provincial AmericaThe Colonial PopulationThe Colonial EconomiesPatterns of SocietyAwakenings and EnlightenmentsDebating the Past: The Origins of SlaveryDebating the Past: The Witchcraft TrialsConsider the Source: Gottlieb Mittleburger, the Passage of Indentured Servants Chapter 4: The Empire in TransitionLoosening TiesThe Struggle for the ContinentThe New ImperialismStirrings of RevoltCooperation and WarAmerica in the World: The First Global WarPatterns of Popular Culture: Taverns in Revolutionary MassachusettsConsider the Source: Benjamin Franklin, Testimony against the Stamp Act Chapter 5: The American RevolutionThe States UnitedThe War for IndependenceWar and SocietyThe Creation of State GovernmentsThe Search for a National GovernmentDebating the Past: The American RevolutionAmerica in the World: The Age of Revolutions Consider the Source: Abigail Adams discusses women's rights Chapter 6: The Constitution and the New RepublicFraming a New GovernmentAdoption and AdaptationFederalists and RepublicansEstablishing National SovereigntyThe Downfall of the FederalistsDebating the Past: The Background of the ConstitutionConsider the Source: Washington's Farewell Address Chapter 7: The Jeffersonian EraThe Rise of Cultural NationalismStirrings of IndustrialismJefferson the PresidentDoubling the National DomainExpansion and WarThe War of 1812America in the World: The Global Industrial Revolution Patterns of Popular Culture: Horse RacingConsider the Source: Thomas Jefferson to Meriwether Lewis, June 1803 Chapter 8: Varieties of American NationalismStabilizing Economic GrowthExpanding WestwardThe "Era of Good Feelings"Sectionalism and NationalismThe Revival of OppositionConsider the Source: Thomas Jefferson Reacts to the Missouri Compromise Chapter 9: Jacksonian AmericaThe Rise of Mass Politics"Our Federal Union"The Removal of the IndiansJackson and the Bank WarThe Changing Tale of American PoliticsPolitics After JacksonDebating the Past: Jacksonian DemocracyPatterns of Popular Culture: The Penny PressConsider the Source: Alexis de Tocqueville, Democracy in America Chapter 10: America's Economic RevolutionThe Changing American PopulationTransportation and Communications RevolutionsCommerce and IndustryMen and Women at WorkPatterns of SocietyThe Agricultural NorthPatterns of Popular Culture: Shakespeare in AmericaConsider the Source: The Baltimore Patriot Supports Government Regulation of Telegraphy Chapter 11: Cotton, Slavery, and the Old SouthThe Cotton EconomySouthern White SocietySlavery: The "Peculiar Institution"The Culture of SlaveryDebating the Past: The Character of SlaveryConsider the Source: Senator James Henry Hammond Declares "Cotton Is King" Chapter 12: Antebellum Culture and ReformThe Romantic ImpulseRemaking SocietyThe Crusade Against SlaveryAmerica in the World: The Abolition of SlaveryConsider the Source: Declaration of Sentiments and Resolutions, Seneca Fall, NY, 1848 Chapter 13: The Impending CrisisLooking WestwardExpansion and WarThe Sectional DebateThe Crisis of the 1850s Consider the Source: Wilmot Proviso to the Northwest Ordinance, 1846 Chapter 14: The Civil WarThe Secession CrisisThe Mobilization of the NorthThe Mobilization of the SouthStrategy and DiplomacyCampaigns and BattlesDebating the Past: The Causes of the Civil WarPatterns of Popular Culture: Baseball and the Civil WarConsider the Source: Chapter 15: Reconstruction and the New SouthThe Problems of PeacemakingRadical ReconstructionThe South in ReconstructionThe Grant AdministrationThe Abandonment of ReconstructionThe New SouthDebating the Past: ReconstructionConsider the Source: Southern Blacks Ask for Help Chapter 16: The Conquest of the Far WestThe Societies of the Far WestThe Changing Western EconomyThe Romance of the WestThe Dispersal of the TribesThe Rise and Decline of the Western FarmerDebating the Past: The Frontier and the WestConsider the Source: Walter Baron von Richthofen, Cattle Raising on the Plains in North America Chapter 17: Industrial SupremacySources of Industrial GrowthCapitalism and Its CriticsThe Ordeal of the WorkerPatterns of Popular Culture: The Novels of Horatio AlgerConsider the Source: Andrew Carnegie Explains the Gospel of Wealth, 1889 Chapter 18: The Age of the CityThe New Urban GrowthThe Urban LandscapeStrains of Urban LifeThe Rise of Mass ConsumptionLeisure in the Consumer SocietyHigh Culture in the Urban AgeAmerica in the World: Global MigrationsConsider the Source: John Wanamaker, The Four Cardinal Points of the Department Store, 1911 Chapter 19: From Crisis to EmpireThe Politics of EquilibriumThe Agrarian RevoltThe Crisis of the 1890sStirrings of ImperialismWar with SpainThe Republic as EmpireDebating the Past: PopulismAmerica in the World: ImperialismConsider the Source: Platform of the American Anti-Imperialist League Chapter 20: The ProgressivesThe Progressive ImpulseWomen and ReformThe Assault on the PartiesSources of Progressive ReformCrusades for Order and ReformTheodore Roosevelt and the Modern PresidencyThe Troubled SuccessionWoodrow Wilson and the New FreedomDebating the Past: ProgressivismAmerica in the World: Social DemocracyConsider the Source: Katherine Philips Edson Boasts of Women's Influence on State Legislation, 1913 Chapter 21: America and the Great WarThe "Big Stick": America and the World, 1901-1917The Road to War"War Without Stint"The Search for a New World OrderA Society in TurmoilPatterns of Popular Culture: Billy Sunday and Modern RevivalismConsider the Source: George M. Cohan, "Over There," 1918 Chapter 22: The New EraThe New EconomyThe New CultureA Conflict of CulturesRepublican GovernmentAmerica in the World: The CinemaConsider the Source: Black Swan Records Advertisement in the Newspaper Crisis, 1922 Chapter 23: The Great DepressionThe Coming of the DepressionThe American People in Hard TimesThe Depression and American CultureThe Ordeal of Herbert HooverDebating the Past: Causes of the Great DepressionAmerica in the World: The Global DepressionConsider the Source: Mr. Tarver Remembers the Great Depression in a 1940 Interview with the Federal Writers Project Chapter 24: The New DealLaunching the New DealThe New Deal in TransitionThe New Deal in DisarrayLimits and Legacies of the New DealDebating the Past: The New DealPatterns of Popular Culture: The Golden Age of Comic BooksConsider the Source: Franklin D. Roosevelt Speaks on the Reorganization of the Judiciary, 1937 Chapter 25: The Global Crisis, 1921-1941The Diplomacy of the New EraIsolationism and InternationalismFrom Neutrality to Intervention Debating the Past: The Question of Pearl HarborAmerica in the World: The Sino-Japanese War, 1931-1941Consider the Source: Joint Statement by President Roosevelt and Prime Minister Churchill, 1941 Chapter 26: America in a World at WarWar on Two FrontsThe American Economy in WartimeRace and Gender in Wartime AmericaAnxiety and Affluence in Wartime CultureThe Defeat of the AxisDebating the Past: The Decision to Drop the Atomic BombConsider the Source: Marjorie Haselton Writes Her Husband Richard in China, 1945 Chapter 27: The Cold WarOrigins of the Cold WarThe Collapse of the PeaceAmerica After the WarThe Korean WarThe Crusade Against SubversionDebating the Past: The Cold War Debating the Past: McCarthyismConsider the Source: National Security Council Paper No. 68 (NSC-68) Arms America, 1950 Chapter 28: The Affluent SocietyThe Economic "Miracle"The Explosion of Science and TechnologyPeople of PlentyThe Other AmericasThe Rise of the Civil Rights MovementEisenhower RepublicanismEisenhower, Dulles, and the Cold WarPatterns of Popular Culture: Lucy and DesiConsider the Source: Eisenhower Warns of the Military Industrial Complex in His Farewell Address, 1961 Chapter 29: Civil Rights, Vietnam, and The Ordeal of LiberalismExpanding the Liberal StateThe Battle for Racial Equality"Flexible Response" and the Cold WarThe Agony of VietnamThe Traumas of 1968 Debating the Past: The Civil Rights MovementDebating the Past: The Vietnam CommitmentAmerica in the World: 1968 Consider the Source: Martin Luther King, Jr., "I Have a Dream" Chapter 30: The Crisis of AuthorityThe Youth CultureThe Mobilization of MinoritiesThe New FeminismEnvironmentalism in a Turbulent SocietyNixon, Kissinger, and the WarNixon, Kissinger, and the WorldPolitics and Economics in the Nixon YearsThe Watergate CrisisDebating the Past: Watergate America in the World: The End of ColonialismConsider the Source: Demands of the New York High School Student Union, 1970 Chapter 31: From the "Age of Limits" to the Age of ReaganPolitics and Diplomacy After WatergateThe Rise of the New Conservative MovementThe "Reagan Revolution"America and the Waning of the Cold WarPatterns of Popular Culture: The MallConsider the Source: James Watt, "Despite Critics, Interior Dept. Makes Rapid Progress," Human Events, 1982 Chapter 32: The Age of GlobalizationThe Resurgence of PartisanshipThe Economic BoomScience and Technology in the New EconomyA Changing SocietyA Contested CultureThe Perils of GlobalizationAmerica in the World: The Global Environmental MovementConsider the Source: "Keep Foreign Terrorism Foreign," New York Times, 1993