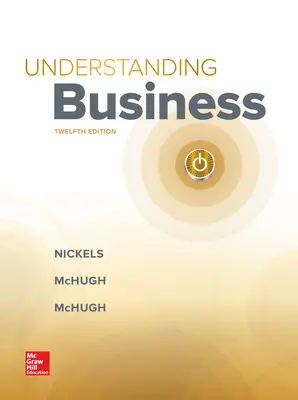 Understanding Business
12th Edition
By William Nickels and James McHugh and Susan McHugh
ISBN10: 1259929434
ISBN13: 9781259929434
Copyright:
2019
Product Details

+
•What's Covered: The comprehensive Gold Standard for Introduction to Business courses has been updated with many current examples and case studies from companies around the world.
•Teaching Approach: Readable content integrated with unique digital tools engages students and simplifies instructor assessment processes.
•What Makes This Product Unique: Mini-Simulations, business plan exercises, ISeeit and Manager's HotSeat videos.
Program Details
PART 1
Business Trends: Cultivating a Business in Diverse, Global Environments
1 Taking Risks and Making Profits within the Dynamic Business Environment
2 Understanding Economics and How It Affects Business
3 Doing Business in Global Markets
4 Demanding Ethical and Socially Responsible Behavior
PART 2
Business Ownership: Starting a Small Business
5 How to Form a Business
6 Entrepreneurship and Starting a Small Business
PART 3
Business Management: Empowering Employees to Satisfy Customers
7 Management and Leadership
8 Structuring Organizations for Today's Challenges
9 Production and Operations Management
PART 4
Management of Human Resources: Motivating Employees to Produce Quality Goods and Services
10 Motivating Employees
11 Human Resource Management: Finding and Keeping the Best Employees
12 Dealing with Union and Employee–Management Issues
PART 5
Marketing: Developing and Implementing Customer-Oriented Marketing Plans
13 Marketing: Helping Buyers Buy
14 Developing and Pricing Goods and Services
15 Distributing Products
16 Using Effective Promotions
PART 6
Managing Financial Resources
17 Understanding Accounting and Financial Information
18 Financial Management
19 Using Securities Markets for Financing and Investing Opportunities
20 Money, Financial Institutions, and the Federal Reserve
Bonus Chapters
Bonus Chapter A: Working within the Legal Environment A
Bonus Chapter B: Using Technology to Manage Information B
Bonus Chapter C: Managing Risk C
Bonus Chapter D: Managing Personal Finances D