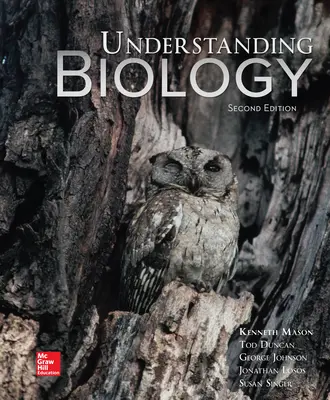 Understanding Biology
2nd Edition
By Kenneth Mason and George Johnson and Jonathan Losos and Susan Singer
ISBN10: 1259592413
ISBN13: 9781259592416
Copyright:
2018
Product Details

+
- An engaging text for biology majors, Understanding Biology emphasizes fundamental concepts to help students' comprehension and focus on developing scientific skills. Condensed chapters are centered on a learning path that connects concepts within a chapter. The learning path begins with learning outcomes, which help guide the core skills and concepts they should develop.
- Helps students connect fundamental principles while challenging them to develop and hone critical thinking skills.
- Connect: A highly reliable, easy-to-use homework and learning management solution that embeds learning science and award-winning adaptive tools to improve student results. Our Connect question banks have over 30% of the questions authored as Higher Level Critical Thinking questions (Bloom's level 3, 4 and 5).
Program Details
Part I The Molecular Basis of Life
1--The Science of Biology
2--The Nature of Moleculars and the Properties of Water
3--The Chemical Building Blocks of Life
Part II The Biology of the Cell
4--Cell Structure
5--Membranes
6--Energy and Metabolism
7--How Cells Harvest Energy
8--Photosynthesis
9--Cell Communication
10--How Cells Divide
Part III Genetic and Molecular Biology
11--Sexual Reproduction and Meiosis
12--Patterns of Inheritance
13--The Chromosomal Basis of Inheritance
14--DNA: The Genetic Material
15--Genes and How They Work
16--Control of Gene Expression
17--Biotechnology
18--Genomics
Part IV Evolution
19--Genes Within Populations
20--The Evidence for Evolution
21--The Origin of Species
Part V The Diversity of Life
22--Systematics and Phylogeny
23--Prokaryotes and Viruses
24--Protists
25--Fungi
26--Plants
27--Animal Diversity
28--Vertebrates
Part VI Plant Form and Function
29--Plant Form
30--Plant Reproduction
31--The Living Plant
Part VII Animal Form and Function
32--The Animal Biology and How It Moves
33--The Nervous System
34--Fueling the Body's Metabolism
35--Maintaining Homeostasis
36--Reproduction and Development
Part VIII Ecology and Behavior
37--Behavioral Biology
38--Ecology of Populations
39--Community Ecology
40--The Living World