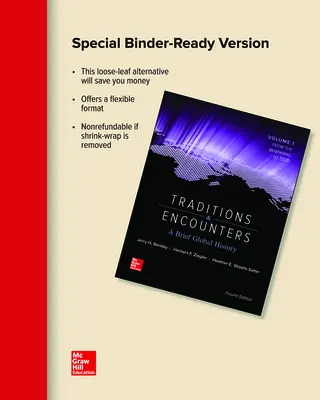 Looseleaf for Traditions & Encounters: A Brief Global History Volume 1
4th Edition
By Jerry Bentley and Herbert Ziegler and Heather Streets Salter
ISBN10: 1259712745
ISBN13: 9781259712746
Copyright:
2016
---
Instructors: choose ebook for fast access or receive a print copy.
---
Program Details
PART I THE EARLY COMPLEX SOCIETIES, 3500 TO 500 B.C.E.  
1 The Foundations of Complex Societies  
2 Early African Societies and the Bantu Migrations 
3 Early Societies in South and East Asia 
4 Early Societies in the Americas and Oceania
 
PART II THE FORMATION OF CLASSICAL SOCIETIES, 500 B.C.E. TO 500 C.E.  
5 The Empires of Persia  
6 The Unification of China 
7 State, Society, and the Quest for Salvation in India  
8 Mediterranean Society under the Greeks and the Romans  
9 Cross-Cultural Exchanges on the Silk Roads  

PART III THE POSTCLASSICAL ERA, 500 TO 1000 C.E. 
10 The Christian Commonwealth of Byzantium  
11 The Expansive Realm of Islam  
12 The Resurgence of Empire in East Asia  
13 India and the Indian Ocean Basin 
 
PART IV AN AGE OF CROSS-CULTURAL INTERACTION, 1000 TO 1500 C.E.  
14 Nomadic Empires and Eurasian Integration  
15 States and Societies of Sub-Saharan Africa 
16 Christian Western Europe during the Middle Ages 
17 Worlds Apart: The Americas and Oceania  
18 Reaching Out: Cross-Cultural Interactions