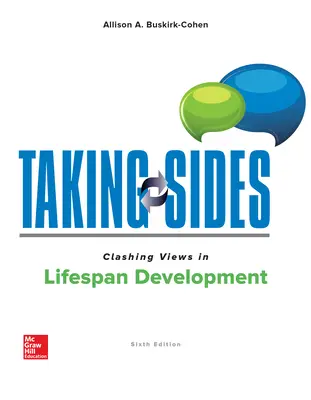 Taking Sides: Clashing Views in Lifespan Development
6th Edition
By Allison Buskirk-Cohen
ISBN10: 1259883248
ISBN13: 9781259883248
Copyright: 2018
Program Details
Unit 1: General Issues in the Study of Lifespan Development
Issue: Does the Cultural Environment Influence Lifespan Development More Than Our Genes?
Yes: Rachael E. Jack et al., from "Facial Expressions of Emotion Are Not Culturally Universal," Proceedings of the National Academy of Sciences (2012)
No: Beau Sievers et al., from "Music and Movement Share a Dynamic Structure that Supports Universal Expressions of Emotion," Proceedings of the National Academy of Sciences (2013)
The long-standing question of whether nature or nurture has a bigger impact on our development can be examined in terms of our emotions. Many believe that emotions are biologically hardwired; however, the research from Rachel Jack and colleagues questions that belief. These researchers compared facial expressions of emotions of individuals from Western and Eastern cultures, finding differences that highlight the influence of culture on how we represent emotions. However, the work of Beau Sievers and colleagues studies music in the United States and in an isolated tribal village in Cambodia. They utilized a computer program to generate matching examples of music and movement. They found that music and movement were interpreted similarly both within and across cultures, suggesting a universal expression of emotion.
Issue: Is Chinese Parenting Culturally Distinct?
Yes: Amy Chua, from "Why Chinese Mothers Are Superior," The Wall Street Journal (2011)
No: Su Yeong Kim, from "Defining Tiger Parenting in Chinese Americans," Human Development (2013)
Amy Chau, the author of The Battle Hymn of the Tiger Mother discusses strategies to achieve success in child-rearing, highlighting the techniques of "Chinese" mothers. She argues that raising successful children is less about bolstering their self-esteem and more about instilling disciplined work habits and high standards, values that are important to academic and life success. Su Yeong Kim, on the other hand, argues that tiger parenting is not common among Chinese-American families. This paper reviews the parenting literature on Asian American parenting along with Chua's description of her own parenting. Kim also provides evidence that Chinese-American adolescents benefit from supportive parenting, quite different from the methods originally described by Chua.
Issue: Should Happiness Be Our Goal?
Yes: Daniel Sgroi, from "Happiness and Productivity: Understanding the Happy-productive Worker," Global Perspectives Series: Paper (2015)
No: Sharon Begley, from "Happiness: Enough Already," Newsweek (2008)
Much of psychology's history has focused on dysfunction and misery. However, in more recent years, psychologists have shifted their attention to study wellness, and, more specifically, happiness. Daniel Sgroi utilizes several small experiments to demonstrate happiness as an input to economic processes of productivity. His paper argues that the main path from happiness to productivity is through increased work effort. Reporter Sharon Begley does not dispute the importance of happiness, but argues for a moderate approach to positive psychology. In this article, Begley discusses the extremist nature of much of the research and emphasizes the need to move beyond the dichotomous thinking of misery versus happiness. Moreover, she suggests that that there is an evolutionary need to experience negative emotions.
Unit 2: Prenatal Development and Infancy
Issue: Are Midwives and Homebirths the Best Option?
Yes: Jamie Santa Cruz, from "Call the Midwife," The Atlantic (2015)
No: Jonathan M. Snowden et al., from "Planned Out-of-Hospital Birth and Birth Outcomes," The New England Journal of Medicine (2015)
Jamie Santa Cruz documents a growing trend among American mothers to rely on midwives, rather than physicians, for prenatal care, labor, and delivery. She describes the roles of rising costs of labor and delivery, rates of surgery and other medical interventions, and philosophical differences in this trend. However, are midwife-attended births safe? Jonathan Snowden and colleagues analyzed data of Oregon births that took place during 2012 and 2013. They found that perinatal mortality was higher with planned out-of-hospital birth than with planned in-hospital birth. Their study highlights the complexities involved in assessing birth risks.
Issue: Is Breastfeeding Inevitably Best for Healthy Development?
Yes: U.S. Department of Health and Human Services, from The Surgeon General's Call to Action to Support Breastfeeding, Office of the Surgeon General (2011)
No: Courtney Jung, from "Overselling Breastfeeding," The New York Times (2015)
Breastfeeding children is both a personal and societal issue. As part of a broad mandate to advocate for public health, the U.S. Surgeon General cites numerous benefits of breastfeeding as part of "call to action" oriented toward increasing the practice among new mothers. However, Courtney Jung's article provides a cautionary view of these benefits. She describes the zealousness with which Americans pursue breastfeeding, possibly to the detriment of the mother's health and with limited benefits for the child. Jung also describes the economic motivation for encouraging breastfeeding. She does not discourage it, but, rather invites readers to examine parenting practices with a critical lens.
Issue: Is Co-sleeping Safe for Baby?
Yes: Wendy Middlemiss, from "Bringing the Parent Back into Decisions about Nighttime Care," Clinical Lactation (2013)
No: Adrienne LaFrance, from "About that Scary Swaddling Study," The Atlantic (2016)
Educational psychologist Wendy Middlemiss advocates that health-care providers discuss options of nighttime care with parents, rather than providing specific advice that may conflict with parents' beliefs and preferences. Furthermore, she discusses ways for health-care providers address infant safety and health that best match each family. However, all choices may not be equal, argues Adrienne LaFrance. Her article describes a new meta-analysis that links swaddling with a higher risk of SIDS. Importantly, LaFrance emphasizes the importance of how research is interpreting and examines some of the limitations to the meta-analysis. Her work emphasizes the need for caregivers to engage in thoughtful decision-making regarding nighttime care.
Unit 3: Early Childhood
Issue: Do Innate Gender Differences Influence How Children Learn?
Yes: Kelley King, Michael Gurian, and Kathy Stevens, from "Gender-Friendly Schools," Educational Leadership (2010)
No: Lise Eliot, from "The Myth of Pink and Blue Brains," Educational Leadership (2010)
Kelley King, Michael Gurian, and Kathy Stevens, all affiliated with an institute that advocates for accommodating gender differences in learning, identify developmental differences between boys and girls that are deep enough to merit distinct educational practices. Lise Eliot explains how small gender differences in infancy become magnified through parental interactions with their children. She argues that teachers, as well, need to be aware of how they treat boys and girls so they do not exacerbate gender stereotypes.
Issue: Is Preschool Education Worthwhile?
Yes: Hirokazu Yoshikawa, et al., from Investing in Our Future: The Evidence Base on Preschool Education, Society for Research in Child Development and Foundation for Child Development (2013)
No: David J. Armor and Sonia Sousa, from "The Dubious Promise of Universal Preschool," National Affairs (2014)
Hirokazu Yoshikawa led a team of researchers from the Foundation for Child Development in an examination of the current research on early childhood education. They find that scientific research supports the academic, social, emotional, and economic benefits of preschool. Professors David Armor and Sonia Sousa, in contrast, point to disappointing results from the existing federal preschool program Head Start. They do not believe research overwhelmingly supports the benefits of preschool.
Unit 4: Middle Childhood
Issue: Are Violent Video Games Necessarily Bad for Children?
Yes: Craig A. Anderson, from "Violent Video Games and Other Media Violence (Parts 1 & 2)," Pediatrics for Parents (2010)
No: Cheryl K. Olsen, Lawrence Kutner, and Eugene Beresin, from "Children and Video Games: How Much Do We Know?" Psychiatric Times (2007)
Psychologist and researcher Craig A. Anderson finds that violent video game play consistently associates with aggression and problematic behavior, arguing that there is no good reason for making them available to children. Cheryl K. Olsen, Lawrence Kutner, and Eugene Beresin have all been affiliated with a Harvard Medical School center devoted to studying mental health and the media. In their work they recognize the potential risks of violent video games, but find that most children play video games in ways that pose little risk and offer some potential benefit.
Issue: Should We Try to "Cure" Autism?
Yes: Ruth Padawer, from "The Kids Who Beat Autism," The New York Times (2014)
No: Aaron Rothstein, from "Mental Disorder or Neurodiversity?" The New Atlantis: A Journal of Technology and Society (2012)
Reporter Ruth Padawer describes how applied behavior analysis (A.B.A.) has seemingly "cured" some children of autism. She profiles these children, showcasing their individual responses to therapeutic programs. However, medical student Aaron Rothstein cautions that autism might be considered an example of neurodiversity, rather than a disorder. He describes how and why many autism advocates argue against the idea of a "cure." Instead, the focus of research should be on better understanding the complexity of human behavior.
Unit 5: Adolescence
Issue: Is Working Dangerous for Teens?
Yes: Hans Villarica, from "Caution: Your Child's First Job May Be Hazardous to Her Health," The Atlantic (2011)
No: Laura Bliss, from "The Hidden Epidemic of Teen Hunger," The Atlantic (2016)
Hans Villarica's article describes how many adolescents are not equipped to deal with the workplace—specifically, occupational injuries. While past research has focuses on psychosocial advantages and disadvantages to adolescent employment, only recently have scientists begun looking at workplace conditions and on-the-job hazards. This article suggests much more attention is warranted to keep adolescents safe. However, what happens when adolescents do not have access to the income and resources they need? In this article, Laura Bliss describes the complexities of adolescent hunger. She describes why adolescents are particularly susceptible to hunger, and the risk behaviors they engage in to combat food insecurity.
Issue: Is There a Sexting Epidemic?
Yes: Hanna Rosin, from "Why Kids Sext," The Atlantic (2014)
No: Kaitlin Lounsbury, Kimberly J. Mitchell, and David Finkelhor, from "The True Prevalence of 'Sexting'," Crimes Against Children Research Center (2011)
Sexting has become a top concern among parents of youth and professionals who work with them. Hanna Rosin looks into one specific adolescent texting scandal to examine how youth think about sexting. Her article reveals the range of responses to sexting, and the harm that can result from well-intentioned adults. On the other hand, when researchers at the Crimes Against Children Research Center reviewed studies on adolescent sexting, they painted a very different picture. They found that findings are inconsistent and many studies have flawed designs. These researchers believe that the problem of adolescent sexting has been exaggerated by the media.
Unit 6: Early Adulthood
Issue: Is Greek Life Dangerous for College Students?
Yes: R. Sean Bannon, Matthew W. Brosi, and John D. Foubert, from "Sorority Women's and Fraternity Men's Rape Myth Acceptance and Bystander Intervention Attitudes," Journal of Student Affairs Research and Practice (2013)
No: Olga Khazan, from "The Bro Whisperer," The Atlantic (2015)
The research of R. Sean Bannon, Matthew W. Brosi, and John D. Foubert finds that sorority women were more rejecting of rape myths than fraternity men, and that they were more willing to intervene in potential sexual assault situations. Taken as a whole, their research does not paint a complimentary picture of fraternity men. On the other hand, Olga Khazan follows the work of sociology professor Michael Kimmel who argues the problem is our definition of masculinity, not Greek life. This article describes Kimmel's work to change power dynamics around sexual behaviors. Several potential solutions are explored, all with the focus on reviving the concept of the gentleman.
Issue: Do Religion and Spirituality Mean the Same Thing to Today's College Students?
Yes: Diane Winston, from "iFaith in the Amen Corner: How Gen Y Is Rethinking Religion on Campus," Social Science Research Council Essay Forum on the Religious Engagements of American Undergraduates (2007)
No: Chelsi A. Creech et al., from "Changing Trends in Ritual Attendance and Spirituality throughout the College Years," Psychology (2013)
Religion scholar Diane Winston describes interacting with students at her university and finding that the students have vibrant religious engagements despite eschewing traditional types of religiosity. The study from Chelsi Creech and colleagues indicates that religion is better understood from a multidimensional perspective. They found first-year and upper-class students differed in terms of their religious attendance and reported daily spiritual experiences.
Issue: Is Facebook Bad for College Students' Health?
Yes: Brian A. Feinstein, et al., from "Negative Social Comparison on Facebook and Depressive Symptoms: Rumination as a Mechanism," Psychology of Popular Media Culture (2013)
No: Amy L. Gonzales and Jeffrey T. Hancock, from "Mirror, Mirror on My Facebook Wall: Effects of Exposure to Facebook on Self-Esteem," Cyberpsychology, Behavior, and Social Networking (2011)
Researchers Brian Feinstein and colleagues explore the link between use of social networking sites and depressive symptoms. Their study examined undergraduate students' use of Facebook. They argue that negatively comparing oneself with others is linked with rumination, which is linked with depression. The research from Amy Gonzales and Jeffrey Hancock presents a different view of the impact of social networking sites on mental health. Their research demonstrates how viewing one's Facebook profile actually enhances self-esteem through selective self-presentation.
Unit 7: Middle Adulthood
Issue: Do Adults Need to Place More Value on Marriage?
Yes: W. Bradford Wilcox, from Why Marriage Matters: Thirty Conclusions from the Social Sciences, Institute for American Values (2011)
No: Brenda McKerson, from "Raising the Next Generation: What's Gender Got to Do with It?" Plaza: Dialogues in Language and Literature (2014)
Sociologist W. Bradford Wilcox led a team of prominent family scholars to draw conclusions about the contemporary state of marriage as an institution, and the consequences of being married. They conclude that although marriage patterns are changing, traditional marriages still benefit adults and society. Brenda McKerson draws parallels between racial discrimination in the 1960's and discrimination faced by same-sex couples today. She argues that research on "nontraditional" couples often reflects heterosexist norms. Furthermore, McKerson believes that as generations become more accepting of different family structures, research findings will change to reflect this acceptance.
Issue: Should Grandparents Have Visitation Rights to Their Grandchildren?
Yes: Lixia Qu et al., from "Grandparenting and the 2006 Family Law Reforms," Family Matters (2011)
No: Rachel Dunifon and Ashish Bajracharya, from "The Role of Grandparents in the Lives of Youth," Journal of Family Issues (2012)
Lixia Qu and colleagues review Australian data on grandparent-grandchild involvement before and after the 2006 legal reforms. They find that that family law reforms are consistent with parental beliefs about grandparent involvement. However, they caution that the reforms do not address many practicalities, including knowledge about the legal system. However, the research of Rachel Dunifon and Ashish Bajracharya does not find clear evidence that grandparents influence the well-being of their grandchildren. They find that distance, the parent's relationship with the grandparent and child, and age of child and parent all contribute to the quality of the grandparent-grandchild relationship.
Unit 8: Late Adulthood
Issue: Should Assisted Suicide Be Legal for Everyone?
Yes: April Dembosky, from "Doctors' Secret Language for Assisted Suicide," The Atlantic (2015)
No: Ira Byock, from "Physician-assisted Suicide Is Not Progressive," The Atlantic (2012)
"Assisted suicide," or euthanasia, has become a more familiar phrase with sick, aging adults looking for personal control during this last part of life. April Dembosky argues that because many state laws prohibit euthanasia, medical professionals cannot converse properly with their patients about end-of-life decisions. Legalizing assisted suicide across the nation would allow for better communication, the article posits. Ira Byock, in contrast, believes that physician-assisted suicide should not be legal. In this article, he describes the political climate influencing the euthanasia debate. Furthermore, Byock claims that the focus should be on improving end-of-life care.
Issue: Should We Try to "Cure" Old Age?
Yes: Michael J. Rae et al., from "The Demographic and Biomedical Case for Late-Life Interventions in Aging," Science Translational Medicine (2010)
No: Ezekiel J. Emanuel, from "Why I Hope to Die At 75," The Atlantic (2014)
Michael J. Rae was lead author on an article presenting the position a group of prominent antiaging scholars. They promote more funding and support for what they consider promising research directions towards slowing or even curing aging. Ezekiel Emanuel, an oncologist and bioethicist, presents a contrasting view. He argues against an ever-expanding lifespan. Instead, he believes this article suggest our focus should be on maximizing our quality of life and accepting the inevitability of death.