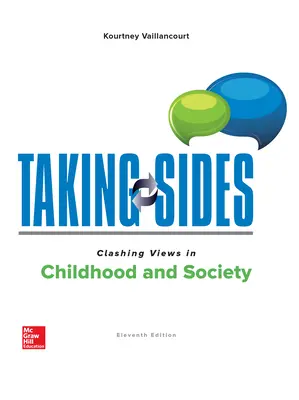 Taking Sides: Clashing Views in Childhood and Society
11th Edition
By Kourtney Vaillancourt
ISBN10: 1259910911
ISBN13: 9781259910913
Copyright:
2018
---
Instructors: choose ebook for fast access or receive a print copy.
---
Program Details
Unit 1: Infancy
Issue: Does Maternal Employment Have Negative Effects on Children's Development?
Yes: Patricia M. Anderson, Kristin F. Butcher, and Phillip B. Levine, from "Maternal Employment and Overweight Children," National Bureau of Economic Research (2002)
No: Daniel de Vise, from "Study: Working Mothers Not Necessarily Harmful to Child Development," Washington Post (2010)
Researchers Patricia M. Anderson, Kristin F. Butcher, and Phillip B. Levine from the National Bureau of Economic Research conclude that there is a connection between maternal employment and the risk of children being overweight. Daniel de Vise describes the results of a study conducted at Columbia University, which indicate that the negative and positive effects of maternal employment balance each other out to yield a neutral effect.
Issue: Should Parents Be Allowed to Genetically Engineer Their Children?
Yes: Antonio Regalado, from "Engineering the Perfect Baby," MIT Technology (2015)
No: Akshat Rathi, from "The Pros and Cons of Genetically Engineering Your Children," Quartz (2015)
Antonio Regalado urges caution in, but does advocate for, moving forward with genetically engineering children, discussing some of the existing ethical and moral concerns that scientists have identified. Akshat Rathi reports on the conclusions of a meeting of minds regarding the practice of genetic engineering. Their conclusion is that we neither know enough about safety issues or how humans will respond to such practices to condone them.
Issue: Are Transracial Adoptions Problematic for Children?
Yes: Darron T. Smith, from "Can Love Overcome Race in Transcracial Adoption?" Huffington Post (2013)
No: Jessica Ravitz, from "Transracial Adoptions: A 'Feel Good' Act, or No 'Big Deal'?" CNN.com (2010)
Darron T. Smith presents evidence from research that indicates that transracial adoption is not problematic for children. Jessica Ravitz argues that transracial adoptions do not have to be problematic for children. Jessica Ravitz argues that transracial adoptions do not have to be problematic for children but does identify potential challenges that may be faced.
Issue: Is the Achievement Gap Increasing in America?
Yes: Sabrina Tavernise, from "Education Gap Grows between Rich and Poor, Study Say," New York Times (2012)
No: Rebecca Klein, from "Schools Are Finally Starting to Embrace This Method of Closing the Achievement Gap," Huffington Post (2016)
Sabrina Tavernise reports on U.S. studies that show the education gap is growing between the rich and the poor. Rebecca Klein identifies a new method that schools are using in order to close the achievement gap.
Unit 2: Early Childhood
Issue: Is Spanking Detrimental to Children?
Yes: Rupert Shepherd, from "Spanking Children Can Cause Mental Illness," Medical News Today (2012)
No: CTV.ca News Staff, from "Contentious Study Says Spanking May Benefit Children," CTV News (2010)
Rupert Shepherd discusses findings from the American Academy of Pediatrics that state spanking can cause children to have an increased risk of mental problems as they age. CTV News Staff reports on a study that argues children who are spanked might grow up to be happier and more productive than children who are not spanked.
Issue: Are Fathers Really Necessary?
Yes: Gail Gross, from "The Important Role of Dad," Huffington Post (2014)
No: Mary Riddell, from "A Child Doesn't Need a Father to Be Happy," The Guardian (2007)
Gail Gross discusses the important functions that dads fulfill for their child(ren). Mary Riddell discusses that while fathers can be valuable, there are circumstances in which it is actually favorable for a child not to have a father in their life.
Issue: Does Divorce Create Long-term Negative Effects for Children?
Yes: Brittany Wong, from "7 Ways Divorce Effects Kids, According to the Kids Themselves," Huffington Post (2014)
No: Sylvia Smith, from "The Long-term Impact of Parental Divorce on Young Adult's Relationships," Social Work Helper (2016)
Brittany Wong describes some of the negative impacts that divorce has on children, even into adulthood. Sylvia Smith describes the impact that gender has on the effect of parental divorce for children and protective factors that can minimize the potential for negative long-term effects.
Issue: Is Television Viewing Harmful for Children?
Yes: Jeff Jacoby, from "Silence That Idiot Box!" Boston Globe (2009)
No: Austan Goolsbee, from "The Benefits of Bozo," Slate (2006)
Jeff Jacoby identifies the harm that watching television can cause children. Austan Goolsbee discusses a recent study that provides evidence that television viewing may not be harmful to children.
Issue: Are Children Who Are Instructed with the Reggio Emilia Method Better Off?
Yes: Spielgaben, from "How Will Montessori and Reggio Emilia Impact Your Child?" Spielgaben (2015)
No: Lella Gandini, from "The Challenge of Assessment: Scaling-up the Reggio Emilia Approach in the USA?" Early Childhood Magazine (2011)
Spielgaben identifies the benefits that the Reggio Emilia Approach can afford to children. Lella Gandini discusses the challenges, such a minimal evidence of results, that the Reggio Emilia approach faces in the United States.
Unit 3: Middle Childhood
Issue: Does Marriage Impact the Well-being of Children?
Yes: W. Bradford Wilcox, from "Marriage Makes Our Children Richer—Here's Why," The Atlantic (2013)
No: Nancy Pina, from "3 Ways Your Unhappy Marriage May Be Hurting Your Kids," Huffington Post (2014)
W. Bradford Wilcox describes how healthy and happy marriages impact the well-being of children. Nancy Pina discusses how marriage alone is not a protective factor for children, if there is unhappiness between spouses.
Issue: Do Children Who Are Homeschooled Have a Limited View of Society?
Yes: Coalition for Responsible Home Education, from "Homeschooling and Socialization," Coalition for Responsible Home Education (2017)
No: Brian D. Ray, from "Research Facts on Homeschooling," Education Resources Information Center (2015)
The Coalition for Responsible Home Education describes how some families who home school fail to provide for the socialization needs of their children. Brian D. Ray lists some of the documents positive outcomes for homeschooled children, include a discussion about their socialization.
Issue: Is Television Viewing Responsible for the Rise in Childhood Obesity?
Yes: Samantha Olson, from "Childhood Obesity Risk Rises Up To 60% When Kids Watch 1 Hour of TV," Medical Daily (2015)
No: Danielle Teutsch, from "Study Busts Myths of TV's Link to Childhood Obesity," The Sun Herald (2005)
Samantha Olson describes the correlation between television watching and childhood obesity rates. Danielle Teutsch argues that it is socioeconomic status, not specifically television viewing, that contributes to childhood obesity rates.
Issue: Should We Reconsider the Use of the HPV Vaccination for Girls in Later Childhood?
Yes: Shantanu Nundy, from "Reevaluating the HPV Vaccine," Psychology Today (2011)
No: David Robert Grimes, from "We Know It's Effective. So Why Is There Opposition to the HPV Vaccine?" The Guardian (2016)
Shantanu Nundy identifies some of the cons of using the HPV vaccine that should be considered when deciding whether or not to continue advocating for its use. David Robert Grimes addresses on concern that parents have about the HPV vaccine, which he attributes more to squeamishness about sex than opposition of the vaccine.
Unit 4: Adolescence
Issue: Are Male Teens More Aggressive Than Female Teens?
Yes: Lori Rose Centi, from "Teenage Boys: From Sweet Sons to Narcissistic Teens," The Washington Times (2012)
No: Frances McClelland Institute, from "Aggression among Teens: Dispelling Myths about Boys and Girls," Research Link (2009)
Lori Rose Centi addresses the differences in male and female brain development, and how gray and white matter in the brain can impact adolescent behaviors. She also discusses other brain changes that may contribute to males being more impulsive and less careful than their female peers. The Frances McClelland Institute shares a fact sheet which dispels "myths" about the differences in male and female teens. It reports on a meta-analysis of 148 studies and the resulting major findings. Different types of aggression are defined and discussed.
Issue: Is the Internet Damaging Teen Brains?
Yes: Chandra Johnson, from "Growing Up Digital: How the Internet Affects Teen Identity," Deseret News (2014)
No: Lauren Sherman, from "Internet and the Teen Brain: What Do We Know, and What Should We Be Asking?" Psychology in Action (2014)
Chandra Johnson describes some of the harmful effects that the Internet can have on teenagers. Lauren Sherman advocates for more research to be conducted before a firm determination is made about the impact of the Internet on adolescents.
Issue: Is Cyberbullying Really a Problem?
Yes: StopBullying.gov, from "What is Cyberbullying," U.S. Department of Health and Human Services (2013)
No: Nick Gillespie, from "Stop Panicking About Bullies," The Wall Street Journal (2012)
Stopbullying.gov defines cyberbullying and the potential effects it can have on victims. It also discusses the frequency of cyberbullying, according to recent studies. Nick Gillespie acknowledges that bullying occurs but argues that there are other issues that parents should be more concerned about. He discusses some of the reasons he believes that people have become so sensitive to bullying, and how it may be impacting parenting strategies.
Issue: Is Social Media Use Detrimental to Teens?
Yes: Rachel Ehmke, from "How Using Social Media Affects Teenagers," Child Mind Institute (2017)
No: Peg Streep, from "4 Things Teens Want and Need from Social Media," Psychology Today (2013)
Rachel Ehmke identifies several risks associated with teenage social media use. Peg Streep identifies some of the needs of teenagers that social media can fulfill.