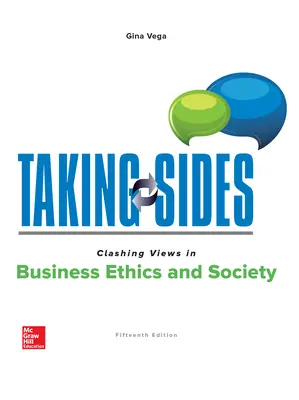 Taking Sides: Clashing Views in Business Ethics and Society
15th Edition
By Gina Vega
ISBN10: 1259922804
ISBN13: 9781259922800
Copyright:
2018
---
Instructors: choose ebook for fast access or receive a print copy.
---
Program Details
Unit 1: Capitalism and the Corporation
Issue: Is Increasing Profits the Only Social Responsibility of Business?
Yes: Milton Friedman, from "The Social Responsibility of Business Is to Increase Its Profits," The New York Times Magazine (1970)
No: Joseph Hart, from "The New Capitalists," Utne Reader (2006)
Milton Friedman argues that businesses have neither the right nor the ability to make social responsibility a priority. Profit making must be the priority. Businesses serve employees and customers best when they do their work with maximum efficiency. The only restrictions on the pursuit of profit that Friedman accepts are the requirements of law and the "rule of the game" ("open and free competition without deception or fraud"). Joseph Hart disagrees. He states, "It's no longer enough more and more corporations are conceding, for capitalism to simply make money. It must also make a difference." Using logic developed by Alan Greenspan, Hart averts that business must make room for values other than self-interest.
Issue: Can Ethics Codes Build "True" Corporate Ethics?
Yes: Eric Krell, from "How to Conduct an Ethics Audit: An Ethics Audit Can Reveal Gaps in Your Ethics Policies and Practices," HR Magazine (2010)
No: Greg Young and David S. Hasler, from "Managing Reputational Risks: Using Risk Management for Business Ethics and Reputational Capital," Strategic Finance (2010)
Eric Krell finds that one of the major corporate goals of the human resource office is to build true corporate ethics. He believes this can be done with a code of ethics, through performance reviews, and with ethics audits. Through this process, employees' good and corporate good can become the same. Greg Young and David S. Hasler believe that strengthening the role of ethical and reputational capital has been given the short shrift within corporations. It may be that one day ethics audits and ethics codes could be essential in building capital. However, they state that until management understands that poor ethics make for poor profits, business practices will continue to ignore the place of an ethics core within their organization.
Issue: Have the Antitrust Laws Outlived Their Effectiveness vis-à-vis Technology?
Yes: Craig Timberg, from "FTC: Google Did Not Break Antitrust Law with Search Practices," The Washington Post (2013)
No: Marvin Ammori, from "The Case for Net Neutrality," Foreign Affairs (2014)
Craig Timberg claims that "The murky standards for establishing consumer harm" have gotten in the way of more serious charges of business practices that hurt competitors and limit consumer choice. Attorney Marvin Ammori argues that the Federal Communications Commission (FCC) should regulate Internet service providers to assure that some websites are neither given preferential treatment nor charged arbitrary fees in order to reach end users.
Issue: Do Corporate Inversions Benefit Stakeholders?
Yes: William P. Hoar, from "Punishing Businesses Has Consequences," The New American (2014)
No: David Cay Johnston, from "Corporate Deadbeats," Newsweek (2014)
Hoar claims that the United States has the highest corporate tax rate in the world, the result of which is declining competitiveness of US-based firms and a renewed effort to move businesses to other countries with lower tax burdens. In addition, even when based in other countries, US taxes are levied on these businesses when they bring money back to America. This limits business investment in infrastructure and other improvements. Johnston describes how mega-corporations and multinationals "game" the US tax system in order to develop competitive advantages over the other players in their industries, using the Tim Horton/Burger King merger to exemplify the process. The result is that the ordinary W-2 wage earner pays taxes for the multinational corporations, which provides the multinationals not only with a free ride for taxes but also the ability to receive government-based interest-free loans that increase their profits significantly.
Issue: Is the Federal Reserve Good for Business?
Yes: Ben S. Bernanke, from "A Century of US Central Banking: Goals, Frameworks, Accountability," Journal of Economic Perspectives (2013)
No: Robert Larson, from "Fed Up: The Federal Reserve's Balance Sheet Is Exploding on Both Sides," Dollars and Sense (2011)
Ben S. Bernanke provides a history of the Federal Reserve from its founding in 2013 through its first 100 years. He makes clear that the doctrine of central banking cannot be static; it must work to adapt itself to changing events and a dynamic economic and financial environment. Robert Larson argues that the Federal Reserve has outlived its usefulness. He believes that the organization makes money too easily and inexpensively available for the marketplace. He believes this creates artificial economic and ethical problems that could easily be solved if the Federal Reserve no longer existed.
Unit 2: Human Resources: The Corporation and Employment
Issue: Is Employer Monitoring of Employee Social Media Justified?
Yes: J. William Stoughton, Lori Foster Thompson, and Adam W. Meade, from "Big Five Personality Traits Reflected in Job Applicants' Social Media Postings," Cyberpsychology, Behavior, and Social Networking (2013)
No: Steven Greenhouse, from "Even if It Enrages Your Boss, Social Net Speech Is Protected," The New York Times Magazine (2013)
Stoughton, Thompson, and Meade present an empirical study of the relationship between one's personal posts on Facebook and other social media sites and personality characteristics often used in hiring decisions. Since job applicants often use social media for personal communication, this practice allows potential employers to get an unfiltered picture of their job applicants and to shortcut the sometimes lengthy application process by addressing the Big Five Personality Traits and their relationship to future employment. Steven Greenhouse explains that new findings from the National Labor Relations Board state it is illegal for employers to fire employees based on social media posts. Often when an employee begins a job, part of the policy discussion revolves around social media use. In the majority of cases, the employee is told not to post materials that make the firm, the employer, and other employees appear in a bad light. It appears that many firms should begin rewriting their policy manuals based on the findings from the National Labor Relations Board as well as state law.
Issue: Does It Pay to Blow the Whistle?
Yes: Charley Lanyon, from "Sherry Hunt Took on One of the World's Biggest Banks and Won," New York Magazine (2016)
No: Vanessa Baird, from "Don't Shoot the Messenger!" New Internationalist (2014)
Charley Lanyon tells the story of Sherry Hunt, Vice President and Chief Underwriter at CitiMortgage and the way in which she blew the whistle, resulting in full disclosure about CitiGroup's predatory lending practices, fines upward of $150 million, and the award made to her of $30 million. Vanessa Baird counters with the potential personal danger to the whistle blower, calling them "solitary martyrs to democracy" because of the heavy price that whistle blowers have often been made to pay.
Issue: Will Robots Help the American Worker?
Yes: Jeffrey R. Young, from "The New Industrial Revolution: A Coming Wave of Robots Could Redefine Our Jobs. Will That Redefine Us?" The Chronicle Review (2013)
No: Mark Kingwell, from "The Barbed Gift of Leisure," The Chronicle Review (2013)
Jeffrey R. Young explains that automation is cheap and efficient. Although technology's increasing versatility may take some jobs away from humans, robots primarily will absorb the drudgery that humans may be glad to be rid of. He foresees a future of increased leisure and creativity for us. Mark Kingwell focuses on what it means to be human rather than machine and to live in a culture and community with other human beings. He argues that we are used to deriving much of the meaning of our lives from our work, and wonders what individuals might do with their leisure time.
Issue: Is It Acceptable to Associate Yourself with an Organization That Has a Checkered History?
Yes: L.J. Rittenhouse, from "Measuring the Quality of Management and the Integrity of Corporate Culture for Profitable Investing," CFA Institute Conference Proceedings Quarterly (2015)
No: David A. Jones, Chelsea R. Willness, and Sarah Madey, from "Why Are Job Seekers Attracted by Corporate Social Performance? Experimental and Field Tests of Three Signal-based Mechanisms," The Academy of Management Journal (2014)
L.J. Rittenhouse describes the process by which his organization evaluates the culture of companies they recommend for investment, suggesting that the candor of executive communication allows the investor "to make insightful and profitable investment decisions." The way the organization presents itself may mean more to the investor than the actual financial returns. David A. Jones, Chelsea R. Willness, and Sarah Madey's study shows that potential job seekers consider CSP important to the overall assessment of a company at all stages of the job search. They use signal theory to assert the importance of community involvement, environmental practices, prestige and anticipated pride of belonging, perceived values fit and expected treatment to make a decision about the desirability of associating oneself with a specific company.
Issue: Is Minimum Wage Good for Business?
Yes: Barack Obama, from "Remarks on the Minimum Wage," Daily Compilation of Presidential Documents (2014)
No: Mark Wilson, from "The Negative Effects of Minimum Wage Laws," Policy Analysis (2012)
Former President Barack Obama believes that a minimum is necessary because "in the wealthiest nation on Earth, nobody who works full-time should ever have to raise a family in poverty." Further, businesses know that higher wages is good business as it helps to retain workers and increase productivity. Mark Wilson, who is a former deputy assistant secretary of the U.S. Department of Labor, argues that minimum wage harms workers and the broader economy by forcing higher wage payments on employers. Businesses respond by cutting employment as well as making other decisions to keep their net income at the levels needed for profitability. This article argues that minimum wage is not necessary for entry-level employees because the majority of employees who are employed for a year often reach the minimum wage level as part of their employment experience. This experience gives the worker the opportunity to find another job at a wage above minimum wage. Additionally, when minimum wage is required, employers generally cut back on hiring or lay off employees to maintain their profitability standards.
Unit 3: Consumer Issues
Issue: Should Big Pharma Be Permitted to Set Its Own Price Structure?
Yes: Wayne Winegarden, from "The Economics of Pharmaceutical Pricing," Pacific Research Institute (2014)
No: Arthur Caplan and Zachary Caplan, from "How Big Pharma Rips You Off," CNN Opinion (2013)
Wayne Winegarden describes how pharmaceutical market has to balance two conflicting goals-assuring that affordable pharmaceuticals are widely available and creating new drugs to treat illnesses in the future. Innovation can only be attained if there is funding available to support it, and generic drugs at low cost do not provide the necessary ability to recoup expenses and invest in the future. Arthur Caplan and Zachary Caplan are skeptical of the "staggering cost" claims, and argue that consumers should have access to the generic version of the drug as soon as possible.
Issue: Should Advertising Directed at Children Be Restricted?
Yes: Stephanie Clifford, from "A Fine Line When Ads and Children Mix," NewYorkTimes.com (2010)
No: Patrick Basham and John Luik, from "A Happy Meal Ban Is Nothing to Smile About," cato.org (2010)
Stephanie Clifford cites studies that show that advertising for children is often barely distinguishable from regular programming. She cites harm that can come to children through advertising that seems more promotion than fact to the child. Patrick Basham and John Luik find no credence in studies linking harms to child-directed advertising. They cite research that contends that advertising has little effect on the market associated with children.
Issue: Should We Require Labeling of Genetically Modified Food?
Yes: Gary Hirshberg, from "Why Labeling Makes Sense," Just Label It (2013)
No: Cameron English, from "GMO Foods: Why We Shouldn't Label (Or Worry About) Genetically Modified Products," Policymic (2012)
Gary Hirshberg claims that the consumers' interests in knowing where their food comes from does not necessarily have to do with the chemical and nutritional properties of the food. Kosher pastrami, for instance, is identical to the nonkosher product, and dolphin-safe tuna is still tuna. But we have an ethical and personal interest in knowing the processes by which our foods arrive on the table. He argues that the demand for a label for bioengineered foods is entirely legitimate. Cameron English points out that as far as the law is concerned, only the nutritional traits and characteristics of foods are subject to safety assessment. Labeling has been required only where health risks exist, or where there is danger that a product's marketing claims may mislead the consumer as to the food's characteristics. Breeding techniques have never been subject to labeling, nor should genetic engineering techniques, English claims.
Issue: Is the Consumer Financial Protection Bureau (CFPB) a Necessary Regulatory Agency?
Yes: Arthur E. Wilmarth, Jr., from "The Financial Services Industry's Misguided Quest to Undermine the Consumer Financial Protection Bureau," Review of Banking & Financial Law (2012)
No: Todd J. Zywicki, from "The Consumer Financial Protection Bureau: Savior or Menace?" George Mason University Law and Economics Research Paper Series (2013)
Arthur Wilmarth, a professor of law at George Washington University's College of Law, argues that the Dodd-Frank Wall Street Reform and Consumer Protection Act (CFPB) was created to protect consumers from fraudulent activities within the financial services industry. It was established with autonomy in order to insulate it from political and lobbying pressures that have been evident in the current federal regulatory agencies. The effects of the catastrophic crash of 2008 on Wall Street are still felt by many consumers. Many of the problems were caused by the mortgage industry, the investment banking industry, and the insurance industry. After extensive bailout from the American taxpayers, the bureau was put in place to maintain financial protection and safety for consumers. Todd Zywicki, a professor of law at George Mason University School of Law, claims that the Consumer Financial Protection Bureau (CFPB) is not necessary because several federal agencies are already doing the work of the CFPB. The Bureau has extensive autonomy, which can endanger the financial industry's progress and profits through excessive regulation and reform. He argues that the 2010 Dodd-Frank Consumer Financial Protection Act can function well with the existing federal agencies.
Unit 4: Global Objectives
Issue: Should Hydrofracking Be Permitted?
Yes: Danny Hakim, from "Gas Drilling Is Called Safe in New York," The New York Times (2013)
No: Ben Goldfarb, from "Hydrofracking Poses Serious Risks to Human Health," Policymic (2012)
Danny Hakim reports that the New York Health Department will be issuing a report claiming that the practice of hydrofracking is safe as it is practiced in the state of New York; after the significant pressure from the drilling industry and landowners, the moratorium on hydrofracking was lifted for the Southern Tier of the state in the summer of 2012. Ben Goldfarb disagrees, citing a recently released Environmental Protection Agency report that links hydraulic fracturing to contaminated well-water in Wyoming. He also points out that an abundance of clean water is needed for the process—a commodity which is scarce in the western United States.
Issue: Must We Cut CO2 Emissions to Save Our Environment?
Yes: Robert Pollin, from "The New Green Economy," The Nation (2015)
No: Alex Newman, from "UN Climate Summit: Shackling the Planet to 'Save' It," The New American (2016)
Robert Pollin claims that we are "playing Russian roulette with the environment by allowing CO2 emissions to continue to rise." Average global temperature is 3.6 degrees (F) above the preindustrial global temperature, and this rise is blamed on CO2 emissions by industrialized nations. Alex Newman claims that agreements such as the Paris Agreement will require Western governments to "hand over their taxpayers' wealth to Third World governments, which get bonus points for denying their subject access to resources."
Issue: Is the Foreign Corrupt Practices Act Obsolete?
Yes: Joseph W. Yockey, from "Choosing Governance in the FCPA Reform Debate," Journal of Corporation Law (2013)
No: Peter J. Henning, from "Taking Aim at the Foreign Corrupt Practices Act," The New York Times (2012)
Joseph Yockey claims that ambiguity in the statute creates perpetual uncertainty about what constitutes an FCPA violation and that reform is needed urgently. New governance can replace the existing concerns about implementation of the FCPA. Peter Henning states that "business leaders have long contended that the law is overly broad and too aggressively enforced," but believes that "it does little good to charge someone when there is not a realistic prospect that the person can be brought to the United States."
Issue: Should U.S. Companies Take Primary Responsibility for Working Conditions in Their International Suppliers' Factories?
Yes: Heather Stilwell, from "Stitched Up," New Internationalist (2013)
No: Charles Duhigg and David Barboza, from "In China, Human Costs Are Built into an iPad," The New York Times (2012)
Heather Stilwell reports that, despite international regulatory agreements to monitor factory conditions and labor standards, the agreements have no teeth and abuses abound. The responsibility, she contends, lies with individual companies to protect workers from labor abuses and to hold factories accountable. Charles Duhigg and David Barboza report that Apple contends that their industry behavior is governed by market desire for cheaper and more advanced technology. Until market desire changes, factory conditions are secondary.