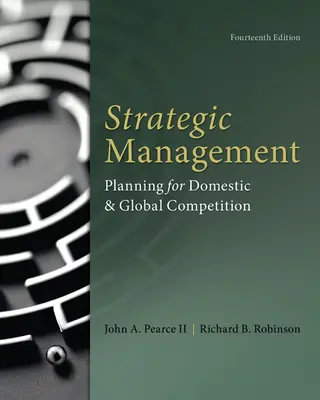 Strategic Management
14th Edition
By John Pearce and Richard Robinson
ISBN10: 0077862511
ISBN13: 9780077862510
Copyright:
2015
---
Instructors: choose ebook for fast access or receive a print copy.
---
Program Details
PART ONE: Overview of Strategic Management
Chapter 1: Strategic Management
PART TWO: Strategy Formulation
Chapter 2: Company Mission
Chapter 3: Corporate Social Responsibility and Business Ethics
Chapter 4: The External Environment
Chapter 5: The Global Environment
Chapter 6: Internal Analysis
Chapter 7: Long-Term Objectives and Strategies
Chapter 8: Business Strategy
Chapter 9: Multibusiness Strategy
PART THREE: Strategy Implementation, Control, and Innovation
Chapter 10: Implementation
Chapter 11: Organizational Structure
Chapter 12: Leadership and Culture
Chapter 13: Strategic Control
Chapter 14: Innovation and Entrepreneurship
PART FOUR: Cases
SHORT CASES
1. Bristol Myers Squibb's Growth
2. Competing for NYs Best Lobster Roll
3. J.C. Penny's Uncertain Turnaround
4. Livestrong: Cycling Around Lance Armstrong
5. Southern New Hampshire University
6. WalMart Online: What to do about Amazon.com
7. Wells Fargo's Remarkable Ascent
8. Wendy Aust: Senior Strategy Analyst, Global Strategy Advantage
TRADITIONAL CASES:
9. Absolute Vodka
10. Amazon.com: Retailing Giant to High Tech Player?
11. Apple vs. Samsung: IP & Smartphone Patent Wars
12. APEI (A) and APEI (B)
13. Apollo Group: Univ. of Phoenix
14. Barnes & Noble, Inc.
15. Blue Nile Diamond
16. BMW of N. Amr: Dream It! Build It! Drive It!
17. Cargill
18. Chipotle
19. Delta Airlines and the Trainer Refinery
20. Global Oil & Gas Industry
21. Good Hotel
22. Google Acquisition of Motorola Mobily
23. Lagunitas Brewing Co.
24. Leica Camera: A "Boutique" Firm Faces a World
25. Louis Vuitton
26. Movie Exhibition Industry 2013
27. Netflix (A): The Rebranding and Price Increase Debacle
28. Netflix (B): A Strategic Pivot of Mythic Proportion
29. Volvo &Geely
30. Yahoo: Marissa Mayer's Challenge