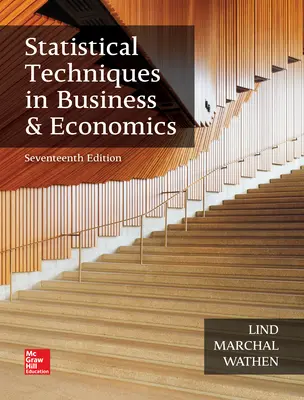 Statistical Techniques in Business and Economics
17th Edition
By Douglas Lind and William Marchal and Samuel Wathen
ISBN10: 1259666360
ISBN13: 9781259666360
Copyright:
2018
Product Details

+
- This text presents concepts clearly and succinctly with a conversational writing style and illustrates concepts through the liberal use of business-focused examples that are relevant to the current world of a college student.
- Lind's supporting pedagogy includes self-reviews, cumulative exercises, and coverage of software applications including Excel, Minitab, and MegaStat for Excel.
- Connect: A highly reliable, easy-to-use homework and learning management solution that embeds learning science and award-winning adaptive tools to improve student results.
Program Details
1. What Is Statistics?
2. Describing Data: Frequency Tables, Frequency Distributions, and Graphic Presentation
3. Describing Data: Numerical Measures
4. Describing Data: Displaying and Exploring Data
5. A Survey of Probability Concepts
6. Discrete Probability Distributions
7. Continuous Probability Distributions
8. Sampling Methods and the Central Limit Theorem
9. Estimation and Confidence Intervals
10. One-Sample Tests of Hypothesis
11. Two-Sample Tests of Hypothesis
12. Analysis of Variance
13. Correlation and Linear Regression
14. Multiple Regression Analysis
15. Nonparametric Methods: Nominal Level Hypothesis Tests
16. Nonparametric Methods: Analysis of Ordinal Data
17. Index Numbers
18. Time Series and Forecasting
19. Statistical Process Control and Quality Management
20. An Introduction to Decision Theory