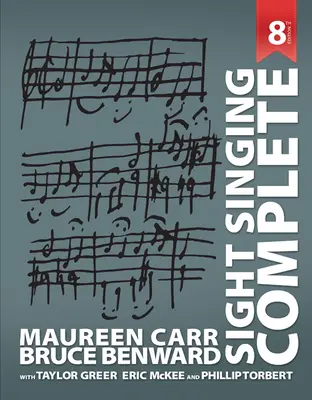 Sight Singing Complete
8th Edition
By Maureen Carr and Bruce Benward
ISBN10: 0073526657
ISBN13: 9780073526652
Copyright: 2015
Product Details

+
Students of music are faced with the challenge of developing their aural skills to the point at which they can see music on the page with thoughtful, trained eyes and hear it with their mind's ear. Sight Singing Complete, leads students to this point by beginning with the familiar and moving gently toward the unfamiliar until they are transforming symbol into sound and improvising in all idioms. This edition of Sight Singing Complete preserves the multi-faced pedagogical approach and the commitment to historical repertoire from its previous edition.
New to this edition is an integrated approach to rhythm and performance. This edition is unusual in that we not only expect students to master each skill by itself, we also expect them to integrate all three skills in carefully designed sequence of "Play + Sing" exercises adapted from 18th – 21st century instrumental and vocal repertoire.
---
Instructors: choose ebook for fast access or receive a print copy.
---
Program Details
Unit 1 A. Rhythm—Simple Meter: One-, Two-, and Three-Beat Values and Duple Division of the Beat B. Diatonic Models and Melodic Fragments:M2 and m2 C. Melodies by Bruce Benard(Major):M2 and m2 D. Melodies E. Ensembles and Play + Sing Unit 2 A. Rhythm—Compound Meter B. Diatonic Models and Melodic Fragments: P5, P4, M3, m3, M2, and m2 C. Melodies (Major): P5, P4, M3, and m3 within the Tonic Triad and M2 and m2 D. Melodies (Major): P5, P4, M3, and m3 within the Diatonic Scale E. Ensembles and Play + Sing Unit 3 A. Rhythm—Simple Meter: Duple Division of the Beat B. Diatonic Models and Melodic Fragments for Interval Singing: P8, P5, P4, M3, m3, M2, and m2 C. Melodies (Major): P5, P4, M3, m3, M2 and m2 with the Diatonic Scale D. Melodies (Minor): Mostly by Bruce Benward E. Ensembles and Play + Sing Unit 4 A. Rhythm—Simple Meter: Quadruple Subdivision of the Beat B. Diatonic Models and Melodic Fragments: m10, P8, P5, P4, M3, m3, M2, and m2 C. Melodies (Major and Minor): P5, P4, M3, m3, M2, and m2 D. Melodies (Major and Minor): P5, P4, M3, m3, M2, and m2 E. Ensembles and Play + Sing Unit 5 A. Rhythm—Simple Meter with the Triplets B. Diatonic Models and Melodic Fragments: M6 and m6 C. Melodies (Major and Minor): M6 and m6 D. Melodies (Major and Minor): M6 and m6 E. Ensembles and Play + Sing Unit 6 A. Rhythm—Simple Meter: Further Subdivision of the Beat in Simple Meter B. Diatonic Models and Melodic Fragments: M6 and m6 C. Melodies (Major and Minor): M6 and m6 D. Melodies (Major and Minor): M6 and m6 E. Ensembles and Play + Sing Unit 7 A. Rhythm—Hemiola B. Diatonic Models and Melodic Fragments: M7 C. Melodies (Major and Minor: M6 and m6 D. Melodies (Major and Minor): M6 and m6 E. Ensembles and Play + Sing Unit 8 A. Rhythm-Simple Meter:The Supertriplet B. Diatonic Models and Melodic Fragments:m7 and M7 C. Melodies (Major and Minor): m7 D. Melodies (Major and Minor): m7 E. Ensembles and Play + Sing Unit 9 A. Rhythm—Further Subdivisions of the Beat in Compound Meter and 3 against 2 B. Diatonic Models and Melodic Fragments: A4 and d5 C. Melodies (Major and Minor): Chromatic Alterations, Modulating and Nonmodulating D. Melodies (Major and Minor): Chromatic Alterations, Modulating and Nonmodulating E. Ensembles and Play + Sing Unit 10 A. Rhythm—Changing Meter with Triplets and Aligned and Displaced Hemiolas B. Diatonic and Chromatic Models and Melodic Fragments: A4 and d5 C. Melodies with Chromatic Alterations D. Melodies with Chromatic Alterations E. Ensembles and Play + Sing Unit 11 A. Rhythm—Subdivisions of the Beat into eight parts B. Diatonic and Chromatic Models and Melodic Fragments: d7 and A2 C. Melodies with Modal Characteristics D. More Melodies E. Ensembles and Play + Sing Unit 12 A. Rhythm—The Quartolet B. Chromatic Models and Melodic Fragments: A6 and d3 C. Melodies with Modal Characteristics D. Melodies E. Ensembles and Play + Sing Unit 13 A. Rhythm—Further Subdivisons of the Beat:4 against 3 B. Diatonic and Chromatic Models and Melodic Fragments: d4 C. Melodies Related to Jazz D. Melodies by Duke Ellington E. Ensembles and Play + Sing Unit 14 A. Rhythm—Irregular of Additive Meter B. Modal Mixtures and Enharmonic Modulation Models and Melodic Fragments C. Twentieth-Century Cabaret Songs by Arnold Schoenberg D. Twentieth-Century Songs E. Ensembles and Play + Sing Unit 15 A. Rhythm—Changing Meterswith Constant Pulse B. Whole-Tone, Octatonic, and Atonal Models and Melodic Fragments:All Intervals C. Twentieth-Century Melodies D. Vocalises by Honegger and Martinu E. Ensembles of the Twentieth Century Unit 16 A. Rhythm—Polymeter B. Twelve-Tone Models and Melodic Fragments for Interval Study C and D. Twentieth-Century Melodies E. Ensembles of the Twentieth Century