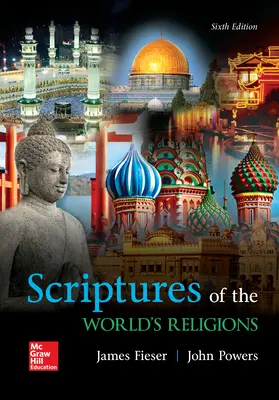 Scriptures of the World's Religions
6th Edition
By James Fieser and John Powers
ISBN10: 1259907929
ISBN13: 9781259907920
Copyright:
2018
Product Details

+
- Connect: A highly reliable, easy-to-use homework and learning management solution that embeds learning science and award-winning adaptive tools to improve student results.
- Brings together many of the world's most influential sacred texts, with the selected writings emphasizing each religion's founders, central doctrines, and historical development.
- This approach is more harmonious with the way each religion understands its own canon and allows readers to gain a sense of the historical development of ideas and practices.
Program Details
Hinduism
Introduction
Vedas
Vedanta: The Upanis.ads and Their Commentaries
Yoga
Puran.as and Epics
Devotional Literature
Treatises on Dharma
Jainism
Introduction
Jaina Scriptures
Buddhism
Introduction
The Life of the Buddha
Pali Canon
Mahaya na Scriptures
Tibetan Buddhist Scriptures
Chinese and Japanese Buddhist Scriptures
Sikhism
Introduction
Sikh Scriptures
Confucianism
Introduction
Confucian Scriptures
Daoism
Introduction
Daoist Scriptures
Shinto
Introduction
Shinto Scriptures
Australian Aboriginal Religion
Introduction
Australian Aboriginal Myths
Zoroastrianism
Introduction
The Avesta
Pahlavi Writings
Zurvan Writings
Judaism
Introduction
Books of Moses
Conquest and United Kingdom
Divided Kingdom and Exile
Post-Exilic Writings
Rabbinic Writings
Medieval Judaism
Recent Movements
Orthodox Judaism: Service Prayer for the Day of Atonement
Christianity
Introduction
Jesus' Birth and Ministry
Jesus' Death
New Testament Church
Noncanonical Gospels
Early Statements of Faith
Church Fathers, Saints, and Mystics
The Rule of Saint Benedict
The Council of Trent
Pope Leo XIII On the Condition of Labor: Rerum Novarum
Protestant Statements of Faith
Recent Sectarian Movements
Islam
Introduction
Qur'an: Muhammad in Mecca
Qur'an: Muhammad in Medina
Hadith
Sunni and Shi'i Writings
Sufi Writings
Baha'i Faith
Introduction
The Bab
Baha'u'llah
Abdu'l-Baha
Shoghi Effendi
The Universal House of Justice
Indigenous Religions of the West
Introduction
Africa
War of the Gods: Yoruba Myth
America
Origin of Corn: Creek Myth