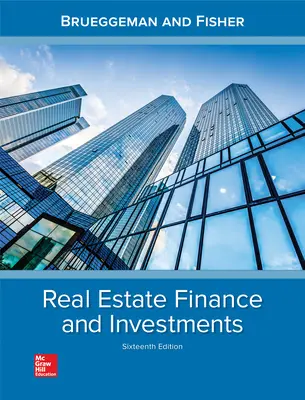 Real Estate Finance & Investments
16th Edition
By William Brueggeman and Jeffrey Fisher
ISBN10: 1259919684
ISBN13: 9781259919688
Copyright:
2019
Product Details

+
– Connect: A highly reliable, easy-to-use homework and learning management solution that embeds learning science and award-winning adaptive tools to improve student results.
– Prepares students to understand the risks and rewards associated with investing in and financing both residential and commercial real estate.
– Concepts and techniques included in the chapters and problem sets are used in many careers related to real estate.



Program Details
PART ONE - Overview of Real Estate Finance and Investments
Chapter 1: Real Estate Investment: Basic Legal Concepts
Chapter 2: Real Estate Financing: Notes and Mortgages

PART TWO - Mortgage Loans
Chapter 3: Mortgage Loan Foundations: The Time Value of Money
Chapter 4: Fixed Interest Rate Mortgage Loans
Chapter 5: Adjustable and Floating Rate Mortgage Loans
Chapter 6: Mortgages: Additional Concepts, Analysis, and Applications

PART THREE - Residential Housing
Chapter 7: Single-Family Housing: Pricing, Investment, and Tax Considerations
Chapter 8: Underwriting and Financing Residential Properties

PART FOUR - Income-Producing Properties
Chapter 9: Income-Producing Properties: Leases, Rents, and the Market for Space
Chapter 10: Valuation of Income Properties: Appraisal and the Market for Capital
Chapter 11: Investment Analysis and Taxation of Income Properties
Chapter 12: Financial Leverage and Financing Alternatives
Chapter 13: Risk Analysis
Chapter 14: Disposition and Renovation of Income Properties
Chapter 15: Financing Corporate Real Estate

PART FIVE - Financing Real Estate Development
Chapter 16: Financing Project Development
Chapter 17: Financing Land Development Projects

PART SIX - Alternative Real Estate Financing and Investment Vehicles
Chapter 18: Structuring Real Estate Investments: Organizational Forms and Joint Ventures
Chapter 19: The Secondary Mortgage Market: Pass-Through Securities
Chapter 20: The Secondary Mortgage Market: CMOs and Derivative Securities
Chapter 21: Real Estate Investment Trusts (REITs)

PART SEVEN - Portfolio Analysis and Real Estate Funds
Chapter 22: Real Estate Investment Performance and Portfolio Considerations
Chapter 23: Real Estate Investment Funds: Structure, Performance, Benchmarking, and Attribution Analysis