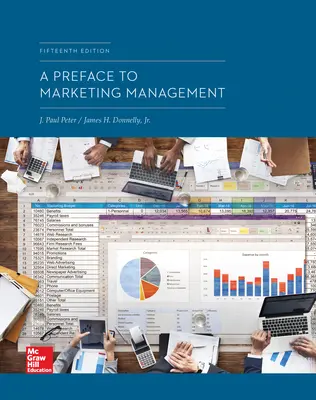 A Preface to Marketing Management
15th Edition
Product Details

+
Praised in the market for its clear and concise presentation of the basic principles of marketing, the 15th edition, Preface to Marketing Management, continues to be engaging, clear, and conceptually sound.
The 15th edition serves as an overview for critical issues in marketing management, Its brief, inexpensive paperback format makes it a perfect fit for instructors who assign cases, readings, simulations, or offer modules on marketing management for MBA students.
Preface to marketing management also works in courses that implement a cross-functional curriculum where the students are required to purchase several texts.
Program Details
SECTION I - ESSENTIALS OF MARKETING
Part A - Introduction
Chapter 1: Strategic Planning and the Marketing Management Process
Part B - Marketing Information, Research, and Understanding
Chapter 2: Marketing Research: Process and Systems for Decision Making
Chapter 3: Consumer Behavior
Chapter 4: Business, Government, and Institutional Buying
Chapter 5: Market Segmentation
Part C - The Marketing Mix
Chapter 6: Product and Brand Strategy
Chapter 7: New Product Planning and Development
Chapter 8: Integrated Marketing Communications
Chapter 9: Personal Selling, Relationship Building, and Sales Management
Chapter 10: Distribution Strategy
Chapter 11: Pricing Strategy
Part D - Marketing in Special Fields
Chapter 12: The Marketing of Services
Chapter 13: Global Marketing
SECTION II - ANALYZING MARKETING PROBLEMS AND CASES
SECTION III - FINANCIAL ANALYSIS FOR MARKETING DECISIONS
SECTION IV - DEVELOPING MARKETING PLANS