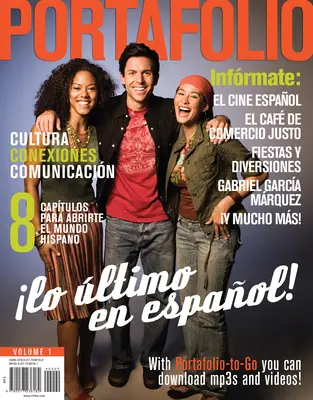 Portafolio, Vol. 1
1st Edition
By Alicia Ramos and Robert L. Davis
ISBN10: 0077236181
ISBN13: 9780077236182
Copyright:
2009
---
Instructors: choose ebook for fast access or receive a print copy.
---
Program Details
Capítulo 1
Símbolos de identidad
Vocabulario
Los saludos
El alfabeto español
El origin y la nacionalidad
Gramática
1.1 Subject Pronouns
1.2 The Verb ser
Charla con Jairo
Vocabulario
Los días y los números (1-31)
Las descripciones
Gramática
1.3 Gender and Number Agreement
Portafolio cultural: Colombia
Nación: Un lugar único en Sudamérica
Actualidad: La lucha armada
Cartelera: La música colombiana
Icono: Gabriel García Márquez, escritor
Gente: Hablan los colombianos
Opinión: Los saludos en Colombia
Mi portafolio
Capítulo 2
¿Qué estudias?
Vocabulario
Los estudios universitarios
El horario
Preguntas para el estudiante típico
Gramática
2.1 Regular –ar Verbs; Negation
2.2 Question Formation
Charla con Silvana
Vocabulario
El el aula
¿Dónde está?
Gramática 2.3 The Verb ir; ir a + Infinitive 2.4 The Verb estar Portafolio cultural: Costa Rica Nación: Un país dedicado a la paz Actualidad: El café de comercio justo Cartelera: El Tico Times Icono: La biodiversidad Gente: Hablan los ticos Opinión: Clase e igualdad en Costa Rica Mi portafolio Capítulo 3 La familia: Estabilidad y cambios Vocabulario La familia y los parientes Los números y la edad Gramática 3.1 Expressing Possession 3.2 Possessive Adjectives Charla con Cynthia Vocabulario La familia en transición Las actividades familiares Gramática 3.3 Regular –er and –ir Verbs 3.4 Irregular Verbs dar, hacer, salir, ver Portafolio cultural: Ecuador Nación: La población indígena del Ecuador: Los otavalos Actualidad: Las familias en tiempos de crisis Cartelera: La Virgen pipona Icono: El monumento a la mitad del mundo Gente: Hablan los ecuatorianos Opinión: La familia en el mundo hispano Mi portafolio Capítulo 4 La casa: Sueños y realidades Vocabulario ¿Dónde vives? ¿Qué haces en tu casa? Gramática 4.1 Demonstrative Adjectives 4.2 Stem-Changing Verbs (e → ie, o → ue) Charla con María Vocabulario ¿Qué hay en tu casa? Gramática 4.3 Present Progressive 4.4 Affirmative commands Portafolio cultural: España Nación: España y la Unión Europea Actualidad: La crisis de la vivienda en España Cartelera: Directores españoles en el cine internacional Icono: Las regiones autónomas Gente: Hablan los españoles Opinión: Las relaciones entre vecinos en España Mi portafolio Capítulo 5 ¿Qué vamos a comer? Vocabulario En el mercado ¿Cómo es la comida? ¿Cómo está el plato? Gramática 5.1 Speaking Impersonally se + Verb 5.2 Por and para Charla con Karina Vocabulario Las comidas del día En el restaurante Gramática 5.3 Stem-Changing Verbs (e → ie) 5.4 Direct Object Personal Pronouns Portafolio cultural: Venezuela y la República Dominicana Naciones: El Caribe: Sopa de culturas Actualidad: Una cadena de migración Cartelera: La pasarela de moda Icono: Simón Bolívar: el Libertador (1783-1830) Gente: Hablan los venezolanos Opinión: Comer fuera en Venezuela Mi portafolio Capítulo 6 Vivir bien: Salud y rutina Vocabulario La hora exacta y aproximada La rutina diaria El estrés y la relajación Gramática 6.1 Reflexive pronouns 6.2 Saber and conocer Charla con Güido Vocabulario El clima ¿Cómo te afecta el clima? Gramática 6.3 Uses of ser and estar Portafolio cultural: Bolivia Nación: Geografía y demografía Actualidad: La calidad de vida Cartelera: Conflictos y manifestaciones Icono: La música quechua Gente: Hablan los bolivianos Opinión: El concepto del tiempo Mi portafolio Capítulo 7 Mercados y modernidad Vocabulario La tienda en línea En el almacén Gramática 7.1 The Preterite 7.2 Indirect Objects and Pronouns Charla con Minerva Vocabulario En el mercado de artesanías Gramática 7.3 More About the Verb gustar 7.4 The Verb quedar Portafolio cultural: México Naciones: País de culturas milenarias y democracia moderna Actualidad: La globalización en México Cartelera: Actor mexicano, estrella internacional Icono: El Museo Nacional de Antropología Gente: Hablan los mexicanos Opinión: El mercado Mi portafolio Capítulo 8 Ritmos de la vida Vocabulario Los deportes Los pasatiempos Gramática 8.1 Irregular Forms of the Preterite 8.2 Stem-Changing Verbs in the Preterite Charla con Mitch Vocabulario Fiestas y diversions Gramática 8.3 Negative words 8.4 Using Direct and Indirect Object Pronouns Together Portafolio cultural: Puerto Rico Región: Lengua e identidad en Puerto Rico Actualidad: La cuestión del estatus de Puerto Rico Cartelera: Ritmos caribeños Icono: Roberto Clemente Gente: Hablan los puertorriqueños Opinión: Los hispanos y el beísbol Mi portafolio