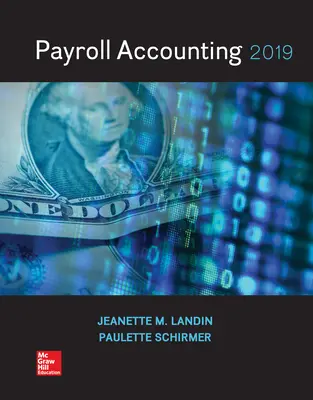 Payroll Accounting 2019
5th Edition
By Jeanette Landin and Paulette Schirmer
ISBN10: 125991707X
ISBN13: 9781259917073
Copyright:
2019
Product Details

+
A modern approach to payroll accounting, Payroll 2019 provides a "practitioners' view" of this highly specialized area of accounting.
Payroll 2019 incorporates examples of real-world companies, and highlights the relevance of the course in its coverage of issues that students will face in their careers.
Connect: A highly reliable, easy-to-use homework and learning management solution that embeds learning science and adaptive tools to improve student results.
Program Details
Ch. 1 Payroll Practices and System Fundamentals
Ch. 2 Payroll System Procedures
Ch. 3 Gross Pay Computation
Ch. 4 Fringe Benefits and Voluntary Deductions
Ch. 5 Employee Net Pay and Pay Methods
Ch. 6 Employer Payroll Taxes and Labor Planning
Ch. 7 The Payroll Register, Employees' Earnings Records, and Accounting System Entries

APPENDIXES
A) Continuing Payroll Project: Wayland Custom Woodworking
B) Special Classes of Federal Tax Withholding
C) Federal Income Tax Tables
D) State Income Tax Information
E) State Revenue Department Information
F) Payroll Certification Information