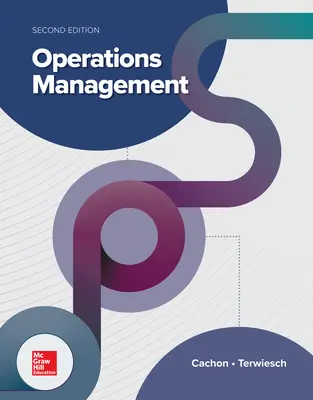 Operations Management
2nd Edition
By Gerard Cachon and Christian Terwiesch
ISBN10: 1260238873
ISBN13: 9781260238877
Copyright:
2020
Product Details

+
This program is accessible to the typical undergraduate student (one with limited real world business experience).
Cachon incorporates the latest research throughout the text and provides innovative learning support for students.
Connect: A highly reliable, easy-to-use homework and learning management solution that embeds learning science and award-winning adaptive tools to improve student results.
Program Details
Table of Contents

Ch. 1 Introduction to Operations Management
Ch. 2 Introduction to Processes
Ch. 3 Process Analysis
Ch. 4Process Improvement
Ch. 5 Process Analysis with Multiple Flows
Ch. 6 Learning Curves
Ch. 7 Process Interruptions
Ch. 8 Lean Operations and the Toyota Production System
Ch. 9 Quality and Statistical Process Control
Ch. 10 Introduction to Inventory Management
Ch. 11 Supply Chain Management
Ch. 12 Inventory Management with Steady Demand
Ch. 13 Inventory Management with Perishable Demand
Ch. 14 Inventory Management with Frequent Orders
Ch. 15 Forecasting
Ch. 16 Service Systems with Patient Customers
Ch. 17 Service Systems with Impatient Customers
Ch. 18 Scheduling to Prioritize Demand
Ch. 19 Project Management
Ch. 20 New Product Development