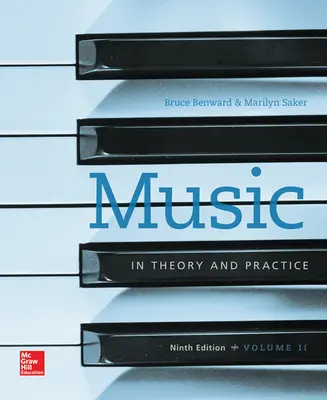 Music in Theory and Practice Volume 2
9th Edition
By Bruce Benward and Marilyn Saker
ISBN10: 007749332X
ISBN13: 9780077493325
Copyright:
2015
Product Details

+
This best-selling text gives music majors and minors a solid foundation in the theory of music. It strengthens their musical intuition, builds technical skills, and helps them gain interpretive insights. The goal of the text is to instruct readers on the practical application of knowledge. The analytical techniques presented are carefully designed to be clear, uncomplicated, and readily applicable to any repertoire.
The two-volume format ensures exhaustive coverage and maximum
---
Instructors: choose ebook for fast access or receive a print copy.
---
Program Details
Preface Part A: The Renaissance And Baroque Periods Chp. 1: Late Renaissance Polyphony Chp. 2: Two-Voice Eighteenth Century Counterpoint Chp. 3: The Fugue Part B: Chromatic Harmony Chp. 4: Borrowed Chords Chp. 5: Neapolitan 6th Chords Chp. 6: Augmented 6th Chords Part C: The Classical Period (1750-1825 Chp. 7: Variation Technique Chp. 8: Sonata Form Chp. 9: Rondo Forms Part D: Extended And Chromatic Harmony Chp. 10: 9th,11th, and 13th Chords Chp. 11: Altered Dominants Chp. 12: Chromatic Mediants Part E: The Nineteenth And Twentieth Centuries Chp. 13: The Romantic Period (1825-1900) Chp. 14: The Post-Romantic Style Chp. 15: Impressionism and Related Styles Chp. 16: The Early Twentieth Century Chp. 17: Pitch-Class Set Theory Chp. 18: Twelve-Tone Technique Postlude: Music Since 1945 Appendixes Glossary Credits Index