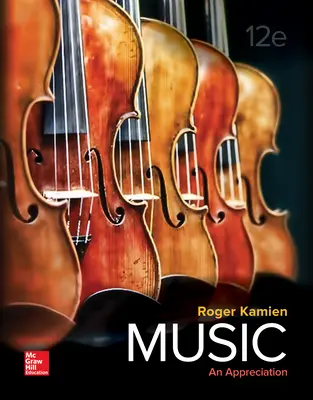 Music: An Appreciation
12th Edition
By Roger Kamien
ISBN10: 1259892700
ISBN13: 9781259892707
Copyright:
2018
Product Details

+
– Connect: A highly reliable, easy-to-use homework and learning management solution that embeds learning science and award-winning adaptive tools to improve student results.
- Places a renewed focus on learning the elements of music, fostering a unique path to listening and understanding for non-majors.
- Provides step-by-step guidance through the elements of music, as well as an increased number of musical selections to appreciate.
- Equips students with the language, tools and listening skills required to sustain a life-long enthusiasm for music.
Read more +
Program Details
Preface
Part I Elements
1. Sound: Pitch, Dynamics, and Tone Color
2. Performing Media: Voices and Instruments
3. Rhythm
4. Music Notation
5. Melody
6. Harmony
7. Key
8. Musical Texture
9. Musical Form
10. Performance 11. Musical Style


Part II The Middle Ages
1. Music In The Middle Ages (450-1450)
2. Gregorian Chant
3. Secular Music in the Midde Ages
4. The Development of Polyphony: Organum
5. Fourteenth -Century Music: The "New Art" in Italy and France


Part III The Renaissance
1. Music in the Renaissance (1450 - 1600)
2. Sacred Music in the Renaissance
3. Secular Music in the Renaissance
4. The Venetian School: From Renaissance to Baroque


Part IV The Baroque Period
1. Baroque Music (1600-1750)
2. Music In Baroque Society
3. The Concerto Grosso And Ritornello Form
4. The Fugue
5. The Elements Of Opera
6. Opera In The Baroque Era
7. Claudio Monteverdi
8. Henry Purcell
9. The Baroque Sonata
10. Arcangelo Corelli
11. Antonio Vivaldi
12. Johann Sebastian Bach13. The Baroque Suite
14. The Chorale And Church Cantata
15. The Oratorio
16. George Frideric Handel


Part V The Classical Period
1. The Classical Style (1750-1820)
2. Composer, Patron, And Public In The Classical Period
3. Sonata Form
4. Theme And Variations
5. Minuet And Trio
6. Rondo
7. The Classical Symphony
8. The Classical Concerto
9. Classical Chamber Music
10. Joseph Hadyn
11. Wolfgang Amadeus Mozart
12. Ludwig Van Beethoven


Part VI The Romantic Period1. Romanticism In Music (1820-1900)
2. Romantic Composers And Their Public
3. The Art Song
4. Franz Schubert
5. Robert Schumann
6. Clara Wieck Schumann
7. Frederic Chopin
8. Franz Liszt
9. Felix Mendelssohn
10. Program Music
11. Hector Berlioz
12. Nationalism In Nineteenth-Century Music
13. Peter Ilyich Tchaikovsky
14. Bed rich Smetana
15. Antonin Dvorak
16. Johannes Brahms
17. Georges Bizet
18. Giuseppe Verdi
19. Giacomo Puccini
20. Richard Wagner
21. Gustav Mahler


Part VII The Twentieth Century
1. Musical Styles: 1900-19452. Music and Musicians in Society since 1900
3. Impressionism and Symbolism
4. Claude Debussy
5. Maurice Ravel
6. Neoclassicism
7. Igor Stravinsky
8. Expressionism
9. Arnold Schoenberg
10. Alban Berg
11. Anton Webern
12. Bela Bartok
13. Dmitri Shostakovich
14. Music in America
15. Charles Ives
16. George Gershwin
17. William Grant Still
18. Aaron Copland
19. Albert Ginestera
20. Musical Styles Since 1945
21. Music Since 1945: Five Representative Pieces


Part VIII Jazz
1. Jazz Styles
2. Ragtime
3. Blue
4. New Orleans Style
5. Swing
6. Bebop
7. Jazz Styles since 1950


Part IX Music for Stage and Screen1. Musical Theater
2. Leonard Bernstein
3. Music in Film


Part X Rock
1. Rock Styles
2. Rock in American Society
3. The Beatles


Part XI Nonwestern Music
1. Music in Nonwestern Cultures
2. Music In Sub-Saharan Africa
3. Classical Music Of India
4. Koto Music of Japan






Connect
By prompting students to engage with key concepts, while continually adapting to their individual needs, Connect activates learning and empowers students to take control resulting in better grades and increased retention rates. Proven online content integrates seamlessly with our adaptive technology, and helps build student confidence outside of the classroom.
Learn More
SmartBook
Available within Connect, SmartBook actively tailors content to the individual student- The more a student interacts with SmartBook, the better it gets to know what they know and what they don't know, helping students to maximize study time. By providing students with a safe place to make mistakes, showing them the areas they need to work on most, and by giving them consistent, personalized feedback at the exact moment they need it, SmartBook helps them to bridge their knowledge gaps and come to class prepared.
Learn More
High Quality Recordings
Can be streamed in three ways: through the media bank, through the interactive eBook, or through the interactive listening guides.
Learn More
Interactive Listening Guides
steer students through complete recorded pieces, focusing attention on musical events as they unfold, accompanies by listening response questions that provide deeper insight.
Learn More
How to Access Instructor Tools for your Course
Your text has great instructor tools – like presentation slides, instructor manuals, test banks and more. Follow the steps below to access your instructor resources or watch the step-by-step video.
To get started, you'll need to visit connect.mheducation.com to sign in. (If you do not have an account, you'll need to request one from your MH rep. To find your rep – visit the Find Your Rep page).
Then, under "Find a Title," you'll search by title, author or subject.
Select your desired title and create a course. (Note – you do not have to create assignments, just a course instance)
Then go to your Connect course homepage.
In the top navigation, select library to access the instructor resources that accompany the title.