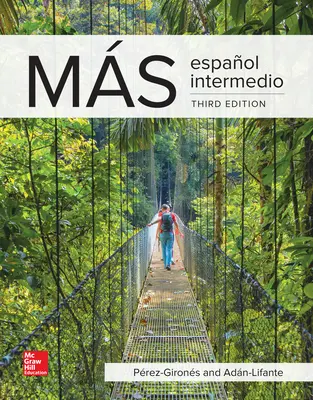 MÁS
3rd Edition
By Ana María Pérez-Gironés and Virginia Adán-Lifante
ISBN10: 0077736451
ISBN13: 9780077736453
Copyright:
2019
Product Details

+
MÁS is an Intermediate Spanish program built on the assumption that students learn best when they are fully engaged. Each component of the MÁS experience is designed to spark curiosity and inspire critical thinking. Through its diverse and lively view of the Spanish-speaking world, MÁS motivates a new generation of students to be inspired to communicate in Spanish.
Read more +
Program Details
Unidad 1 La identidad
Capítulo1 Cuestión de imagen
Entrevista* Elena Soto Tapia: Ponce, Puerto Rico
Minilectura Ella es «Juana Banana»
En pantalla Clara como el agua
Palabras Los rasgos físicos
La personalidad
Expresiones para dar cumplidos o insultar
Cultura Palabras cariñosas basadas en la apariencia física
Estructuras 1. El presente de indicativo
Cómo se expresa to be
Comparaciones
Cultura La población hispana o latina: Multiplicidad étnica y racial
Lectura Latinos en la pantalla y sus estereotipos*
Estrategia Idea principal y audiencia*
Redacción Descripción personal
Tu palabra favorita* Pau Gasol: belleza
Capítulo2 «Yo soy yo y mis circunstancias»
Entrevista* Gustavo (Gus) Flores García: Fresno, California
Minilectura Ponerse la camiseta de las bibliotecas populares*
En pantalla Sandra Cauffman científica de la NASA visita la UCR*
Palabras Las religiones
La afiliación política
Otras relaciones sociales
Las carreras y la especialización universitaria
La vida universitaria
Cultura La universidad y los hispanohablantes: Luces y sombras*
Estructuras 4. Los pronombres de objeto directo e indirecto
Los verbos y pronombres reflexivos
Gustar y otros verbos similares
Cultura La identificación religiosa en los países hispanohablantes
Lectura Cabra sola
Estrategia El lenguaje literal y el lenguaje figurado
Redacción Ensayo descriptivo
Tu palabra favorita* Antonio Skármeta: amistad
Capítulo 3 Raíces
Entrevista* Mayra Ramos Castillo: San Pedro Sula, Honduras
Minilectura La sobremesa familiar en peligro de extinción
En pantalla Sopa de pescado
Palabras Los parientes
Días importantes
Para hablar de la familia
Cultura Los apellidos
Estructuras 7. El pretérito de indicativo
El imperfecto de indicativo
Cómo se combinan el pretérito y el imperfecto
Cultura Hogares hispanos en los Estados Unidos*
Lectura Cleopatra*
Estrategia Las partes de un cuento
Redacción Narrar una anécdota familiar
Tu palabra favorita* Elena Ochoa: querer
Unidad 2 Lo cotidiano
Capítulo 4 Con el sudor de tu frente
Entrevista* Manuel Durán Del Valle: Granada, España
Minilectura Los beneficios laborales más deseados*
En pantalla Profesiones del futuro*
Palabras Oficios y profesiones
El trabajo
La experiencia laboral (de trabajo)
Cultura Información laboral diversa del mundo hispanohablante*
Estructuras 10. El se accidental
El presente perfecto de indicativo
El pluscuamperfecto de indicativo
Cultura Ocupaciones de los hispanos en los Estados Unidos: Presente y futuro*
Lectura ¿Por qué los millennials dicen NO a los empleos convencionales?*
Estrategia El propósito de un ensayo y sus fuentes*
Redacción La carta de interés que acompaña un currículum
Tu palabra favorita* Margarita Salas: investigación
Capítulo 5 El mundo al alcance de un clic
Entrevista* Rosa Martínez Dorfman: Valparaíso, Chile
Minilectura La brecha digital es la imagen de la brecha social: el nivel económico de las personas determina el acceso tecnológico de los ciudadanos de Barcelona*
En pantalla Gobierno de Uruguay inicia entrega de tablets a adultos mayores*
Palabras Los medios de comunicación
Las nuevas tecnologías
No solo tecnología
Cultura Avances tecnológicos y científicos en las civilizaciones prehispánicas
Estructuras 13. El presente de subjuntivo: Introducción y contexto de influencia
Los mandatos formales e informales
Cultura Un panorama de emprendedores e innovadores hispanohablantes*
Lectura El celular de Hánsel y Gretel*
Estrategia La enumeración
Redacción Análisis de causa y efecto
Tu palabra favorita* Ricardo Darín: verdad
Capítulo 6 La buena vida
Entrevista* Francisco (Fran) Palacios Rama: Trujillo, Perú
Minilectura La vida es un carnaval*
En pantalla (New Short Film)*
Palabras La calidad de vida
Lugares y actividades para el tiempo libre
¡A la mesa!
Cultura Taki-Kuni: Música popular en Latinoamérica
Estructuras 15. El subjuntivo en cláusulas nominales: Expresiones de emoción y duda
El se impersonal
Cultura ¡Pura vida!: Vacaciones y festivos en el mundo hispanohablante*
Lectura Mestizaje gastronómico*
Estrategia Conectores de ideas
Redacción El análisis comparativo
Tu palabra favorita* Alicia Alonso: bailamos
Unidad 3 Nuestra sociedad
Capítulo 7 Nos-otros
Entrevista* Elsa Arreola: Chicago, Illinois , originalmente de Antigua, Guatemala
Minilectura Familias bilingües*
En pantalla Salomón
Palabras La identidad nacional
La experiencia en otro país
Cultura La lengua española: El gran vínculo
Estructuras 17. Palabras y expresiones absolutas e indefinidas
El indicativo y el subjuntivo en cláusulas adjetivales
Cultura La emigración a países hispanohablantes*
Lectura El año que viene estamos en Cuba
Estrategia La contradicción
Redacción Una biografía
Tu palabra favorita* Justo Bolekia: añoranza
Capítulo 8 Nuestro pequeño mundo
Entrevista* Luis Zambrano Vera: Cuenca, Ecuador
Minilectura Los desafíos de América Latina frente a la escasez de agua en las zonas rurales*
En pantalla El arca de María*
Palabras El medioambiente
El impacto medioambiental
El desarrollo y la economía
Cultura Las «grandes» ciudades de Latinoamérica
Estructuras 19. El futuro y el futuro perfecto de indicativo
El indicativo y el subjuntivo en cláusulas adverbiales
Cultura La importancia de la economía sustentable
Lectura Mi tierra
Estrategia La repetición
Redacción Una entrada en un blog
Tu palabra favorita* Shakira: meliflua
Capítulo 9 En busca de la igualdad
Entrevista* Maya Quiroga: Córdoba, Argentina
Minilectura Noviembre 25: Día contra la violencia doméstica*
En pantalla El sándwich de Mariana*
Palabras Para hablar de las personas
Para hablar de temas sociales
Para expresar opiniones
Cultura El machismo
Estructuras 21. Presente perfecto de subjuntivo
Los pronombres relativos
Cultura El movimiento chicano: «Sí se puede»
Lectura nuyorican*
Estrategia La personificación*
Redacción Cuatro estrellas: Escribir una reseña cinematográfica
Tu palabra favorita* Diego Forlán: solidaridad
Unidad 4 Puntos de encuentro
Capítulo 10 América: pueblos y herencias en contacto
Entrevista* Alejandro Carrasco González: Guanajuato, México
Minilectura El espejo enterrado*
En pantalla Vasija de barro*
Palabras Para hablar de los pueblos*
Para hablar de información*
Para hablar del paso del tiempo*
Cultura Culturas indígenas de Latinoamérica*
Estructuras 23. El imperfecto de subjuntivo
El condicional
Cultura En busca del Nuevo Mundo*
Lectura El eclipse* (in 2e was the Lectura in Ch. 11)
Estrategia La ironía*
Redacción Un ensayo (Paso 1)
Tu palabra favorita* Mario Vargas Llosa: libertad
Capítulo 11 Las grandes transformaciones urbanas
Entrevista* Zaira Vargas-Reyes: Nueva York
Minilectura Historia de las misiones coloniales españolas: A través de miles de millas y cientos de años*
En pantalla Medellín, ciudad para invertir y vivir*
Palabras La vida de la ciudad*
Edificios y elementos de arquitectura*
Para hablar de desarrollo urbano*
Expresiones para articular un texto*
Cultura La vida social en el espacio público*
Estructuras 25. El pasado perfecto o pluscuamperfecto de subjuntivo 26. El condicional perfecto
Cultura La estética de las ciudades latinoamericanas: entre el pasado y el futuro*
Lectura Excerpt from Inés del alma mía*
Estrategia La voz narrativa*
Redacción Un ensayo (Paso 2)
Tu palabra favorita* Gael García Bernal: Querétaro
Capítulo 12 Fronteras y puentes
Entrevista* Juan Pineda: Miami, Estados Unidos
Minilectura Miles usan el puente que conecta al aeropuerto de Tijuana con San Diego*
En pantalla Camión de carga* (In 2e, this corto was in Ch. 7)
Palabras Para hablar de asuntos internacionales*
Para hablar del gobierno y de la política*
Expresiones útiles para conectar ideas
Cultura Améxica:la frontera como espacio de separación y encuentro*
Estructuras 27. La voz pasiva
El subjuntivo en cláusulas independientes
Cultura Puentes*
Lectura Con qué sueñan hoy los «Dreamers» que Obama salvó de la deportación*
Estrategia El lenguaje legal y político*
Redacción Un ensayo (Paso 3)
Tu palabra favorita* Isabel Allende: espíritu

By prompting students to engage with key concepts, while continually adapting to their individual needs, Connect activates learning and empowers students to take control resulting in better grades and increased retention rates. Proven online content integrates seamlessly with our adaptive technology, and helps build student confidence outside of the classroom.
Learn more
LearnSmart
proven to significantly enhance students' learning and improve course outcomes. Available within Connect Spanish and as a mobile app, LearnSmart provides students with targeted feedback specific to their individual performance, and additional practice in areas where students need help the most.
Practice Spanish: Study Abroad
An immersive 3-D language game designed exclusively by McGraw-Hill to accompany any Introductory Spanish title or as an independent practice tool for students developing language skills.
Learn More
How to Access Instructor Tools for your Course
Your text has great instructor tools – like presentation slides, instructor manuals, test banks and more. Follow the steps below to access your instructor resources or watch the step-by-step video.
To get started, you'll need to visit connect.mheducation.com to sign in. (If you do not have an account, you'll need to request one from your MH rep. To find your rep – visit the Find Your Rep page).
Then, under "Find a Title," you'll search by title, author or subject.
Select your desired title and create a course. (Note – you do not have to create assignments, just a course instance)
Then go to your Connect course homepage.
In the top navigation, select library to access the instructor resources that accompany the title.