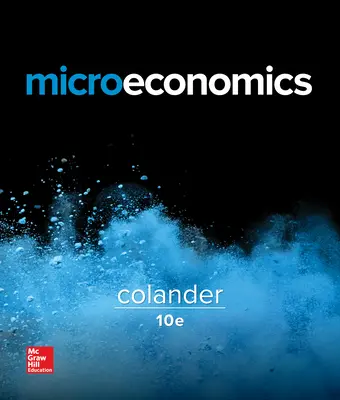 Microeconomics
10th Edition
By David Colander
ISBN10: 1259655504
ISBN13: 9781259655500
Copyright:
2017
Product Details

+
– Connect: A highly reliable, easy-to-use homework and learning management solution that embeds learning science and award-winning adaptive tools to improve student results.  
- A colloquial approach that focuses on modern economics, institutions, history, and modeling, and is organized around learning objectives.
---
Instructors: choose ebook for fast access or receive a print copy.
---
Program Details
PART I INTRODUCTION: THINKING LIKE AN ECONOMIST
1 Economics and Economic Reasoning 4
2 The Production Possibility Model, Trade, and Globalization 24
Appendix: Graphish: The Language of Graphs 42
3 Economic Institutions 51
Appendix: The History of Economic Systems 71
4 Supply and Demand 77
5 Using Supply and Demand 100
Appendix: Algebraic Representation of Supply, Demand, and Equilibrium 116

PART II MICROECONOMICS
I THE POWER OF TRADITIONAL ECONOMIC MODELS
6 Describing Supply and Demand: Elasticities 122
7 Taxation and Government Intervention 142
8 Market Failure versus Government Failure 162
8W Politics and Economics: The Case of Agricultural Markets 183
II INTERNATIONAL ECONOMIC POLICY ISSUES
9 Comparative Advantage, Exchange Rates, and Globalization 184
10 International Trade Policy 203
III PRODUCTION AND COST ANALYSIS
11 Production and Cost Analysis I 224
12 Production and Cost Analysis II 243
Appendix: Isocost/Isoquant Analysis 260
IV MARKET STRUCTURE
13 Perfect Competition 265
14 Monopoly and Monopolistic Competition 285
Appendix: The Algebra of Competitive and Monopolistic Firms 310
15 Oligopoly and Antitrust Policy 312
16 Real-World Competition and Technology 331
V FACTOR MARKETS
17 Work and the Labor Market 351
Appendix: Derived Demand 375
17W Nonwage and Asset Income: Rents, Profits, and Interest 381
18 Who Gets What? The Distribution of Income 382
VI CHOICE AND DECISION MAKING
19 The Logic of Individual Choice: The Foundation of Supply and Demand 407
Appendix: Indifference Curve Analysis 427
20 Game Theory, Strategic Decision Making, and Behavioral Economics 432
Appendix: Game Theory and Oligopoly 452
VII MODERN ECONOMIC THINKING
21 Thinking Like a Modern Economist 457
22 Behavioral Economics and Modern Economic Policy 483
23 Microeconomic Policy, Economic Reasoning, and Beyond 501