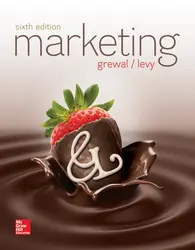 Product Details

+
- Designed to show today's social, mobile and digital student population how marketing adds value and how firms maintain and rely on value for establishing lasting relationships with their customers.
- Explores both fundamentals and new marketing influencers and features comprehensive coverage, topics like social media and ethics integrated throughout.
- Connect: A highly reliable, easy-to-use homework and learning management solution that embeds learning science and award-winning adaptive tools to improve student results.
Program Details
SECTION 1: Assessing The Marketplace
Chapter 1: Overview of Marketing
Chapter 2: Developing Marketing Strategies
Chapter 3: Social and Mobile Marketing
Chapter 4: Marketing Ethics
Chapter 5: Analyzing the Marketing Environment
SECTION 2: Understanding The Marketplace
Chapter 6: Consumer Behavior
Chapter 7: Business-to-Business Marketing
Chapter 8: Global Marketing
SECTION 3: Targeting The Marketplace
Chapter 9: Segmentation, Targeting, and Positioning
Chapter 10: Marketing Research
SECTION 4: Value Creation
Chapter 11: Product, Branding, and Packaging Decisions
Chapter 12: Developing New Products
Chapter 13: Services: The Intangible Product
SECTION 5: Value Capture
Chapter 14: Pricing Concepts for Establishing Value
Chapter 15: Strategic Pricing Methods
SECTION 6: Value Delivery: Designing The Channel And Supply Chain
Chapter 16: Supply Chain and Channel Management
Chapter 17: Retailing and Omnichannel Marketing
SECTION 7: Value Communication
Chapter 18: Integrated Marketing Communications
Chapter 19: Advertising, Public Relations, and Sales Promotions
Chapter 20: Personal Selling and Sales Management