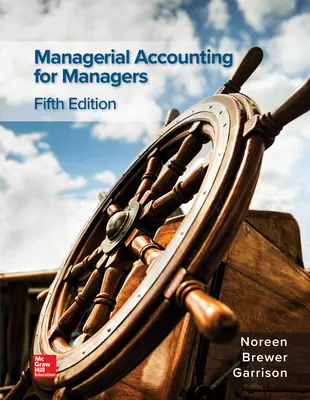 Managerial Accounting for Managers
5th Edition
By Eric Noreen and Peter Brewer and Ray Garrison
ISBN10: 1259969487
ISBN13: 9781259969485
Copyright:
2020
Product Details

+
Based on the market-leading managerial accounting solution, Managerial Accounting, by Garrison/Noreen/Brewer.
The Noreen solution presents integrated and proven solutions designed to help attain course goals without including financial accounting content from the Garrison solution.
Connect: A highly reliable, easy-to-use homework and learning management solution that embeds learning science and award-winning adaptive tools to improve student results.
Program Details
Table of Contents

Prologue: Managerial Accounting: An Overview
Chapter 1: Managerial Accounting and Cost Concepts
Chapter 2: Cost–Volume–Profit Relationships
Chapter 3: Job–Order Costing: Calculating Unit Product Costs
Chapter 4: Variable Costing and Segment Reporting: Tools for Management
Chapter 5: Activity–Based Costing: A Tool to Aid Decision Making
Chapter 6: Differential Analysis: The Key to Decision Making
Chapter 7: Capital Budgeting Decisions
Chapter 8: Master Budgeting
Chapter 9: Flexible Budgets and Performance Analysis
Chapter 10: Standard Costs and Variances
Chapter 11: Performance Measurement in Decentralized Organizations
Integration Exercises