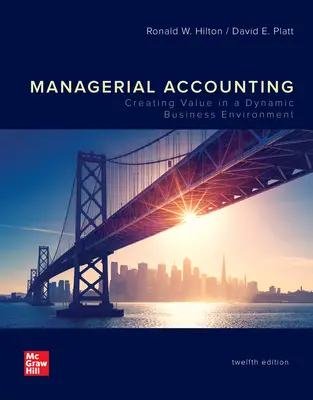 Managerial Accounting: Creating Value in a Dynamic Business Environment
12th Edition
By Ronald Hilton and David Platt
ISBN10: 1259969517
ISBN13: 9781259969515
Copyright:
2020
Product Details

+
Emphasis on teaching students to use accounting information to best manage an organization, focus on critical thinking.
Connect is the easy-to-use assignment and digital learning solution that empowers students to achieve better outcomes and instructors to become more efficient.
New! SmartBook 2.0 identifies and closes knowledge gaps through a continually adapting reading and questioning experience that helps students master the key concepts in the chapter.
Program Details
Ch. 1 The Crucial Role of Managerial Accounting in a Dynamic Business Environment
Ch. 2 Basic Cost Management Concepts
Ch. 3 Product Costing and Cost Accumulation in a Batch Production Environment
Ch. 4 Process Costing and Hybrid Product-Costing Systems
Ch. 5 Activity-Based Costing and Management
Ch. 6 Activity Analysis, Cost Behavior, and Cost Estimation
Ch. 7 Cost-Volume-Profit Analysis
Ch. 8 Variable Costing and the Measurement of ESG and Quality Costs
Ch. 9 Financial Planning and Analysis: The Master Budget
Ch. 10 Standard Costing and Analysis of Direct Costs
Ch. 11 Flexible Budgeting and Analysis of Overhead Costs
Ch. 12 Responsibility Accounting and the Balanced Scorecard
Ch. 13 Investment Centers and Transfer Pricing
Ch. 14 Decision Making: Relevant Costs and Benefits
Ch. 15 Target Costing and Cost Analysis for Pricing Decisions
Ch. 16 Capital Expenditure Decisions
Ch. 17 Allocation of Support Activity Costs and Joint Costs
Appendix I: The Sarbanes–Oxley Act, Internal Controls, and Management Accounting
Appendix II: Compound Interest and the Concept of Present Value
Appendix III: Inventory Management
References for "In Their Own Words"
Glossary
Index of Companies and Organizations
Index of Subjects
Focus on Ethics Statement